I
(Back) to my homepage
Janis Ian
(7 April 1951)
American singer/songwriter, born in New York City as Janis Eddy Fink. She attended East Orange High School and the New York City High School of Music & Art. In 1975, Ian won a Grammy Award for her song "At Seventeen". On august 27, 2003 she married her partner, lawyer Patricia Snyder, at Toronto City Hall, Canada.
Amerikaanse zangeres/songwriter, geboren in New York City als Janis Eddy Fink. Ze volgde haar opleiding aan East Orange High School en de New York City High School of Music & Art. In 1975 won Ian een Grammy Award voor haar song "At Seventeen". Ze is op 27 augustus 2003 getrouwd met haar partner, advocate Patricia Snyder, op het stadhuis van Toronto, Canada.
Hits: Society Child (1967), At Seventeen (1975), Fly Too High (1979), The Other Side Of The Sun (1980), Don't Leave Tonight (in the Netherlands, with Dutch singer Conny Vandenbosch, 1980)
Albums: Janis Ian (1967), For all the seasons of your mind (1968), The Secret life of J.Eddy Fink (1968), Present Company (1971), Stars (1974), Aftertones (1976), Miracle Row (1977), Janis Ian (1978), Night Rains (1979), My Favourites (1980), Restless Eyes (1981), Between the lines, Revenge (1995), Hunger (1997), God & the FBI (2000), Live: Working without a net (2003), Billie's Bones (2004), Folk Is The New Black (2006), Best Of Janis Ian (2008)
Biography: Society's Child - My Autobiography
Website:www.janisian.com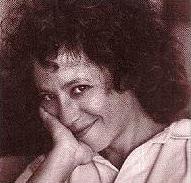 Janis Ian
Wim Ibo
(10 April 1918 - 18 May 2000)
Dutch historian on cabaret, who used to be a stand-up-comedian, director, writer/journalist and record- and TV-producer. He was born in Arnhem as Johan Willem Ibo. At school he started a cabaretgroup 'The Merry Young Five'.
Nederlands cabaret-historicus; vroeger cabaretier, regisseur, programma-maker, schrijver/journalist en platen- en TV-producent. Hij is geboren in Arnhem als Johan Willem Ibo. Op de HBS richtte hij het cabaretgezelschap 'The Merry Young five' op.
Books: Onder Collega's (1954), En Nu De Moraal Van Dit Lied (1970), Brieven Aan Jou (1980), 75 jaar cabaret, 40 jaar Wim Kan.
Radio: De familie Doorsnee (producer, 1952-1958)
TV: Pension Hommeles (producer), Cabaretkroniek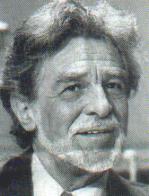 Wim Ibo
Miquel Iceta
(1960)
Spanish politician, born in Barcelona as Miquel Iceta Llorens.
Spaanse politicus, geboren in Barcelona als Miquel Iceta Llorens.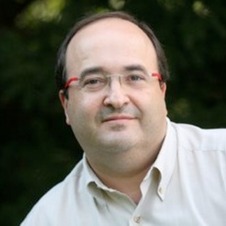 Miquel Iceta
Eloy de la Iglesia
(1 January 1944 - 23 March 2006)
Spanish film and TV director, born in Zarauz, Guipuzcoa as Eloy German de la Iglesia Dieguez. He studied cinema in Paris at the IDHEC.
Spaanse film- en tv-regisseur, geboren in Zarauz, Guipuzcoa, als Eloy German de la Iglesia Dieguez. Hij studeerde Film in Paris aan de IDHEC.
Films: Fantasía... 3 (1966), Algo amargo en la boca (1969), Cuadrilatero (1970), El Techo de cristal (1971), La Semana del asesino (1971), Una Gota de sangre para morir amando (1973), Nadie oyo gritar (1973), Juego de amor prohibido (1975), Los Placeres ocultos (1976), La Otra alcoba (1976), La Criatura (1977), El Sacerdote (1978), El Diputado (1978), Miedo a salir de noche (1979), Navajeros (1980), Colegas (1980), La Mujer del ministro (1981), El Pico (1983), El Pico II (1984), Otra vuelta de tuerca (1985), La Estanquera de Vallecas (1987), Los novios Bulgaros (2003)
TV: Caligula (2001)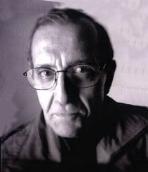 Eloy de la Iglesia
Witi Ihimaera
(7 February 1944)
New Zealand writer, born near Gisborne as Witi Tame Ihimaera-Smiler. He married Jane in 1970 and had two daughters.
Schrijver uit New Zealand, geboren nabij Gisborne als Witi Tame Ihimaera-Smiler. Hij is in 1970 met Jane getrouwd en kreeg twee dochters.
Books: Pounamu, Pounamu (1972), Tangi (1973), Whanau (1974), Maori (1975), The New Net Goes Fishing (1977), Into the World of Light: An Anthology of Maori Writing (1983, editor), The Matriarch (1986), The Whale Rider (1987), Dear Miss Mansfield: A Tribute to Kathleen Mansfield Beauchamp (1989), Bulibasha: King of the Gypsies, (1994), Vision Aotearoa (1994), Legendary Land (1994), Nights in the Gardens of Spain (1995), Aotearoa New Zealand Faces of the Land (1995), Te Ao Marama (1996, editor), The Dream Summer (1997), On Top Down Under (1998), Growing Up Maori (1998, editor), Mataora: the Living Face (1998), The Uncle's Story (2000), Where's Waari? A History of the Maori Through the Short Story (2000, editor), Sky Dancer (2004), Whanau II (2004), The Rope of Man (2005), Band of Angels (2005), The Trowenna Sea (2009)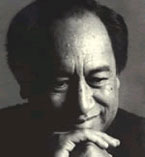 Witi Ihimaera
Indigo girls
Rockgroup which started in 1985. See Amy Ray and Emily Saliers.
Rockgroep die in 1985 startte. Zie Amy Ray en Emily Saliers.
John Inman
(28 June 1935 – 8 March 2007)
British actor, born in Preston, Lancashire as Frederick John Inman. On December 27, 2005, Inman entered in a civil partnership with his partner of 35 years, Ron Lynch.
Britse akteur, geboren in Preston, Lancashire als Frederick John Inman. Op 27 december 2005 is Inman een partnerregistratie aangegaan met de man die al 35 jaar zijn partner was, Ron Lynch.
TV: A Slight Case of ... (1965), Two In Clover (1970), Are You Being Served/ Wordt U Al Geholpen? (1972-1985, as Mr. Humphries), Grace & Favour (1992-1993), In the House with Cleopatra and Friends (1998), French and Saunders (1999, episode The Phantom Millennium)
Theatre: Freda, Ann Veronica, Salad Days (1975), Charley's Aunt (1979), Fancy Free, Pyjama Tops, My Fat Friend, Bedside Manners
Films: The Tall Guy (1989), The Mumbo Jumbo (2000)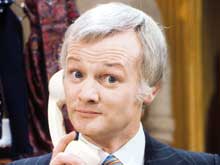 John Inman
Percy Irausquin
(26 June 1969 - 14 August 2008)
Dutch fashion designer, born in Oranjestad on Aruba as Joseph Gregory Irausquin. When he was 21 years old he moved to the Netherlands. He studied at the MBO Modeopleiding in Breda (1990-1993) and The Rietveld Academy in Amsterdam (1994-2000). In July 2006 he opened his own shop in the Cornelis Schuytstraat in Amsterdam. His designs were a.o. worn by Dutch actress Carice van Houten and British director Suzie Templeton.
Nederlandse modeontwerper, geboren in Oranjestad op Aruba als Joseph Gregory Irausquin. Toen hij 21 jaar was verhuisde hij naar Nederland. Hij studeerde aan de MBO Modeopleiding in Breda (1990-1993) en de Rietveld Academie in Amsterdam (1994-2000). In juli 2006 opende hij zijn eigen winkel in de Cornelis Schuytstraat in Amsterdam. Zijn ontwerpen werden o.a. gedragen door actrice Carice van Houten en de Britse regisseur Suzie Templeton.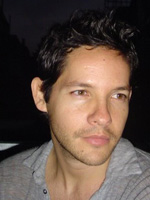 Percy Irausquin
Gilbert Isabella
Dutch local politician for the PvdA in Utrecht. He was born in Curacao on the Dutch Antilles.
Nederlandse lokale politicus voor de PvdA in Utrecht. Hij is geboren in Curacao op de Nederlandse Antillen.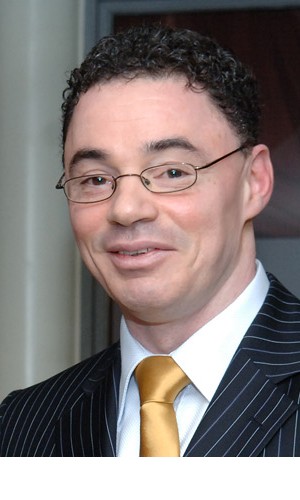 Gilbert Isabella
Christopher Isherwood
(26 August 1904 - 4 January 1986)
British writer and playwright, whose full name was Christopher William Bradshaw Isherwood. Isherwood was born in Disley, Cheshire. He studied at Cambridge. In 1929 he went to Berlin, where he stayed for four years. The musical 'Cabaret' is inspired on his book 'Goodbye to Berlin'. In 1946 he became an American citizen. From 1959 to 1962 Isherwood taught at Los Angeles State College and the University of California at Santa Barbara. In 1965/1966 he taught at the University of California at Los Angeles. He died in Santa Monica.
Engelse schrijver en toneelschrijver, wiens volledige naam Christopher William Bradshaw Isherwood was. Isherwood is geboren in Disley, Cheshire. Hij heeft gestudeerd in Cambridge. In 1929 ging hij naar Berlijn, waar hij vier jaar bleef. De musical 'Cabaret' was op zijn boek 'Goodbye to Berlin' geinspireerd. In 1946 nam hij de Amerikaanse nationaliteit aan. Van 1959 tot 1962 gaf hij les aan het Los Angeles State College en de Universiteit van California in Santa Barbara. In 1965 en 1966 gaf hij les aan de Universiteit van California in Los Angeles. Hij overleed in Santa Monica.
Books: All the conspirators (1928), The memorial (1934), Mr.Norris changes trains (1935), Lions and shadows (1938), Goodbye to Berlin (1939), Journey to a war (1939), Prater Violet (1945), The world in the evening (1954), Down there on a visit (1962), A single man (1964), Kathleen and Frank (1971), Christopher and his kind (1976), My guru and his diciples (1980)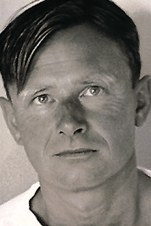 Christopher Isherwood
Küçük Iskender
(1964)
Turkish poet, born in Istanbul.
Turkse dichter, geboren in Istanboel.
Books: Gözlerim Sigmiyor Yüzüme (1988), Erotika (1991), Yirmi 5 April (1994), Periler Ölürken Özür Diler (1994), Güzel Annemin Hayal Gücü (1996), Suzidilara (1996)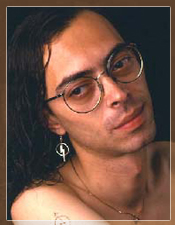 Küçük Iskender
Frank Israel
(22 December 1945 - 10 June 1996)
American architect. Franklin David Israel was born in New York City and grew up in New Jersey. He studied architecture at the University of Pennsylvania, Yale University and Columbia University. He taught at the School of Architecture at the University of California at Los Angeles and designed sets for movies.
Amerikaanse architect. Franklin David Israel werd geboren in New York City in 1945 en groeide op in New Jersey. Hij studeerde architectuur aan de University of Pennsylvania, Yale University en Columbia University. Hij doceerde aan de School of Architecture aan de University of California in Los Angeles en ontwierp decors voor films.
Design for movies: Star Trek: The Motion Picture (1979), Night Games (1979)
Kobi Israel
(3 October 1970)
Israelian photographer, born in Bat-Yam to an Egyptian father and a Maroccan mother. In 2002 he moved to London, England.
Israelische fotograaf, geboren in Bat-Yam als zoon van een Egyptische vader en een Marokkaanse moeder. In 2002 verhuisde hij naar Londen.
Books: Views (2003), Intimate Strangers (2005)
Website: www.kobi-israel.com


Kobi Israel
James Ivory
(7 June 1928)
American film director, screenwriter and producer. He was born James Francis Ivory in Berkeley, California, and studied Fine Arts at the University of Oregon and Film at USC. His partner Ismail Merchant died in may 2005.
Amerikaanse filmregisseur, scriptschrijver en producer. Hij is geboren als James Francis Ivory in Berkeley, Californië en studeerde beeldende kunst aan de University of Oregon en film aan USC. Zijn partner Ismail Merchant overleed in mei 2005.
Films: Four in the morning (1953), Venice: theme and variations (1957), The sword and the flute (1959), The householder (1963), The Delhi way (1964), Shakespeare Wallah (1965), The Guru (1969), Bombay Talkie (1970), Adventures of a brown man in search of civilisation (1972), Helen, Queen of the Nautch girls (1972), Mahatma and the mad boy (1973), Autobiography of a princess (1975), The wild party (1975), Sweet sounds (1976), Roseland (1977), The Europeans (1979), The Bostonians (1984), A room with a view (1985), Maurice (1987), Slaves of New York (1988), Mr. and Mrs. Bridge (1990), Howard's end (1992), The remains of the day (1993), Jefferson in Paris (1995), Surviving Picasso (1996), A soldier's daughter never cries (1998), The Golden Bowl (2000), Le Divorce (2003), The White Countess (2005), The City of Your Final Destination (2008)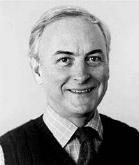 James Ivory
Boris Izaguirre
(29 September 1965)
Spanish screenwriter, journalist, writer and showman, born as Boris Rodolfo Izaguirre Lobo in Caracas, Venezuela. In February 2006 he married Ruben Nogueira.
Spaanse scriptschrijver, journalist, schrijver en showman, geboren als Boris Rodolfo Izaguirre Lobo in Caracas, Venezuela. In febrauri 2006 trouwde hij met Ruben Noguiera.
Books: El Vuelo De Los Avestruces (1991), Azul Petróleo (1998), Morir De Glamour (2000), Verdades Alteradas (2001), 1965 (2002), Fetiche (2003), Villa Diamante (2007)
TV: Crónicas Marcianas, Channel nº4 (2005-2008)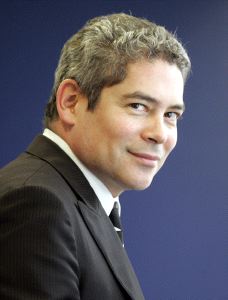 Boris Izaguirre
Continue to the "J" of my alphabet