Wilde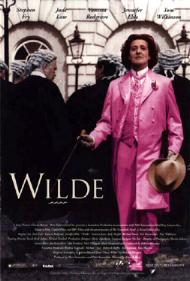 (Back) to my home page




(Back) to my film page



Director: Brian Gilbert
Writers: Richard Ellmann (book), Julian Mitchell
Year: 1997
Country: UK
Also known as: Oscar Wilde
Cast:
- Stephen Fry : Oscar Wilde
- Jude Law : Lord Alfred 'Bosie' Douglas
- Vanessa Redgrave : Lady Speranza Wilde
- Jennifer Ehle : Constance Lloyd Wilde
- Gemma Jones : Lady Queensberry
- Judy Parfitt : Lady Mount-Temple
- Michael Sheen : Robbie Ross
- Zoë Wanamaker : Ada
- Tom Wilkinson : Marquess of Queensberry
- Ioan Gruffudd : John Gray
- Matthew Mills : Lionel Johnson
- Jason Morell : Ernest Dowson
- Peter Barkworth : Charles Gill


Story: The true life-story of Irish-born writer Oscar Wilde. Wilde was married to Constance Lloyd and the couple had two sons. One evening, Robert Ross, a young Canadian houseguest, seduced Wilde and forced him finally to confront the homosexual feelings that had gripped him since his schooldays. In 1892 Wilde was re-introduced to Lord Alfred Douglas, nicknamed "Bosie". Wilde was mesmerised by the young man and began the passionate and stormy relationship which consumed and ultimately destroyed him. Wilde neglected his wife and children and suffered great guilt. Then Bosie's father, the violent Marquess of Queensberry, became aware that Bosie, whose "unmanly" and careless behaviour he despised, was cavorting around London with its greatest playwright. Wilde sued Queensberry for libel. As homosexuality was itself illegal, Queensberry was able to destroy Wilde's case and Wilde was arrested by the crown. He was convicted and sentenced to two years hard labour. Constance fled the country with their children and changed the family name.
When Wilde was released from prison in 1897, he send Bosie a deeply moving letter, "De Profundis", explaining why he could never see him again. Wilde was however unable to resist temptation and he and Bosie were reunited, with disastrous consequences.


Verhaal: Het waargebeurde verhaal over het leven van de in Ierland geboren schrijver Oscar Wilde. Wilde was getrouwd met Constance Lloyd en het echtpaar had twee zonen. Op een avond werd Wilde door een jonge Canadese gast, Robert Ross verleid en geconfronteerd met de homoseksuele gevoelens die hem al sinds zijn schooltijd in de greep hielden. In 1892 had Wilde een hernieuwde kennismaking met Lord Alfred Douglas, bijgenaamd "Bosie". Wilde was betoverd door de jonge man en begon de gepassioneerde en stormachtige verhouding die hem uiteindelijk zou verwoesten. Wilde schonk geen aandacht meer aan zijn vrouw en kinderen en voelde zich erg schuldig daarover. Toen kwam Bosie's vader, de agressieve Markies van Queensberry, er achter dat Bosie, wiens onmannelijke en nonchalante gedrag hij verafschuwde, door Londen dartelde met diens grootste toneelschrijver. Wilde klaagde Queensberry aan wegens laster. Omdat homoseksualiteit zelf illegaal was, kon Queensberry de zaak van Wilde nietig laten verklaren en werd Wilde gearresteerd. Hij werd veroordeeld tot twee jaar dwangarbeid en gevangen gezet. Constance ontvluchtte het land met hun kinderen en veranderde hun achternaam.
Toen Wilde in 1897 vrij kwam, zond hij Bosie een zeer emotionele brief, "De Profundis", waarin hij hem uitlegde waarom hij hem niet meer kon zien. Wilde kon de verleiding echter niet weerstaan en hij en Bosie werden verenigd, met rampzalige gevolgen.
Available on: DVD and video
Official website: www.oscarwilde.com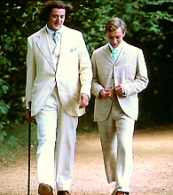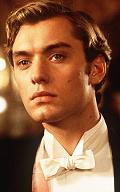 Jude Law as "Bosie"