W
part 1
Continue to part 2 of the "W"
Back to my homepage
Elly de Waard
(8 September 1940)
Dutch poet, translator and popcritic, born in Bergen.
Nederlandse dichteres, vertaalster en popcritica, geboren in Bergen (N-H).
Books: Afstand (1978), Luwte (1979), Furie (1981), Strofen (1983), Een Wildernis van verbindingen (1986), Onvoltooiing (1988), Eenzang (1992), Eenzang twee: het ikst (1993), Het zij: eenzang drie (1995), Anderling (1998), Zestig (2000), Van Cadmium Lekken De Bossen (2001), De Hemel van Toulouse (2004), Proeven van Moord (2005), De Zon is Vrouwelijk (2009), In het Halogeen (2009)
Website: www.ellydewaard.nl


Elly de Waard
Jerry van der Waarde
Dutch local politician for the VVD in Rotterdam.
Nederlandse lokale politicus voor de VVD in Rotterdam.
Frits Wafelbakker
(17 July 1925 - 12 August 2001)
Dutch doctor-sexologist, born in Surabaja, Indonesia. He grew up in Heemstede, the Netherlands. In the seventies and eighties he was inspector of public health for youth. In 1980 a Dutch translation of "The Joy of Gay sex' was published, which he had revised. Wafelbakker was co-founder of the Dutch Aids Fund and editor of the magazine of the Dutch society for sexual reformation (NVSH). He has been married and had four daughters. He also wrote under the pen name Philip den Bouwmeester.
Nederlandse arts-seksuoloog, geboren in Surabaja, Indonesié. Hij groeide op in Heemstede. In de jaren zeventig en tachtig was hij inspecteur Jeugdgezondheidszorg. In 1980 kwam een door hem bewerkte vertaling van 'The Joy of Gay sex' uit (Homoseksualiteit bij mannen). Wafelbakker was mede-oprichter van het Aidsfonds en was redacteur van het NVSH-blad 'Sekstant'. Hij is getrouwd geweest en had vier dochters. Hij schreef ook onder het pseudoniem Philip den Bouwmeester.
Robert Wagenhoffer
(5 July 1960 - 13 December 1999)
American ice skater and choreographer. He died of Aids.
Amerikaanse kunstrijder op de schaats en choreograaf. Hij is aan de gevolgen van Aids overleden.
Shows (choreography): Nutcracker on Ice (1995), Gershwin on Ice (1996), Hunchback of Notre Dame (1997), Skate Against Hate (1998)
Shows: Ice fantastic (1998), Ice Fantastic (1999)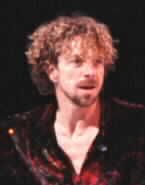 Robert Wagenhoffer
Jane Wagner
(2 February 1935)
American playwright, writer, director, actress and designer, born in Morristown, Tennessee. She is the partner of actress Lily Tomlin. Wagner studied painting and sculpture at the School for Visual Arts in New York City.
Amerikaanse toneelschrijfster, schrijfster, regisseur, actrice en ontwerpster, geboren in Morristown, Tennessee. Zij is de partner van actrice Lily Tomlin. Wagner heeft schilderkunst en beeldhouwkunst gestudeerd aan de School for Visual Arts in New York City.
Books: J.T. (1969), Edith Ann : My life so far
Plays: Appearing nitely (1977), The search of signs of intelligent life in the universe (1985)
TV: Lily: sold out (1981), Lily for President (1982), Edith Ann: A few pieces of the puzzle (1994), Edith Ann: Homeless go home, Edith Ann's Christmas: Just say Noel (1996)
Films (directing): Moment By Moment (1978), Tom's Flesh (1994), Girls Like Us (1997)
Films (screenplay): Moment By Moment (1978), The Incredible Shrinking Woman (1981)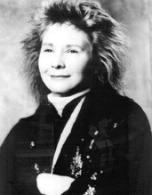 Jane Wagner
Siegfried Wagner
(6 June 1869 - 4 August 1930)
German classical composer and conductor, born in Tribschen as son of composer Richard Wagner. He studied architecture in Berlin and music with Humperdinck. In 1915 he married the British Winifred Williams, with whom he had four children: Wieland, Friedelind, Wolfgang and Verena.
Duits klassiek componist en dirigent, geboren in Tribschen als zoon van de componist Richard Wagner. Hij studeerde architektuur in Berlijn en muziek bij Humperdinck. In 1915 trouwde hij met de Britse Winifred Williams; ze kregen vier kinderen: Wieland, Friedelind, Wolfgang en Verena.
Operas: Der Bärenhäuter (1898),,Herzog Wildfang (1900), Der Kobold (1903), Bruder Lustig (1904), Sternengebot (1906), Banadietrich (1909), Schwarzschwanenreich (1910), Sonnenflammen (1912), Der Heidenkönig (1913), Der Friedensengel (1914), An allem ist Hütchen schuld! (1915), Das Liebesopfer (1917), Der Schmied von Marienburg (1920), Rainulf und Adelasia (1922), Die heilige Linde (1927), Wahnopfer (1928), Walamund (1928-29), Wernhart (1929), Das Flüchlein, das jeder mitbekam (1929)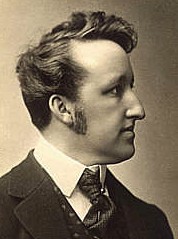 Siegfried Wagner
Vicky Wagner
American comedienne, born in Chicago, Illinois.
Amerikaanse comedienne, geboren in Chicago, Illinois.
TV: Lesbian Knows Best
Website: www.vicki-wagner.com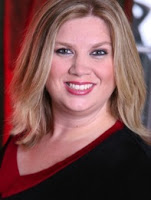 Vicky Wagner
Binyavanga Wainaina
(18 January 1971)
Kenyan witer and journalist, born in Nakuru.
Keniaanse schrijver en journalist, geboren in Nakuru.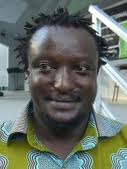 Binyavanga Wainaina
Rufus Wainwright
(22 July 1973)
Canadian singer/songwriter, born in Rhinebeck, New York. Son of singer/songwriter Loudon Wainwright III and folk-singer Kate McCarrigle (Kate's hit with her sister Anne in 1976: Complainte pour Ste. Catherine). He was raised by his mother in Montreal, Canada.
Canadese zanger en liedjesschrijver, geboren in Rhinebeck, New York. Zoon van singer/songwriter Loudon Wainwright III en folkzangeres Kate McCarrigle (Kate's hit samen het haar zus Anne in 1976: Complainte pour Ste. Catherine). Hij werd door zijn moeder in Montreal, Canada, opgevoed.
Albums: Rufus Wainwright (1998), Poses (2001), Want one (2003), Want two (2005), Release the Stars (2007), Rufus Does Judy at Carnegie Hall (2007), Milwaukee At Last!! (2009), All Days Are Nights: Songs For Lulu (2010)
Albums featuring Rufus: Elton John's Christmas Party (2005), Brokeback Mountain (2005, Soundtrack), The History Boys (Soundtrack, 2006), The Last Kiss (Soundtrack, 2006), Meet The Robinsons (Soundtrack, 2007)
DVD's: All I want (2005), Rufus! Rufus! Rufus! Does Judy! Judy! Judy! Live At The London Palladium (2007), Milwaukee At Last (2009), All days are night: Songs for Lulu (2010)
Films: Tommy Tricker and the Stamp Traveller (1988), The Aviator (2004), Heights (2005)
Website: www.rufuswainwright.com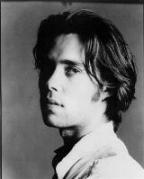 Rufus Wainwright
Dave van der Wal
Dutch reporter and TV presenter, born in Rotterdam. He works at TV Rijnmond.
Nederlandse verslaggever en TV presentator, geboren in Rotterdam. Hij werkt bij TV Rijnmond.
Theatre: Dave On Stage: Bonte Avond (2007), Dave On Stage: Bonte Kerstavond (2007), Dave On Stage: Bonte Kerstavond 2010 (2010)
TV: Ik Vertrek (TROS), Dutchmill (RTL 7), Het Misdaadmuseum (2005), Vergeten Verhalen, Queens 2006 (2006, TV Rijnmond), Dave On Stage (2006-)
Website: www.davevanderwal.nl


Dave van der Wal
Paul van der Wal
(27 September 1968)
Dutch singer, who performs in drag as Sheila together with Mark Rijsdijk (Cindy) as 'The Working girls'. The Working Girls have a.o. performed during the Gay Pride Day in Rotterdam in 2001 and at the premiere party of the musical 'Victor Victoria' at the Marquis Theatre in New York. Paul was born in Rotterdam and has been performing together with Mark as The Working Girls for more than ten years now.
Nederlandse zanger, die samen met Mark Rijsdijk het duo in travestie 'The Working girls' vormt. Paul is Sheila en Mark is Cindy. The Working Girls hebben o.a. opgetreden tijdens de Roze Zaterdag in Rotterdam in 2001 en op de premiereparty van de musical 'Victor Victoria' in the Marquis Theatre in New York. Paul is geboren in Rotterdam en treedt nu al meer dan tien jaar samen met Mark als The Working Girls op.
Single: If you hold my hand (2002)
Website: www.theworkinggirls.com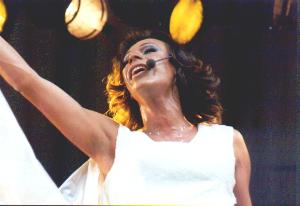 Working Girl Sheila/Paul in Rotterdam, june 30, 2001
Claire Waldoff
(21 October 1884 - 22 January 1957)
German singer and actress, born in Gelsenkirchen as Klara Wortmann. Waldoff has performed in famous Berlin cabarets 'Chat Noir' and 'Linden Cabaret'.
Duitse zangeres en actrice, geboren in Gelsenkirchen als Klara Wortmann. Waldoff trad op de beroemde Berlijnse cabarets 'Chat noir' en 'Linden Cabaret'.
Theatre: Herr Kammerdiener Kneetschke (1907), An Alle (1924), Von Mund zu Mund (1926)
Songs: Hermann heeszt er (1931), Warum soll er nicht mit ihr, Wegen Emil seine unanständige Lust, Wenn der Bräutigam mit der Braut so mang die Wälder jeht, Wer schmeißt denn da mit Lehm?
Albums: Claire Waldoff: Es Gibt Nur Ein Berlin (2001), Claire Waldoff Folge 2: Immer Ran An' Speck (2001)
Autobiography: Weeste noch...! (1953)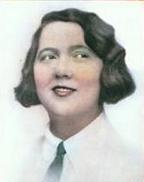 Claire Waldoff
Alice Walker
(9 February 1944)
American writer and poet, born in Eatonton, Georgia, as Alice Malsenior Walker. She studied at Spelman College, Atlanta, Georgia, and Sarah Lawrence College in New York. Walker married Mel Leventhal in 1967 and in 1970 their daughter Rebecca was born. She was divorced in 1976.
Amerikaanse schrijfster en dichteres, geboren in Eatonton, Georgia, als Alice Malsenior Walker. Ze heeft gestudeerd aan Spelman College in Atlanta, Georgia en Sarah Lawrence College in New York. Walker trouwde in 1967 met Mel Leventhal en in 1970 werd hun dochter Rebecca geboren. Ze scheidden in 1976.
Books: Once, The Third Life of Grange Copeland/Het derde leven van Grange Copeland, In Love and Trouble: Stories of Black Women (1974), Meridian (1976), The color purple/De kleur paars (1982), In Search of Our Mothers' Gardens: Womanist Prose (1983), Good Night, Willie Lee, I'll See You in the Morning (1984), Horses Make a Landscape Look More Beautiful (1986), Living by the Word: Selected Writings, 1973-1987 (1988), The temple of my familiar?De tempel van mijn gezel (1989), Possessing the secret of joy (1992), Her Blue Body Everything We Know: Earthling Poems, 1965-1990 Complete (1993), Anything We Love Can Be Saved: A Writer's Activism: Essays, Speeches, Statements and Letters (1997), By the Light of My Father's Smile (1999), The Way Forward Is With a Broken Heart (2000), Now is the Time to Open Your Heart (2004)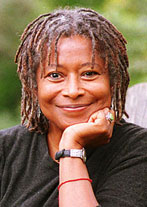 Alice Walker
Ed Wallinga
Dutch local politician for the PvdA in Enschede.
Nederlandse lokale politicus voor de PvdA in Enschede.
Sir Hugh Seymour Walpole
(13 March 1884 - 1 June 1941)
British writer, born in Auckland, New Zealand. He came to England when he was five, was educated at King's School, Canterbury and Emmanuel College, Cambridge and became a schoolmaster. In 1938 he was knighted.
Britse schrijver, die geboren is in Auckland, Nieuw Zeeland. Hij kwam naar Engeland toen hij vijf jaar was, werd opgeleid aan de King's School, Canterbury en het Emmanuel College, Cambridge en werd schoolmeester. In 1938 werd hij geridderd.
Books: Mr. Perrin and Mr.Traill (1911), The dark forest (1916), The secret city (1919), The Chrystal box (autobiographical, 1924), Portrait of a man with red hair (1925), Wintersmoon (1928), Hans Frost (1929), Judith Paris (1931), Vanessa (1933), Captain Nicholas (1934), A Prayer for my son (1936), John Cornelius (1937), The bright Pavillions (1940), Blind man's house (1941)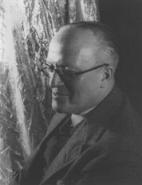 Sir Hugh Walpole
Mikey Walsh
(21 December 1966)
British writer. The name "Mike Walsh" is a pseudonym.
Britse schrijver. De naam "Mike Walsh" is een pseudoniem.
Books: Gypsy Boy /Zigeunerkind (2010/2011), Gypsy Boy On The Run (2011)
André van Wanrooij
Dutch local politician for D66 in Roosendaal.
Neerlandse lokale politicus voor D66 in Roosendaal.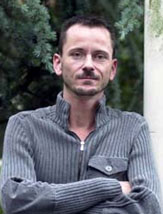 André van Wanrooij
Sophie Ward
(21 December 1966)
British actress, born in London. She was married to Paul Hobson and they have two sons.
Britse actrice, geboren in Londen. Ze was getrouwd met Paul Hobson en ze hebben twee zonen.
Theatre: Nothing (2003), Electricity (2004), Nothing (2006), An Ideal Husband (2006), One Flew Over The Cuckoo's Nest (2007)
TV: Casanova (1987), A Caribbean Mystery (1989), The shell Seekers (1989), Class of '61 (1993), MacGyver: Lost treasure of Atlantis (1994), A dark adapted eye (1994), Dinotopia (2002), Heartbeat (2004-)
Films: Full circle (1976), Copter Kids (1976), A shocking accident (1982), The Lords of discipline (1983), The hunger (1983), Return to Oz (1985), Young Sherlock Holmes (1985), Aria (1987), Il Giovanni Toscanini (1988), A summer story (1988), Little Dorrit (1988), El fraile (1990), Una Vita scellerata (1990), Der Mann nebenan (1991), Waxwork II: Lost in time (1992), Taking liberty (1993), A village affair (1994), Prophecy (1994), The big fall (1996), Bela Donna (1998), Crime and punishment (2000), Out of bounds (2003), Nobody Knows Anything! (2003), Bubblegum (2004)
Website: www.sophieward.com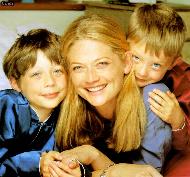 Sophie Ward and her two sons
Andy Warhol
(6 August 1927 - 22 February 1987)
American artist, painter, filmmaker and society figure, born in Forest City, Pennsylvania as Andrew Warhola jr. His pictures of Campbell Soup cans made him famous. Also known for his portrets of icons like Marilyn Monroe and of monarchs like the Dutch Queen Beatrix.
Amerikaans artiest, schilder, filmmaker en society figuur, geboren in Forest City, Pennsylvania onder de naam Andrew Warhola jr. Zijn afbeeldingen van Campbell soepblikken maakten hem beroemd. Hij is ook bekend door zijn schilderijen van vorsten zoals Koningin Beatrix.
Films: Chelsea girls (1966), Flesh (1968), Trash (1970), Heat (1972), Blood for Dracula (1974), Flesh for Frankenstein (1974)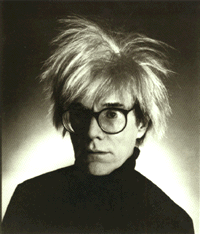 Andy Warhol
Jackie Warner
(17 August 1968)
American fitness trainer and owner of Sky Sport and Spa, a gym and spa in Beverly Hills, California. She was born as Jacqueline Warner in Fairborn, Ohio.
Amerikaanse fitness trainster en eigenaresse van Sky Sport and Spa, een sportschool en spa in Beverly Hills, Californië. Ze is geboren als Jacqueline Warner in Fairborn, Ohio.
TV: Killinaskully (2004-2005), Work Out (2006-2007)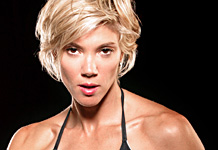 Jackie Warner
Jason Warner
(1975)
American half of Christian Pop duo Jason & DeMarco, together with DeMarco DeCicccio. His real name is Rob Jason Nicewarner. The couple has two sons, Mason and Noah.
Amerikaanse helft van het Christelijke popduo Jason & DeMarco, together with DeMarco Deciccio. Zijn echte naam is Rob Jason Nicewarner. Het stel heeft twee zonen, Mason en Noah.
Singles: Trying to get you (2006), It's Okay (2008)
Albums: The Spirit of Christmas (2002), Songs for the Spirit (2003), Spirit Pop (2004), Still (solo-album, 2004), Till the End of Time (2006)
Documentary: We're All Angels (2007)
Website: www.jasonanddemarco.com


Jason
Hans Warren
(20 October 1921 - 18 December 2001)
Dutch poet, writer and literary critic, born in Borssele as Johannes Adrianus Menne Warren. He was married from 1952 to 1975 and had two daughters and a son. Warren has a.o. published his diaries.
Nederlandse dichter, schrijver en literair recencist, geboren in Borssele als Johannes Adrianus Menne Warren. Hij is van 1952 tot 1975 getrouwd geweest en had twee dochters en een zoon. Warren heeft o.a. zijn dagboeken uitgegeven.
Books: Pastorale (1946), Om het behoud der eenzaamheid (1950), Een vriend voor de schemering (1950), Een roos van Jericho (1966), De Olympos (1973), Herakles op de tweesprong (1974), 't Zelve anders (1975), Steen der hulp (1975), Demetrios (1976), Geheim dagboek 1942-1944 (1981), Geheim Dagboek 1945-1948 (1982), Geheim dagboek 1949-1951 (1983), Geheim dagboek 1952-1953, Geheim dagboek 1954-1955, Geheim dagboek 1956-1957, Geheim dagboek 1958-1962, Geheim dagboek 1963-1970, Geheim dagboek 1971-1972, Geheim dagboek 1973-1975, Binnenste buiten (1989), Geheim dagboek 1975-1976, Geheim dagboek 1977-1978, Indigo (1993), Geheim dagboek 1978-1980, Geheim Dagboek 1984-1987, Geheim Dagboek 2001 (2002), Tussen Borssele en Parijs (2005), Geheim Dagboek 1987-1990 (2006), Geheim Dagboek 1996-1998 (2008)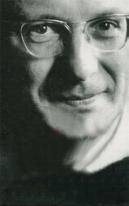 Hans Warren
Patricia Nell Warren
(15 June 1936)
American writer, born in Montana.
Amerikaanse schrijfster, geboren in Montana.
Books: The Front Runner (1974), Harlan's Race (1994), The Fancy Dancer (1996), The Beauty Queen (1996), Billy's Boy (1997), One In The Sun (2001), The Wild Man (2001)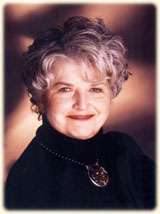 Patricia Nell Warren
Ray Warren
American superior court Judge in North Carolina. He was born as Raymond Allan Warren in Georgia. Warren was married from 1979 till 1987 and from 1988 till 1998. In december 1998 he came out publicly. He has two children, who were born in 1991 and 1992.
Amerikaanse rechter bij het Hoger Gerecht in North Carolina. Hij is geboren als Raymond Allan Warren in Georgia. Warren was getrouwd van 1979 tot 1987 en van 1988 tot 1998. In december 1998 verklaarde hij openlijk homoseksueel te zijn. Hij heeft twee kinderen, die in 1991 en 1992 geboren zijn.


Ray Warren
Tony Warren
(9 July 1936)
British actor, writer and scriptwriter, best known for creating the soap opera Coronation Street. He was born as Anthony McVay Simpson in Swinton, Lancashire.
Brits akteur, schrijver en scriptschrijver, die het meest bekend is voor zijn creatie van de soapserie Coronation Street. Hij is geboren als Anthony McVay Simpson in Swinton, Lancashire.
TV (script): Coronation Street (1960-), Biggles (1960), The War of Darkie Pilbeam (1968)
Books: The Lights of Manchester (1991), Foot of the Rainbow (1993), Behind Closed Doors (1995) , Full Steam Ahead (1998)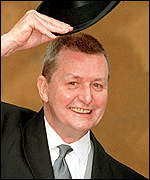 Tony Warren
Matthew Waterhouse
(19 December 1961)
British actor and writer, born in Hertford. He is best known for his role as Adric in the TV series Dr. Who. In 1998 he moved to the USA.
Britse akteur en schrijver, born in Hertford. Hij is het meest bekend door zijn rol als Adric in de TV-serie Dr. Who. In 1998 verhuisde hij naar de USA.
TV: To Serve Them All My Days, Dr. Who (1980-1982)
Theatre: A Midsummer Night's Dream, Twelfth Night, Hamlet, Macbeth, I Am David, The Lion, the Witch and the Wardrobe, Brighton Beach Memoirs, Peter Pan, Torch Song Trilogy, Adventures of Huckleberry Finn
Films: The Killing Edge (1984)
Book: Fates, Flowers: A Comedy of New York (2006)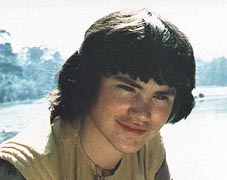 Matthew Waterhouse
Steven van Watermeulen
(1968)
Belgian actor and writer.
Belgische akteur en schrijver.
Books: Landschap Tussen Alles Of Niets (2011)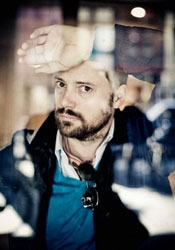 Steven van Watermeulen
Ethel Waters
(31 October 1896 - 2 September 1977)
American singer and actress, born in Chester, Pennsylvania as Ethel Howard. Waters has been married twice; in 1910 to Merritt Pernsley and in 1928 to Clyde Matthews. Waters also had a relationship with dancer Ethel Williams.
Amerikaanse zangeres en actrice, geboren in Chester, Pennsylvania als Ethel Howard. Waters is twee keer getrouwd geweest; in 1910 met Merritt Pernsley en in 1928 met Clyde Matthews. Waters heeft ook een relatie gehad met de danseres Ethel Williams.
Autobiography: His Eye is on the sparrow (1951)
Albums: 1923-1925 (1994), 1926-1929 (1993), 1929-1931 (1993), 1931-1934 (1993)
Theatre: Rhapsody in Black (1931), As Thousands Cheer (1933), At Home Abroad (1935), Mamba's Daughters (1939), Cabin in the Sky (1940-1941)
Films: On With the Show (1929), Rufus Jones for President (1933), Bubblin Over (1934), Tales of Manhattan (1941), Cairo (1942), Stage Door Canteen (1943), Cabin in the sky (1943), Pinky (1950), The Member of the Wedding (1952), Carib Gold (1955), The Sound and the Fury (1959)
TV: The Ethel Waters Show (1939), Beulah (1950-1952)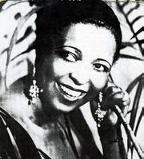 Ethel Waters
John Waters
(22 April 1946)
American film director, actor and sreenwriter, born in Baltimore, Maryland.
Amerikaanse filmregisseur, akteur en scriptschrijver, geboren in Baltimore, Maryland.
Films: Mondo Trasho (1970), Multiple Maniacs (1971), Pink Flamingo's (1973), Female Trouble (1975), Desparate living (1977), Polyester (1981), Hairspray (1988), Cry baby (1990), Serial mom (1994), Cecil B. Demented (2000), A dirty shame (2004)
Theatre: A John Waters Christmas (2004, 2005)
Album: A John Waters Christmas (2004)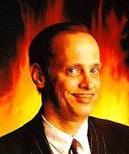 John Waters
Sarah Waters
(1966)
British writer, born in Neyland, in Pembrokeshire. She has studied at Kent and Lancaster and has a Ph.D in English litarure.
Britse schrijfster, geboren in Neyland, in Pembrokeshire. Ze heeft gestudeerd in Kent en Lancaster en heeft een Ph.D in Engelse literatuur.
Books: Tipping the velvet/Fluwelen begeerte (1998), Affinity/Affiniteit (2000), Fingersmith/Vingerlug (2002/2003), The Night Watch/De Nachtwacht (2006)
Website: www.sarahwaters.com


Sarah Waters
Ian Watkins
(8 May 1976)
British singer and actor, also known as "H", formerly of popgroup Steps. He was born in Llwynypia, Rhondda, Wales. He joined Steps in 1997. In 2001 Steps split, after which Ian became "H & Claire" with fellow Steps member Claire Richards.
Britse zanger en akteur, ook bekend als "H", vroeger van de popgroep Steps. Hij is geboren in Llwynypia, Rhondda, Wales.
Hits (with Steps): 5,6,7,8 (1997), Last Thing on My Mind (1998), One for Sorrow (1998), Heartbeat/Tragedy (1998), Better Best Forgotten (1999), Thank ABBA for the Music (1999), Love's Got a Hold on My Heart (1999), After the Love Has Gone (1999), Say You'll Be Mine/Better the Devil You Know, Deeper Shade of Blue, When I Said Goodbye/Summer Of Love (2000), Stomp (2000), It's the Way You Make Me Feel (2001), Here And Now/You'll Be Sorry (2001), Chain Reaction, Words Are Not Enough/I Know Him So Well, Baby Don't Dance
Hits (with H & Claire): DJ (2002), Half a Heart (2002), All Out of Love (2002)
Albums (with Steps): Step One (1998), Steptacular (1999), Buzz (2000), Gold - The Greatest Hits (2001), The Last Dance (2002)
Albums (with H & Claire): Another You, Another Me (2002)
Radio: Silver Street (2006)
TV: H-side Story, Celebrity Big Brother UK (2007)
Theatre: Joseph and the Amazing Technicolour Dreamcoat (2006), Cinderella (2006), Fame (2007), Night of the Tiles (2007), Cinderella (2007), Make Me A Song (2008)
Website: www.ian-h-watkins.com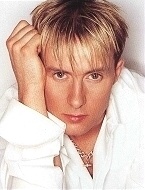 Ian "H" Watkins
Albrecht Wauters
(24 November 1966)
Belgian Radio DJ for VRT-Radio, born in Leuven.
Belgische Radio-DJ bij VRT-radio, geboren in Leuven.
Radio: Jabbedabeboe (Radio Donna), Koffers & Co, De Dansbar (2003), De Grote Beer (2005-2007)


Albrecht Wauters
Ann Wauters
(12 October 1980)
Belgian basketballplayer.
Belgische basketbalspeelster.
Website: www.annwauters.be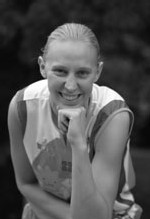 Ann Wauters
Clifton Webb
(11 November 1889 - 13 October 1966)
American actor, born in Indianapolis, Indiana as Webb Parmalee Hollenbeck.
Amerikaans akteur, geboren in Indianapolis, Indiana als Webb Parmalee Hollenbeck.
Films: The heart of a siren (1925), New toys (1925), The still alarm (1930), Laura (1944), The razor's edge (1946), The dark corner (1946), Sitting Pretty (1948), Mr. Belvedere Goes to College (1949), For Heaven's Sake (1950), Cheaper by the Dozen (1950), Elopement (1951), Mr. Belvedere Rings the Bell (1951), Stars and Stripes Forever (1952), Dreamboat (1952), Mister Scoutmaster (1953), Titanic (1953), Three Coins in the Fountain (1954), Woman's world (1954), The man who never was (1956), Boy on a dolphin (1957), Holiday for Lovers (1959), The remarkable Mr. Pennypacker(1959), Satan Never Sleeps (1962)


Clifton Webb
Bruce Weber
(29 March 1946)
American photographer and film director, born in Greenburg, Pennsylvania.
Amerikaanse fotograaf en filmregisseur, geboren in Greenburg, Pennsylvanië.
Books: Bruce Weber (1983), Bear Pond (1990), Gentle Giants (1995), A house is not a home (1996), Branded youth and other stories (1997), The Chop Suey Club
Films: Broken noses (1987), The beauty brothers part I-IV (1987), Let's get lost (1988), Back yard movie (1991), Gentle Giants (1994), The Teddy Boys of the Edwardian Draper Society (1995), Chop Suey (2000)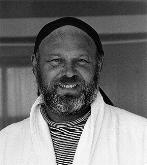 Bruce Weber
Marianne Weber
(5 December 1955)
Dutch singer, born in Utrecht. Before she started a solo career she was member of the Holland Duo. She found out about her lesbian self in 1998 when she fell in love with her friend Rita. Weber has twon sons, Maurice and Jeffrey.
Nederlandse zangeres van levensliederen, geboren in Utrecht. Voor haar solo-carriere maakte ze deel uit van het Holland Duo. Kwam pas in 1998 achter haar lesbische kant toen zij verliefd werd op haar vriendin Rita. Weber heeft twee zonen, Maurice en Jeffrey.
Hits: Ik weet dat er een ander is (1992), Huil maar niet om mij (1992) Schrijf me nooit geen mooie brieven meer (1993), Alles in het leven (1994), De regenboog (met Frans Bauer, 1997), Eens schijnt de zon weer (met Frans Bauer, 1997), Als sterren stralen (1997), Al deze rozen mag je houden (2001)
Albums: Marianne Weber (1992), Diep in mijn hart (1993), Alles in het leven (1994), Rozen op satijn (1995), Haar grootste successen (1997), Frans Bauer en Marianne Weber (1997), Morgen wordt het anders (1997), Wat ik zou willen (with Frans Bauer, 2001), Country & Weber (2001), Kerstfeest met Frans Bauer en Marianne Weber (2001), Hartje van Goud (2004), Tranen van Geluk (2007)
Website: www.marianneweber.nl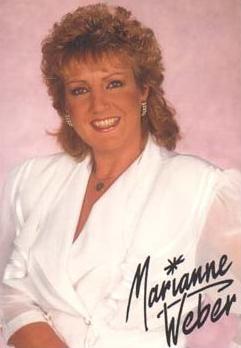 Marianne Weber
Kas van Weelden
(4 May 1989)
Dutch turner, born in Wageningen.
Nederlandse turner, geboren in Wageningen.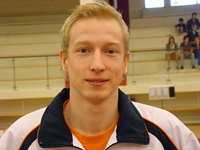 Kas van Weelden
Mark S. Weigle
(26 June 1967)
American singer, born in Minneapolis, Minnesota.
Amerikaanse zanger, geboren in Minneapolis, Minnesota.
Albums: The truth is (1998), All that matters (2000), Out of the loop (2002), Different and the same (2003)
Website: www.markweigle.com/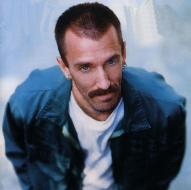 Mark Weigle
Antoon van Welie
(18 December 1866 - 24 September 1956)
Dutch artist, born in Afferden.
Nederlandse kunstenaar, geboren in Afferden.


Antoon van Welie
Mark Welsh
American triathlete and founder and member of Team Flame, a team of openly gay professional athletes. Mark studied at Purdue University in Indiana.
Amerikaanse triatlon-atleet en oprichter en lid van Team Flame, een team van openlijk homoseksuele atleten. Mark studeerde aan de Purdue University in Indiana.
Website teamflame: www.teamflame.com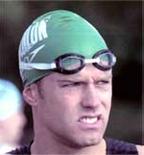 Mark Welsh
Joanna Werners
(25 December 1953)
Dutch writer, born in Paramaribo, Surinam.
Nederlandse schrijfster, geboren in Paramaribo, Suriname.
Books: Droomhuid (1987), Zuigend moeras (1990), Vriendinnenvrouwen (1994), Amba: vrouw van het Surinaamse erf (1996), Schaamteloze warmte (2003), Sluimerende Schaduwen (2007)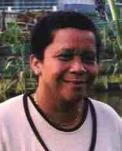 Joanna Werners
Jim West
(28 March 1951 – 22 July 2006)
American mayor of Spokane, Washington, born as James Elton West.
Amerikaanse burgemeester van Spokane, Washington, geboren als James Elton West.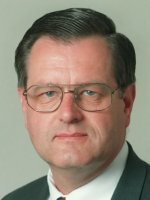 Jim West
Rik van der Westelaken
(22 April 1971)
Dutch reporter, news reader and TV host, born in Vlaardingen as Hendrik Peter Johan van de Westelaken. He studied Science of Public Administration at the de Rijksuniversiteit Leiden and Communication Science at the Universiteit van Amsterdam.
Nederlandse verslaggever, nieuwslezer en TV-presentator, geboren in Vlaardingen als Hendrik Peter Johan van de Westelaken. Hij studeerde Bestuurskunde aan de Rijksuniversiteit Leiden en Communicatiewetenschappen aan de Universiteit van Amsterdam.
TV: NOS Journaal (-2016), 5 Golden Rings, Rik Over De Grens, Wie Is De Mol, Een Vandaag, Gay Pride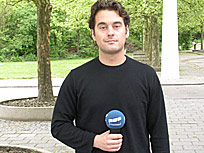 Rik van der Westerlaken
Suzanne Westenhoefer
(31 March 1961)
American comic and actrice. She was born in Columbia, Pennsylvania.
Amerikaanse comedienne en actrice. Ze is geboren in Columbia, Pennsylvania.
Albums: Nothing in my closet but my clothes, I'm not Cindy Brady (2000)
Video: HBO comedy special (1995)
Film: A family affair
Website: www.suzannew.com

Suzanne Westenhoefer
Max Westerman
(29 June 1958)
Dutch journalist, born in Arnhem. He studied Journalism at Columbia University in New York. He worked for magazines Newsweek and Business Week. From 1991 to 2006 he was reporter in the USA for RTL Television.
Nederlandse journalist, geboren in Arnhem. Hij studeerde Journalistiek aan Columbia University in New York. Hij werkte voor de tijdschriften Newsweek en Business Week. Van 1991 tot 2006 was hij de VS-correspondent in the USA voor RTL.
TV: Max and the City, Max in alle Staten
Books: Max & the City (2002)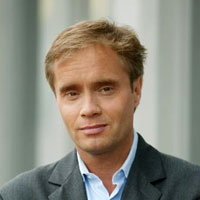 Max Westerman
Guido Westerwelle
(27 December 1961)
German politician for the liberal party FDP, born in Bad Honnef.
Duitse politicus voor de liberale partij FDP, geboren in Bad Honnef.
Website: www.guido-westerwelle.de
Books: Das Parteienrecht und die politischen Jugendorganisationen (1994), Von der Gefälligkeitspolitik zur Verantwortungsgesellschaft (1997), Neuland: Einstieg in den Politikwechsel (1998), Neuland: Die Zukunft des Deutschen Liberalismus (1999)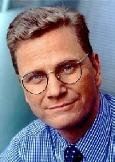 Guido Westerwelle
James Whale
(22 July 22 1896 - 29 May 1957)
American film director, who started as a newspaper cartoonist. He was born in Dudley, Worcestershire, England. He committed suicide by drowning in his pool.
Amerikaanse film regisseur, die begon als cartoontekenaar bij een krant. Hij is geboren in Dudley, Worcestershire, Engeland. Hij pleegde zelfmoord door zich te verdrinken in zijn zwembad.
Films: Hell's Angels (1930), Journey's end (1930), Frankenstein (1931), Waterloo bridge (1931), The impatient maiden (1932), The old dark house (1932), The invisible man (1933), The kiss before the mirror (1933), By candlelight (1934), One more river (1934), The bride of Frankenstein (1935), Remember last night? (1935), Show Boat (1936), The great Garrick (1937), The road back (1937), Port of seven seas (1938), Sinners in Paradise (1938), Wives under suspision (1938), The man in the iron mask (1939), Green hell (1940), They dare not love (1941), Hello out there (1949)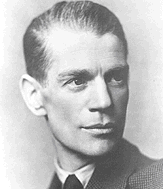 James Whale
Edmund White
(13 January 1940)
American writer, born in Cincinnati, Ohio. He studied at the University of Michigan. From 1983 to 1990 he lived in France. White is HIV-positive.
Amerikaanse schrijver, geboren in Cincinnati, Ohio. Hij studeerde aan de University of Michigan. Van 1983 tot 1990 woonde hij in Frankrijk. White is HIV-positief.
Books: Forgetting Elena (1973), The joy of gay sex (1977, with Dr. Charles Silverstein), Nocturnes for the King of Naples (1978), States of desire: Travels in America (1980), A boy's own story (1982), The beautiful room is empty (1988), Genet: A Biography (1993), The Burning Library (1994), The farewell symphony (1997), The married Man (2000), The Flâneur: A Stroll through the Paradoxes of Paris (2001)
Website: www.edmundwhite.com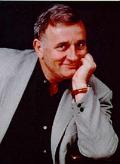 Edmund White
Walt Whitman
(31 May 1819 – 26 March 1892)
American poet, writer and journalist, born on Long Island, New York.
Amerikaanse dichter, schrijver en journalist, geboren op Long Island, New York.
Books: Franklin Evans (1842), Leaves of Grass (1855), Sequel to drum taps (1865), Democratic Vistas (1871), Memoranda during the war (1875), November boughs (1888)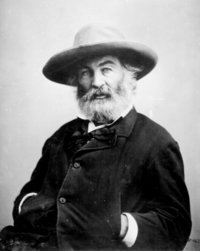 Walt Whitman
George Whitmore
(-1989)
American writer, playwright and poet.
Amerikaanse schrijver, toneelschrijver en dichter.
Books: Nebraska (1977), The Confessions of Danny Slocum (1980), Someone was Here: Profiles in the AIDS Epidemic (1988)
Sue Wicks
(26 November 1966)
American basketball player, born in Center Moriches, New York.
Amerikaanse basketbal-speelster, geboren in Center Moriches, New York.
Website: www.suewicks.com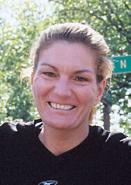 Sue Wicks
Continue to the second part of the "W"