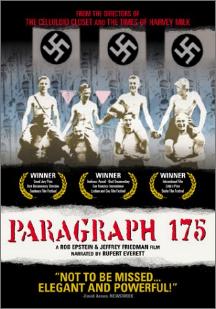 Paragraph 175




Back to my home page




Back to my film page



Directors: Rob Epstein & Jeffrey Friedman
Writer: Sharon Wood
Country: USA
Year: 2000
Duration: 76 minutes
Narrator/Verteller: Rupert Everett
With:
- Albrecht Becker
- Pierre Seel
- Annette Eick
- Heinz Dörmer
- Gad Beck
- Heinz F.


Story: Documentary about Paragraph 175, a German penal code, which from 1871 to 1969 could imprison gays and lesbians. Between 1933 and 1945 100,000 men were arrested for homosexuality by the Nazi's. Some were imprisoned, others were sent to concentration camps. Of the latter, only about 4,000 survived. In this documentary you see interviews with some survivors.


Verhaal: Documentaire over Paragraaf 175, een Duits wetsartikel dat van 1871 tot 1969 homo's en lesbo's in het gevang deed belanden. Tussen 1933 en 1945 werden 100.000 mannen door de Nazi's gearresteerd wegens hun homoseksualiteit. Sommige werden gevangen gezet, anderen werden naar concentratiekampen gestuurd. Van de laatsten hebben slecht ongeveer 4000 het overleefd. In Paragraph 175 zie je interviews met een paar overlevenden.
Website: www.tellingpictures.com/films/5.html
Available on: Video and DVD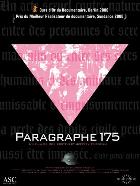 The French poster