E
Back to my homepage
Angela Eagle
(17 February 1961)
British Member of Parliament for the Labour Party, born in Bridlington. She studied at St John's College, Oxford University. In September 2008 Eagle entered into a civil partnership with Maria Exall.
Brits lid van het Parlement (MP) voor Labour, geboren in Bridlington. Ze studeerde aan het St John's College, Oxford University. In september 2008 is zij gepartnerregistreerd met Maria Exall.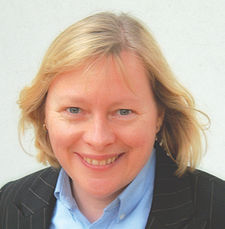 Angela Eagle
Thomas Eakins
(25 July 1844 - 25 June 1916)
American realist painter, photographer, sculptor and fine arts educator, born in Philadelphia, Pennsylvania as Thomas Cowperthwait Eakins.
Amerikaanse realistisch schilder, fotograaf, beeldhouwer en docent beeldende kunst, geboren in Philadelphia, Pennsylvania als Thomas Cowperthwait Eakins.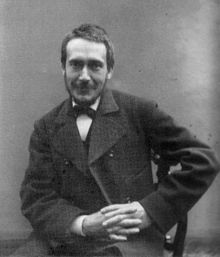 Thomas Eakins
Wouter van Eck
Dutch local politician for Groen Links in Nijmegen.
Nederlandse lokale politicus voor Groen Links in Nijmegen.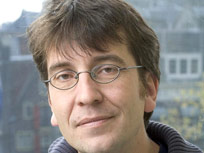 Wouter van Eck
FannyAnn Eddy
(1974 - September 2004)
Activist from Sierre Leone for the rights of sexual minorities. She was found murdered on September 29, 2004. She was raped, stabbed and her neck was broken. Eddy was founder of the Sierra Leone Lesbian and Gay Association in 2002. She left behind a 10 year old son.
Acitiviste uit Sierra Leone voor de rechten van seksuele minderheden. Zij werd op 29 september 2004 vermoord gevonden. Ze was verkracht, met een mes gestoken en haar nek was gebroken. Eddy was de oprichters van de Sierra Leone Lesbian and Gay Association in 2002. Ze liet een zoon van 10 jaar achter.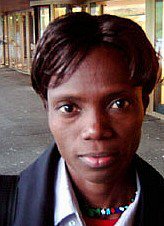 FannyAnn Eddy
Harm Edens
(4 August 1961)
Dutch Radio- and TV-host, translator and script-writer, born in Enschede as Harm Jacob Edens. He studied Theatre at the University of Amsterdam. November 2010 he became father of daughter Imme.
Nederlandse Radio- en TV-presentator, vertaler en scenarioschrijver, geboren in Enschede als Harm Jacob Edens. Hij studeerde Theaterwetenschap aan de Universiteit van Amsterdam. In november 2010 werd zijn dochter Imme geboren.
TV (presenting): Just For Laughs, Dit Was Het Nieuws (1996-), Harpen Gala 1998/1999, De Hof Van Edens (2003), De Gouden Loekie (2003), Ticket (2004-), Sponsor Loterij Winnaar van de Week (2005), Rauw (2006, Talpa), Pubers! (2007, TV Gelderland), De Klimaatshow (2007), On Air (2009)
Radio: Hof van Edens (TROS, 2001-), TROS Jongerenforum
TV (script): Laat maar zitten, De Sylvia Millecam show, In de Vlaamsche pot, Sam Sam, Hij en Julia (Fox/ Net 5), Het zonnetje in huis, Gemeentebelangen, Oh Oh Den Haag (2003)
Theatre (translation): De Humorist (The Entertainer, 1988), Zondagskinderen (A month of sundays, 1989), Macbeth (1992), Sunshine boys (1993), Lucht (Gasping, 1993), Lief zijn voor Sloane (Entertaining Mr. Sloane, 1993), De tante van Charlie (1995), De man die kwam dineren (1995), Arsenicum en oude kant (1995), The Iceman cometh (1996)
Film (script): Braak (1993)
Voice-over commercials: Postbank, Aegon, Postbus 51, Ikea, Robeco, Gay Games, NCRV, KPN Hi prepay, AD, Iglo, Prodent calcium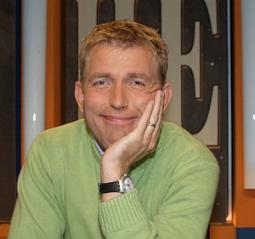 Harm Edens
Arjan Ederveen
(9 September 1956)
Dutch comedian and theatre- and TV-maker, born in Hilversum as Arjan Ederveen Janssen.
Nederlands cabaretier en theater- en TV-maker, geboren in Hilversum als Arjan Ederveen Janssen. Vormde met Kees Prins het duo 'De Duo's'. Werd samen met Tosca Niterink bekend als 'Theo en Thea'.
TV: Bij Nieuwegein Rechtsaf, De Duo's Doen Alsof (1984), Theo en Thea (1985-1988), Petit Populair (1992), Kreatief Met Kurk (1993-1994), Borreltijd, 30 minuten (1995-1997), Televisie (2000), 25 minuten (2001), De Troebabroers (2004), Wroeten (2005), Wie Van De Drie (2010), Verborgen Verleden (2011)
Films: Een zwoele zomeravond (1982), Cheech & Chongs Still Smokin' (1983), Theo en Thea en het Tenenkaasimperium (1989), Everybody wants to help Ernest (1991), Filmpje (1995), Pietje Bell (2002), Pluk van de Petteflet (2004), Kapitein Rob en Het Geheim van Professor Lupardi (2007), Lang en Gelukkig (2010)
Theatre: The Neon Woman (1985), De Flessentrekrevue (1988), Parade Petit Populair (1991-1992), Natte Sneeuw (1995), Fly Away (1997), Oliver (alternate Fagin, 1999-2000), De Grote Verdwijntruc (2001-2002), Leuk Voor Later (2003-2004), De Wensput (2004-2005), Echt Iets Om Naar Toe Te Leven (2005-2007), Lang En Gelukkig (2007-2008), The Fantasticks (2008), Hera (2008-2009), Tocht (2009), Hairspray (2009-2010), Moord In De Kerststal (2010-2011), Ederveenzaamheid (2011-2012)
Book: De sprookjes van A.E.J. 't Mannetje (1999)
Commercials: Nibbit, PTT Telecom, Rotterdam Waterstad, Albert Heijn (2002), Mediamarkt (2004)
DVD: Kreatief met Kurk (2005), Theo en Thea in de Gloria, 30 Minuten (2006)
Website: www.arjanederveen.nl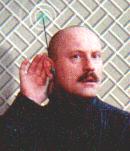 Arjan Ederveen
Wick Ederveen
(24 June 1953 - 11 May 1994)
Dutch actor and director and brother of the above mentioned Arjan Ederveen. He was born in Hilversum as Wick Ederveen Janssen. He died of Aids.
Nederlandse akteur en regisseur en broer van de bovengenoemde Arjan Ederveen. Hij werd geboren in Hilversum als Wick Ederveen Janssen. Hij overleed aan de gevolgen van Aids.
TV: Kamer 17 (1974), Een Giraf Zijn Is Erger, In de Vlaamsche pot
Theatre: Hamlet, Post Uit Afrika (1989)
Films: Romeo (1990)
Sally Edwards
(10 September 1947)
American athlete.
Amerikaanse atlete.
Books: Sally Edwards' Heart Zone Training: Exercise Smart, Stay Fit and Live Longer (1996), Triathlons for women (2000)


Sally Edwards
Edwin
(2 March 1979)
Dutch singer, born in Delft as Edwin van der Toolen. From 1998 to 2000 he was member of Dutch boysband Velvet.
Nederlandse zanger, geboren in Delft als Edwin van der Toolen. Van 1998 tot 2000 was hij lid van de Nederlandse jongensband Velvet.
Website: www.edwin4entertainment.nl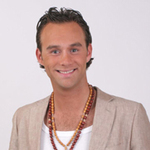 Edwin
Kurt van Eeghem
(28 September 1952)
Belgian singer, writer, Radio and TV host, born in Brugge.
Belgische zanger, schrijver en Radio- en TV-presentator, geboren in Brugge.
Radio: Heldenmoed (Radio 1), Het Salon (Radio 1, -2007), Klara Wakker
TV: Hitring (1980-), Namen Noemen (1984), De drie wijzen (1989-)
Book: Le Petit Kurt, Olaf leeft! (1996)
Website: www.kurtvaneeghem.be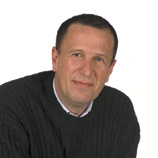 Kurt van Eeghem
Jon van Eerd
(5 September 1960)
Dutch actor, singer and playwright, born in Maastricht as Johannes Martinus Petrus Henricus Elisabeth Coleta van Eerd.
Nederlandse akteur, zanger en toneelschrijver, geboren in Maastricht als Johannes Martinus Petrus Henricus Elisabeth Coleta van Eerd.
Theatre: Equus (1982), The Zoo Story, A Midsummer Night's Dream, Doctor Faustus, Death of a Salesman, The Pirates of Penzance, Drie keer twee is zes teveel, There's No Business Like Show Business (2000-2001), Titanic (2001-2002), De Trullenhoedster, Omhoog die Stok, Het Zakkendiner, Tel uit je winst (2002-2003), Mamma Mia (2003), Nonsens Lieve Heren (2003-2004), De Tante van Charlie, Een rits te ver (2005-2006), Dubbel Op! (2006-2007), The World Goes 'Round (2008), Boeing Boeing (2008-2009), Oranje Boven (2009-2010), La Cage Aux Folles (2010-2011), Kantje Boord (2011-2012), De BonBonfabriek (2012), Jon En De Jongens! (2012-2013)
Voices in films: Harry Potter, Sjakie en de Chocoladefabriek, Lion King, De Teletubbies, Shrek, de Flintstones, The Prince of Egypt, Mulan 2, Chicken Little (as Billy Big), Shrek the Third (2007)
TV: Dik Voor Mekaarshow (2009)
Films: Flodder in Amerika (1992)
Commercial: Dubro
Website: www.jonvaneerd.nl


Jon van Eerd
Danielle Egnew
(28 February 1969)
American singer and actress, born in Billings, Montana.
Amerikaanse zangeres en actrice, geboren in Billings, Montana.
Films: Melody and Harmony, Changing Spots (2006)
Albums: Wild lamb (2005), Red Lodge (2006)
Radio: The High Road, The Music Highway
Website: www.danielleegnew.com
Youri Egorov
(28 May 1954 - 16 April 1988)
Russian pianist, born in Kazan. In 1976 he got political asylum in Italy. He later moved to the Netherlands, where he died of Aids in 1988.
Russische pianist, geboren in Kazan. In 1976 kreeg hij politiek asiel in Italië. Later verhuisde hij naar Nederland, waar hij in 1988 overleed aan Aids.
Website: www.youri-egorov.nl


Youri Egorov
Nicole Eisenman
(1965)
American artist, born in Verdun, France. She studied at the Rhode Island School of Design.
Amerikaanse kunstenares, geboren in Verdun, Frankrijk. Ze studeerde aan de Rhode Island School of Design.
Sergei Eisenstein
(23 January 1898 - 10 February 1948)
Russian director, screenwriter, editor and theoretician. He was born as Sergei Mikhailovich Eisenstein in Riga, Latvia. He got his education at The school of Fine Arts in Riga, Institute of Civil Engeneering (architecture, Petrograd), Officers Engeneering School (Engeneering), General Staff Academy (Oriental languages, Moscow) and State School for stage direction. He died in Moscow.
Russische regisseur, scriptschrijver, uitgever en theoreticus. Hij is geboren in Riga, Letland, als Sergei Mikhailovich Eisenstein. Hij heeft zijn opleiding gevolgd aan de School voor Beeldende Kunst in Riga, het Instituut voor Weg- en Waterbouwkunde (architektuur, Petrograd), de School voor Beambten voor Weg- en Waterbouwkunde, de Academie voor Generale Staf (Oosterse talen, Moskou) en de Staatsschool voor toneelregie. Hij is in Moskou overleden.
Films: Stachka (Strike, 1925), Bronenosets Potemkin (Battleship Potemkin, 1925), Oktaybr (October, 1928), Staroe i novoe (Old and new, 1929), Aleksandr Nevsky (Alexander Nevsky, 1938), Ivan Grozny (Ivan the Terrible, part 1 ,1945), part 2 (1958)
Books: The film sense (1942), Film form (1949)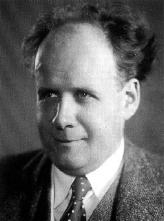 Sergei Eisenstein
Mark Eitzel
(30 January 1959)
American singer, born in Walnut Creek, California. Former member of popgroups 'The naked skinnies', 'American Music Club'(1) and 'The Toiling Midgets' (2) before he started performing as a solo artist.
Amerikaanse zanger, geboren in Walnut Creek, Californië. Voormalig lid van de popgroepen 'The Naked Skinnies', 'American Music Club'(1) en 'The Toiling Misgets'(2), voordat hij een solocarriëre startte.
CD's: Everclear (1, 1991), Songs of love (1991), Mercury (1,1993), San Francisco (2,1994), 60 Watt Silver Lining (1996), West (1997), Caught in a trap and I can't back out 'cause I love you too much, baby (1998), The Invisible man (2001)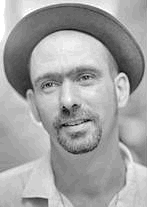 Mark Eitzel

Philippe Elan
(29 November 1960)
French born singer, but living in the Netherlands with his partner Gijs van der Grinten, who is violinist with the Dutch Ballet Orchestra. He was born in Lectoure. Elan received a Edison (Dutch Award) for his first album 'Chansons Classiques'. In 2006 he released a book on Abba's Frida.
In Frankrijk geboren zanger, die nu in Nederland woont met zijn partner Gijs van der Grinten, die violist is bij het Nederlands Ballet Orkest. Hij is geboren in Lectoure. Elan ontving voor zijn eerste CD 'Chansons Classiques' een Edison. In 2006 gaf hij een boek uit over Frida van Abba.
Albums: Chansons Classiques (1990), Demasque (1992), Chansons Magnifiques (1994), Tricolore (1996), Toujours (2001), Live En Concert (2002), Du Jaune, du blanc (2005), C'Est La Vie (2007), Horizons (2011)
DVD: C'Est La Vie (2009)
Theatre: Tour de chant (2002), Toujours intime (2004-2005), C'est la vie/Zo is het leven (2005), Du jaune, du blanc (2005-2007), Chansons En Petit Comité (2008-2009)
Book: A Tribute to Frida (2006, with Jean-Marie Potiez)
Website: www.philippe-elan.com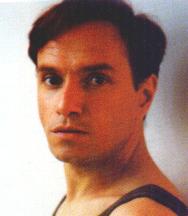 Philippe Elan
Ramy Eletreby
(21 February 1981)
American actor and journalist, born in Long Beach, California.
Amerikaans akteur en journalist, geboren in Long Beach, Californië.
Theatre: The love of Three Oranges, Macbeth, Lambeth, The skin of our teeth, A long bridge over deep waters (2005)
Website: www.ramyeletreby.com


Ramy Eletreby
Joke Ellenkamp
Dutch former member of the Rotterdam City Council, former manager of Vrouwenopvang Rotterdam (reception centre for women) and now manager of Pameijer Keerkring. On september 20, 2002, she married her partner Carolien Nijhuis.
Nederlands voormalig lid van de gemeenteraad in Rotterdam, voormalig directeur van Vrouwenopvang Rotterdam en nu directeur van de Pameijer Keerkring. Op 20 september 2002 is ze in het huwelijk getreden met haar partner Carolien Nijhuis.
Ellis
American singer, born in Texas.
Amerikaanse zangeres, geboren in Texas.
Albums: Soft Day (1996), Bobby Llama (1997), Everything that's Real (2001), Tigers Above Tigers Below (2003), Evidence of Joy (2004), Break the Spell (2008)
Website: www.ellis-music.com


Ellis
Bret Easton Ellis
(7 March 1964)
American writer, born in Los Angeles, California.
Amerikaanse schrijver, geboren in Los Angeles, Californië.
Books: Less Than Zero/Minder Dan Niks (1985), The Rules Of Attraction/De Wetten Van De Aantrekkingskracht (1987), American Psycho (1991), The Informers (1994), Glamorama (1999), Lunar Park (2005), Imperial Bedrooms/De Figuranten (2010)
Website: www.breteastonellis.nl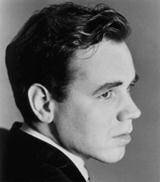 Bret Easton Ellis
Ruth Ellis
(23 July 1899 - 5 October 2000)
American activist, born in Springfield, Illinois.
Amerikaanse activiste, geboren in Springfield, Illinois.
Documentary: Living with pride: Ruth Ellis @ 100 (1999)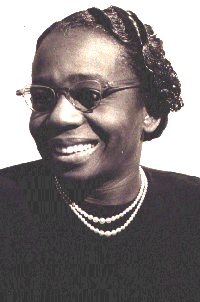 Ruth Ellis
Rutger Elsinga
(28 January 1978)
Dutch former speed skater.
Nederlandse voormalige afstandschaatser.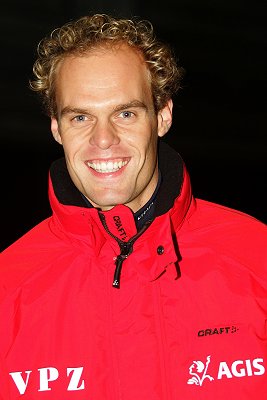 Rutger Elsinga
Remi van der Elzen
(9 July 1960)
Dutch journalist and radio- and TV-host, born in Weert.
Nederlandse journaliste en radio- en TV-presentatrice, geboren in Weert.
TV: Nou dit weer (1993), Heimelijke genoegens, Tee Vee Studio, Door het oog van de naald (1995), Ander Afrika (1995), Twee vrouwen op stap in...., Remi ziet sterren (1997), Je grenzen stellen (1998), Alleen op de wereld (RTL-5), Remi praat laat (2000, RTL-5), Je leven op video (RTL-5)
Radio: Hoor haar (1985), Dolce Vita (KRO)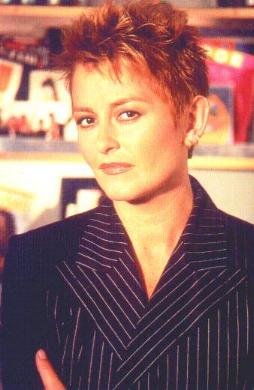 Remi van der Elzen
Andrim Emini
(7 February 1982)
German singer and former member of the German gay popgroup 'Marilyn's boys', born in Dieburg. His parents are from Macedonia.
Duitse zanger en voormalig lid van de Duitse homoseksuele popgroep 'Marilyn's boys', geboren in Dieburg. Zijn ouders komen uit Macedonië.
Hits: I give you the stars (2002), Hot Stuff (2003)
Website: www.marilynsboys.com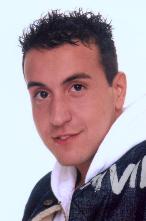 Andrim Emini
Gerard van Emmerik
(3 November 1955)
Dutch writer, born in Apeldoorn.
Nederlandse schrijver, geboren in Apeldoorn.
Books: Iets Scherps, Een Priem (1993), De Stem van de Meester (1996), Mischa's Koorts (1998), De Stemmen (2001), Amsterdamse Impressies (2001), De Verzachters (2005), Ik Ben Je Vriend (2008), De Kippenjongen (2011)
Website: www.gerardvanemmerik.nl
Pam Emmerik
(1964)
Dutch writer, playwright and artist, born in Amerongen.
Nederlandse schrijfster, toneelschrijfster en beeldend kunstenaar, geboren in Amerongen.
Books: Soms Feest (1997), Het Bottenpaleis (2001), Het Wonder Werkt - Verhalen over Kunst
Plays: I Love You in de Bosjes, Het Voorvocht van een Beschermengel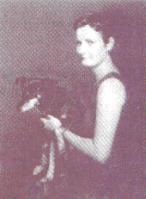 Pam Emmerik
Herman Emmink
(6 January 1927 - 25 March 2013)
Dutch radio- and TV-presentor and singer, born in Amsterdam as Hermanus Christiaan Maria Emmink.
Nederlandse radio- en TV-presentator en zanger, geboren in Amsterdam als Hermanus Christiaan Maria Emmink. Hij werd vooral bekend als spelleider bij het TV-programma 'Wie van de Drie'. Emmink heeft als zanger succes gehad met het nummer 'Tulpen uit Amsterdam'.
Radio: Een Tegen Allen, Muzikaal Onthaal (1965-1982), AVRO's Radiojournaal (1966-?), Te Gast Bij Herman Emmink (TROS, 1982-1987), Zoeklicht op Nederland, Oud Plaatwerk (1994), Tulpen Uit Amsterdam (Radio Nederland Wereldomroep, 1987-?)
TV: Wie Van De Drie (AVRO, 1971-1982), Drieluik, Zo Vader Zo Zoon (NCRV, 1992)
Singles: De Klaterende Lach (1956), Tulpen Uit Amsterdam (1957), In Mijn Hart (1960)
Albums: Herman Emmink (1994)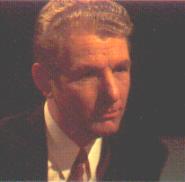 Herman Emmink
Magnus Enckell
(9 November 1870 - 27 November 1925)
Finnish painter, born in Hamina as Magnus Knut Enckell. He studied painting in Helsinki. Enckell died in Stockholm, Sweden.
Finse schilder, geboren in Hamina als Magnus Knut Enckell. Hij studeerde schilderen in Helsinki. Enckell overleed in Stockholm, Zweden.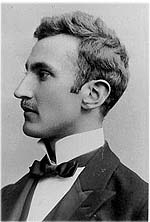 Magnus Enckell
Lernert Engelberts
(27 August 1977)
Dutch writer, poet and director, born in Leerdam.
Nederlandse schrijver, dichter en regisseur, geboren in Leerdam.
Books: Oedipoes Werpt Jongen (1996), Ivoren Toren Te Huur (1997), Echte Slechte Mensen (2008)
TV: Waskracht, Wroeten (directing, 2005)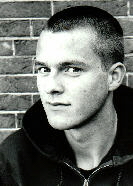 Lernert Engelberts (by Klaas Koppe)
Niek Engelschman
(12 November 1913 - 27 October 1988)
Dutch actor and gay activist, who was one of the founders of the COC (Dutch gay & lesbian society). He also worked under the name Bob Angelo. His full real name Nico Engelschman.
Nederlandse akteur en strijder voor homorechten. Hij was een van de oprichters van het COC. Hij werkte ook onder de naam Bob Angelo. Zijn echte naam was voluit Nico Engelschman.
Films: Keetje Tippel (1975)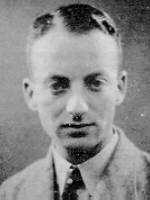 Niek Engelschman
Cas Enklaar
(22 April 1943)
Dutch actor, born in Den Helder as Casper Willem Enklaar. He studied at the Toneelschool Amsterdam. In 1970 he was one of the founders of theatre group 'Het Werktheater', with which he played untill 1985.
Nederlandse akteur, geboren in Den Helder als Casper Willem Enklaar. Hij heeft aan de Toneelschool Amsterdam gestudeerd. In 1970 was hij een van de oprichters van toneelcollectief 'Het Werkteater', waar hij bij speelde tot 1985.
Theatre: Een avond met Joan (1982), Brief aan mijn vader (1993), Kattegat 10 (1996), Wilhelmina, Je Maintiendrai (1998), Uit Liefde (2006), Van Oude Mensen; De Dingen Die Voorbijgaan (2008)
TV: In Het Belang Van De Staat (1997), Saint Amour (2001), One Night Stand: Mooi Geweest (2018)
Films: De Dwaze Lotgevallen Van Sherlock Jones (1975), Toestanden (1976), Camping (1978), Een Zwoele Zomeravond (1982), Een Dagje Naar het Strand (1984), Paul Chevrolet En De Ultieme Hallucinatie (1985), Flodder (1986), Terug Naar Oegstgeest (1987), Zwerfsters (1989), Loos (1989), Het Seizoen (1990), De Bunker (1992), Vals licht (1993), De Vliegende Hollander (1995), Tot Ziens (1995), Lang Leve De Koningin (1995), Abeltje (1998), Baby Blue (2001), Flicka (2002), Het Everzwijn (2002), Erik of het klein insectenboek (2004), Die Buddenbrooks (2008)
Book: Huizen En Herinneringen - Een Zoektocht Door Meer Dan Veertig Jaar Amsterdam (2008)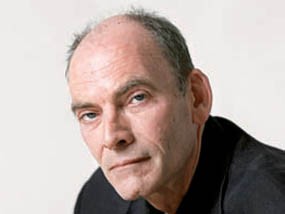 Cas Enklaar
Brian Epstein
(19 September 1934 - 27 August 1967)
British manager of The Beatles, Gerry and the Pacemakers, Billy J. Kramer and the Dakotas and Cilla Black. He was born in Liverpool as Brian Samuel Epstein. Epstein committed suicide.
Britse manager van de Beatles, Gerry and the Pacemakers, Billy J. Kramer and the Dakotas en Cilla Black. Hij is geboren in Liverpool als Brian Samuel Epstein. Epstein pleegde zelfmoord.
Biography: A Cellarful of Noise (1964)
Website: www.brianepstein.com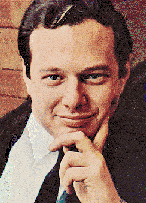 Brian Epstein
Rob Epstein
(6 April 1955)
American documentary and film maker, born in New Brunswick, New Jersey, as Robert P. Epstein. He received an Academy Award for 'The times of Harvey Milk'.
Amerikaanse documentaire- en filmmaker, geboren in New Brunswick, New Jersey, als Robert P. Epstein. Hij heeft een Oscar gekregen voor 'The times of Harvey Milk'.
Films: Word is out (1978), Out of order (1982), The times of Harvey Milk (1985), Common threads: Stories from the quilt (1989),Where are we (Our trip through America)(1992), The Celluloid closet (1995), Paragraph 175 (2000), Underground Zero (2002, segment "Isaiah's Rap") , Howl (2010)
TV: Crime and punishment (2002), Ten Days That Unexpectedly Changed America: Gold Rush (2006)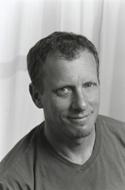 Rob Epstein
Dennis Erhardt
Dutch singer and radiopresentor. Had a hit in 1996 under the name 'Dennis' with 'Gewoon een vrolijk liedje'. Writes for Dutch magazines Gay&Night and Flashback.
Nederlandse zanger en RadioDJ. Had in 1996 onder de naam 'Dennis' een hit met het nummer 'Gewoon een vrolijk liedje' (een vertaling van de hit 'Hafanana' van Afric Simone uit 1975). Presenteerde samen met Robert van der Sanden een homo-georienteerd programma op Radio Gooiland. Schrijft voor de tijdschriften Gay&Night en Flashback.
Hits: Gewoon Een Vrolijk Ledje (1996), Wil Je Met Me Mee
Radio: Spotlight , Koffie Verkeerd (Radio Rijnmond), De Hollandse Muziekmiddag (Radio Flevoland)
Website: www.denniserhardt.nl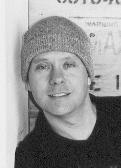 Dennis Erhardt
Michiel van Erp
(4 October 1963)
Dutch documentary maker, stage and TV director and former actor, born in Eindhoven.
Nederlandse documentairemaker, toneel- en TV-regisseur en voormalig akteur, geboren in Eindhoven.
Documentaries: Vergeet Mij Niet (2002), Op Handen Gedragen (2003), Sylvia Kristel: Nue (2007), File (2008)
TV: Villa Achterwerk (1991-1996), Lang Leve... (2001, 2002-2003), TV7 (VPRO, 2002), De Koekoeksclub (2003), Divina Gloria (2006), File (2008), Smoeder (2009)
Films: Pretpark Nederland (2006), Angst (2009)
Theatre: Mexico, Tourist, Mug Inn (2005), Mug Inn On Tour (2007)
Book: Voor De Geraniums (2005)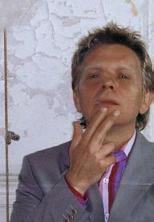 Michiel van Erp
Jade Esteban Estrada
(17 September 1973)
American stand-up comedian, dancer, choreographer, actor, singer and writer, born and raised in San Antonio, Texas. He studied at the American Musical and Dramatic Academy in New York and was one of the members of the hip-hop group The Model Citizens.
Amerikaanse stand-up komiek, danser, choreograaf, akteur, zanger en schrijver, geboren en opgegroeid in San Antonio, Texas. Hij heeft gestudeerd aan de American Musical and Dramatic Academy in New York en was een van de leden van de hip-hopgroep The Model Citizens.
Album: Angel (2001)
Theatre: Starlight Express (Germany), Ocean Dome (Japan), The George Gershwin Tribute Tour, It's too late...it's already in me
Films: Erwachsen Werden (2005), El Hombre de Tortugas (2005), The Legacy of Walter Frumm (2005), The Bad Singer (2007), God Thinks You're A Loser (2007)
Website: www.getjaded.com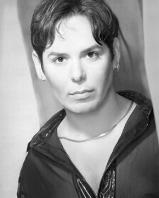 Jade Esteban Estrada
Paul Etheredge-Ouzts
(11 June 1968)
American film director and screenwriter, born in Fort Worth, Texas.
Amerikaanse filmregisseur en scriptschrijver, geboren in Forth Worth, Texas.
Films (writing): Hellbent (2004), Vermilion (2007)
Films (directing): Hellbent (2004), Angel Of Death (2009)
Melissa Etheridge
(29 May 1961)
American singer, born in Leavenworth, Kansas as Melissa Lou Etheridge. Together with her ex-partner Julie Cypher she's the mother of Bailey Jean Cypher (1997). The father of the baby is David Crosby (of Crosby, Stills, Nash & Young). Melissa's recent partner is actress Tammy Lynn Michaels, who gave birth to twin Miller Steven (boy) and Johnnie Rose (girl) in October 2006.
Amerikaanse zangeres, geboren in Leavenworth, Kansas als Melissa Lou Etheridge. Samen met haar ex-partner Julie Cypher is zij de moeder van Bailey Jean Cypher (1997). De vader van de baby is David Crosby (van Crosby, Stills, Nash & Young). Melissa's huidige partner is actrice Tammy Lynn Michaels, die in oktober beviel van de tweeling Miller Steven (jongen) en Johnnie Rose (meisje).
Hits: Like the way I do (1989), Like the way I do (live)(1993), Must be crazy for me (1993), I'm the only one (1993), I want to be in love (2001)
Albums: Melissa Etheridge, Brave and Crazy, Never Enough, Yes, I am (1993), Your Little Secret (1995), Breakdown (1999), Skin (2001), Lucky (2004), The Road Less Traveled (2005), Fearless Love (2010)
Website: www.melissa-etheridge.com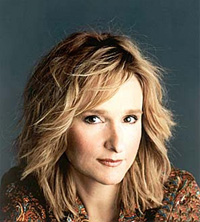 Melissa Etheridge
Bart Ettekoven
(5 March 1972)
Dutch TV-presentor and actor, born in The Hague.
Nederlandse TV-presentator en acteur, geboren in Den Haag.
TV: Goede Tijden Slechte Tijden, Rabo Top 40 (SBS 6), Tabloid (SBS 6, 2002)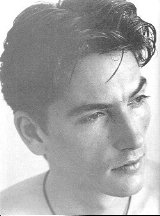 Bart Ettekoven
Luke Evans
(15 April 1979)
British actor, born in Pontypool, Wales.
Brits acteur, geboren in Pontypool, Wales.
Theatre: La Cava, Taboo (2002), Miss Saigon, Piaf, A Girl Called Dusty, Avenue Q (2006), Rent Remixed (2007), Small Change (2008)
Films: Clash of the Titans (2010), The Hobbit: The Desolation of Smaug (2013), The Hobbit: The Battle of the Five Armies (2014), Beauty and the Beast (2017), Professor Marston & The Wonder Women (2017)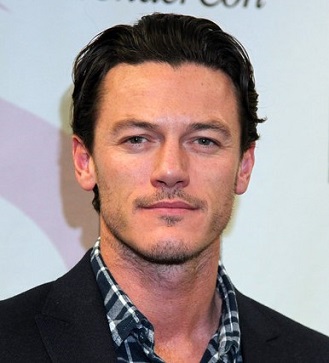 Luke Evans
Uzi Even
(18 October 1940)
Israelian chemistry professor at Tel Aviv University and first openly gay member of the Knesset (Israel's parliament) for the Meretz Party. He was born in Haifa.
Israelische professor in de Scheikunde aan Tel Aviv University en het eerste openlijk homoseksuele lid van de Knesset (Het Isrealische parlement) voor de Meretz partij. Hij is geboren in Haifa.


Uzi Even
Kenny Everett
(25 December 1944 - 4 April 1995)
British DJ and comedian, born in Liverpool as Maurice James Christopher Cole. Everett died of Aids.
Engelse DJ en komiek, geboren in Liverpool als Maurice James Christopher Cole. Everett stierf aan de gevolgen van Aids.
Radio: The Kenny and Cash show (Radio London, 1964-1967), Kenny Everett's weekend morning show (1968)
TV: The Kenny Everett Exploison (1970), Making whoopee, Ev, The Kenny Everett video show (1978-1981), The Kenny Everett Television Show (1981-1988)
Website: www.kennyeverett.co.uk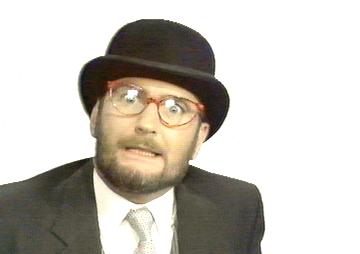 Kenny Everett
Rupert Everett
(29 May 1959)
British actor, model, writer and former singer born in Norfolk, England as Rupert James Hector Everett.
Britse akteur, model, schrijver en voormalig zanger, geboren in Norfolk, Engeland, als Rupert James Hector Everett.
TV: The Manhood of Edward Robinson (1981), Soft Targets (1982), Princess Daisy (1983), The Far Pavillions (1983), Arthur the King (1985), Les Liaisons Dangereuses (2003), Sherlock Holmes and the Case of the Silk Stocking (2004), Boston Legal (2005), Who Do You Think You Are (2010)
Films: A Shocking Accident (1982), Real Life (1983), Dead On Time (1983), Another Country (1984), Duet for one (1987), The comfort of strangers (1991), Prêt-à-porter (1994), The madness of King George (1994), Cemetery man (1996), My best Friend's wedding (1997), Shakespeare in love (1998), Inspector Gadget (1999), B. Monkey (1999), A midsummer nights dream (1999), An ideal husband (2000), The next best thing (2000), Paragraph 175 (narrator, 2000),Big Fat Liar (2002), The Importance of Being Earnest (2002), To Kill A King (2003), Shrek 2 (2004, voice), Stage beauty (2004), A different loyalty (2004), Seperate Lies (2004), People (2004), ...and quiet flows the Don (Russia, 2004), The Chronicles of Narnia: The Lion, the Witch and the Wardrobe (2005, voice), Stardust (2007), Shrek The Third (2007), St. Trinian's (2007), Wild Target (2009), St. Trinian's II: The Legend of Fritton's Gold (2009)
Album: Generation Of Loneliness
Books: Hello Darling, Are You Working (1992), The Hairdressers from St. Tropez, Red Carpets and Other Banana Skins (2006, autobiography)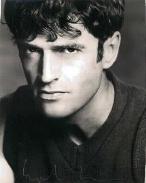 Rupert Everett
Edgar de Evia
(30 July 1910 – 10 February 2003)
American photographer, born in Mérida, Yucatán. He moved with his family to New York City in 1915. Evia was the partner of interior designer Robert Denning.
Amerikaans fotograaf, geboren in Mérida, Yucatán. In 1915 verhuisde hij met zijn familie naar New York City. Evia was de partner van Robert Denning.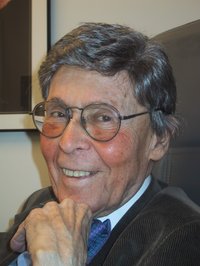 Edgar de Evia
Continue to the 'F' of my alphabet