Dear boys / Lieve jongens




(Back) to my filmpage




Director: Paul Lusanet
Writer: Gerard Reve (Book), Chiem van Houweninge
Year: 1980
Country: Netherlands
Cast:
- Hugo Metsers sr.: Wolf
- Hans Dagelet : Woelrat
- Bill van Dijk : Tiger / Tijger
- Albert Mol : Albert S.
- Pleuni Touw : Corinne
- Marina de Graaf : Patrick
- Astrid Nijgh : Singer / Zangeres
- Gerard Cox : Wolfgang sr.
- Jan Hopmann : Fonsje
- Hans Cornelissen : Wolfgang jr.
- Jaap Hoogstra : Priest / Priester
- Jan Staal : Agent / Vertegenwoordiger
- Mevrouw de Meijer : The Queen / De Koningin


Story: Based on the 1973 novel by Dutch writer Gerard Reve: "Lieve jongens". When the rich writer Wolf attends a service at a church with his younger boyfriend Tiger, he accidentely meets his old acquaintance Albert. Wolf immediately falls in love with Alberts boyfriend. He invites both to his farm in the country. There he tries to seduce Alberts boyfriend, whom he calls Woelrat, by continiously making him horny telling wild stories. Woelrat seems however more interested in Wolf's younger friend Tiger.


Verhaal: Gebaseerd op het boek "Lieve Jongens" uit 1973 van Gerard Reve. Wanneer de rijke schrijver Wolf met zijn jongere vriend Tijger een kerkdienst bezoekt, ontmoet hij toevallig zijn oude kennis Albert. Deze is in gezelschap van zijn vriend, op wie Wolf dadelijk verliefd wordt. Hij nodigt het tweetal uit op zijn boerderij in de provincie. Daar probeert hij Alberts vriend, die hij Woelrat doopt, voor zicht te winnen door hem bij voortduring op te geilen met fantastische vertellingen. Woelrat blijkt evenwel meer geïnteresseerd in Wolfs jongere vriend Tijger
Available on: Video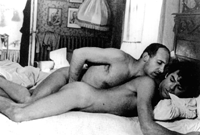 Hugo Metsers (top) and Hans Dagelet