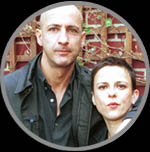 (Back) to my homepage




(Back) to my tv page



Production: Planet 24
Country: UK
Year: 1995 - 1999
Hosts: Rhona Cameron and Richard Fairbrass
Guests a.o.:
- Liza Minelli
- Armistead Maupin
- k.d. Lang
- Simon Callow
- Martina Navratilova


BBC Entertainment show for lesbians and gay men, which brought a.o. gay new stories, celebrity interviews and performances. During the Gay Games in Amsterdam there was a special about these games.


BBC Entertainment show voor lesbiennes en homoseksuele mannen, dat o.a. nieuws over homoseksuele items bracht, interviews met bekende mensen en optredens. Tijdens de Gay Games in Amsterdam zonden ze een special over deze spelen uit.