The picture of Dorian Gray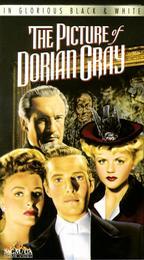 Back to my homepage
Back to my filmpage

Director + script: Albert Lewin
Year: 1945
Country: U.S.A.
Cast:
- George Sanders : Lord Henry Wotton
- Hurd Hatfield : Dorian Gray
- Donna Reed : Gladys Hallward
- Angela Lansbury : Sibyl Vane (Lansbury was nominated for an Academy Award and won a Golden Globe, both for Best Supporting Actress in 1946)
- Peter Lawford : David Stone
- Lowell Gilmore : Basil Hallward
- Richard Fraser : James Vane
- Douglas Walton : Allen Campbell
- Reginald Owen : Lord George Farmoor
- Morton Lowry : Adrian Singleton
- Miles Mander : Sir Robert Bentley
- Lydia Bilbrook : Mrs. Vane
- Mary Forbes : Lady Agatha
- Robert Greig : Sir Thomas
- Moyna MacGill : Duchess
- Billy Bevan : Malvolio Jones
Story: Based on the novel by Oscar Wilde this is the story of young and handsome Dorian Gray. Dorian has his portrait painted by his friend Basil Hallward. When Dorian sees the beauty of the painting he becomes jealous because he can't stay as young as his portrait. He would sell his soul to stay that young. As the years go by, Dorian doesn't age, but evidence of his sins are apparent in his portrait, which grows uglier with each transgression. He keeps it safely hidden in the attic. But his mysterious behavior and ageless appearance begin to attract suspicion.
The film is shot in black & white, but the brief looks at the portrait are in colour.
Verhaal: Gebaseerd op de roman van Oscar Wilde is dit het verhaal van de jonge en knappe Dorian Gray. Dorian laat zijn portret schilderen door zijn vriend Basil Hallward. Als Dorian de schoonheid van het schilderij ziet wordt hij jaloers omdat hij niet net zo jong kan blijven als zijn portret. Hij zou zijn ziel willen verkopen om zo jong te blijven. Terwijl de jaren voortgaan wordt Dorian's uiterlijk niet ouder, maar het bewijs van zijn zondes tekent zich af op zijn afbeelding, dat lelijker wordt met iedere zonde die hij begaat. Hij bewaart het portret veilig op de zolder. Maar zijn mysterieuze gedrag en leeftijdloze verschijning begint achterdocht te kweken.
De film is in zwart/wit opgenomen, maar de beelden van het portret zijn in kleur.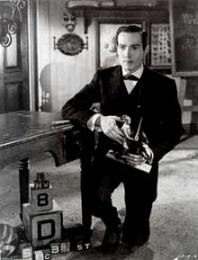 Hurd Hatfield as Dorian Gray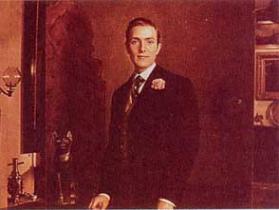 His portrait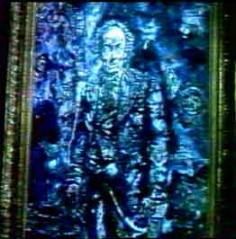 His portrait later