Death in Venice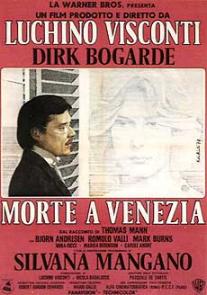 (Back) to my homepage




(Back) to my filmpage



Director: Luchino Visconti
Writer: Nicola Badalucco, Thomas Mann (novel), Luchino Visconti
Country: Italy / France
Year: 1971
Duration: 130 min.
Also known as: Morte a Venezia, Mort a Venise, Tod in Venedig, Dood in Venetië
Cast:
- Dirk Bogarde : Gustav von Aschenbach
- Marisa Berenson : Frau von Aschenbach
- Björn Andresen : Tadzio
- Silvana Mangano : Tadzio's mother
- Romolo Valli : Hotel manager
- Mark Burns : Alfred
- Nora Ricci : Governess
- Carole André : Esmeralda
- Leslie French : Travel Agent
- Franco Fabrizi : Barber
- Sergio Garfagnoli : Polish youth
- Ciro Cristofoletti : Hotel clerk
- Luigi Battaglia : Scapegrace
- Masha Predit : Singer


Story: In this adaptation of the Thomas Mann novel, avant-garde composer Gustave Aschenbach (loosely based on Gustav Mahler) travels to a Venetian seaside resort in search of repose after a period of artistic and personal stress. But he finds no peace there, for he soon develops a troubling attraction to an adolescent boy, Tadzio, on vacation with his family. The boy embodies an ideal of beauty that Aschenbach has long sought and he becomes infatuated. However, the onset of a deadly pestilence threatens them both physically and represents the corruption that compromises and threatens all ideals.
There is also a 1973 opera based on the Thomas Mann novel by Benjamin Britten.


Verhaal: In deze bewerking van de roman van Thomas Mann reist avant-garde componist Gustave Aschenbach (op Gustav Mahler gebaseerd) naar een Venetiaanse badplaats op zoek naar ontspanning na een periode van artistieke en persoonlijke stress. Maar hij komt daar geen rust tegen, omdat hij zich spoedig aangetrokken voelt tot een adolescente jongen, Tadzio, die er op vakantie is met zijn familie. De jongen belichaamt het schoonheidsideaal waar Aschenbach lang naar op zoek is geweest en hij wordt verliefd. Echter bedreigen de eerste symptomen van de dodelijke pest hen beide lichamelijk en staan deze voor het verderf dat schippert tussen alle idealen en deze bedreigt.
Er is ook een opera uit 1973 die gebaseerd is op de roman van Thomas Mann, geschreven door Benjamin Britten.
Soundtrack:

Label: Varese Sarabande, Catalog number: 3020653572
Available on: Video and DVD