Bully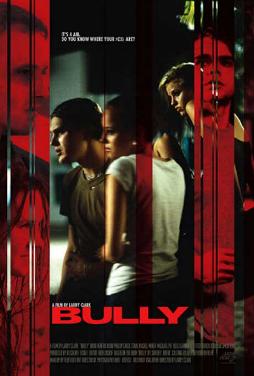 (Back) to my International Film Festival Rotterdam page




(Back) to my main film page




Director: Larry Clark
Writers: Jim Schutze (novel), Zachary Long (screenplay)
Country: USA
Year: 2001
Cast:
- Brad Renfro : Marty Puccio
- Rachel Miner : Lisa Connelly
- Nick Stahl : Bobby Kent
- Bijou Phillips : Ali Willis
- Michael Pitt : Donny Semenec
- Kelli Garner : Heather Swaller
- Daniel Franzese : Derek Dzvirko
- Leo Fitzpatrick : Hitman
- Deborah Smith Ford : Farah Kent
- Larry Clark : Hitman's Father
- Jeanne Orr : Rollerblade girl
- Alan Lilly : Mr. Puccio


Story: Based on the novel 'Bully: A true story of High School revenge' by Jim Schutze and the true 1993 murder of a Florida teen.
'Bully' tells the story of Marty and Bobby, who have known each other forever. They work dead-end jobs, do drugs and hustle cash from local homosexuals, selling porno home videos and queer phone sex. Marty, who, after finding himself at the constant abuse of the sadistic Bobby, become fed up with his friend's twisted ways. His girlfriend Lisa, a victim of Bobby's often cruel ways, couldn't agree more and they strategize murdering Bobby, with a group of willing and unwilling participants in a small Florida town. In the midst of their plotting, they find themselves contemplating with the possible aftermath of what could happen.


Verhaal:
Gebaseerd op het boek 'Bully: A true story of High School revenge' door Jim Schutze en de waar gebeurde moord in 1993 op een tiener in Florida.
'Bully' verteld het verhaal van Marty en Bobby, die elkaar van kleins af aan kennen. Ze hebben uitzichtloze baantjes, gebruiken drugs en prostitueren zich voor de plaatselijke homo's, verkopen porno homo videos en homo-telefoonsex. Marty, die constant door de sadistische Bobby misbruikt wordt, krijgt genoeg van de gestoorde manieren van Bobby. Zijn vriendin Lisa, zelf slachtoffer van de geweldadigheid van Bobby, is het met hem eens en ze bedenken dat Bobby vermoord moet worden, met behulp van een groep willige en minder willige medestanders in een klein stadje in Florida. Terwijl ze de moord aan het plannen zijn, denken ze ook na over de nasleep van wat er te gebeuren staat.
Official website:
www.bullythemovie.com/