Bedrooms and hallways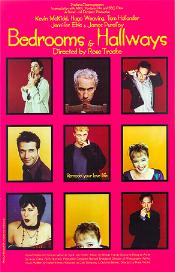 (Back) to my filmpage




(Back) to my filmfestival Rotterdam page



Director: Rose Troche
Writer: Robert Farrar
Country: UK
Year: 1998
Cast:
- Kevin McKidd : Leo
- James Purefoy : Brendan
- Jennifer Ehle : Sally
- Simon Callow : Keith
- Con O'Neill : Terry
- Julie Graham : Angie
- Tom Hollander : Darren
- Harriet Walter : Sybil
- Christopher Fulford : Adam
- Hugo Weaving : Jeremy
- Paul Higgins : John
Story:After many failed relationships Leo joins a group for men who want to find their real selves. During one of the sessions Leo tells he's attracted to one of the other members: Brendan. Though Brendan is straight, he is flattered and it leads to a homosexual affair. But then it turnes out that Brendan's ex-wife Sally was Leo's childhood girlfriend.
Verhaal: Na vele mislukte relaties gaat Leo bij een groep voor mannen die op zoek zijn naar hun "zelf". Tijdens een van de sessies vertelt Leo dat hij zich aangetrokken voelt tot een van de andere leden van de groep: Brendan. Ondanks dat Brendan hetero is, voelt hij zich vereerd en belanden ze in een homoseksuele relatie. Maar dan blijkt het dat Brendan's ex-vrouw Leo's jeugdvriendinnetje was.