Virgina / Virdzina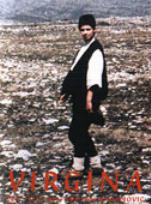 Back to my homepage
Back to my filmpage

Writer & director: Srdjan Karanovic


Srdjan Karanovic
Producer: Rajko Grlic
Music: Zoran Simjanovic
Year: 1991
Country: Former Jugoslavia
Language/ taal: Serbian-Croatic
Cast:
- Miodrag Krivokapic : Timotije
- Marta Keler : Stevan
- Ina Gogalova : Dostana
- Sladjana Bebic : ?
- Igor Bjelan : ?
- Nada Gacesic : ?
- Vjenceslav Kapural : ?
- Slobodan Milovanovic : ?
- Mirko Vlahovic : ?
Story: The film is situated at the end of the 19th century, in a isolated village near the Adriatic Sea. Because of the extreme patriarchal culture there is a superstition that families without male heirs are cursed. When the wife of a farmer gives birth to a (fourth) daughter, it is decided that the child will become a so-called 'Virgina' and will live as a man, so she can work and be a family heir. We see the girl grow up as Stevan in a boys' identity she didn't ask for. She is forced to live a life long secret without a chance for love or sex. Stevan finds a boyfriend and a girlfriend but struggles with her sexual identity. Her mother tries to get pregnant again to get a son, so Stevan can go on living as a woman.
This heartbraking family drama is being shown with a minimum of dialog and imposing pictures of the barren landscape.
Verhaal: De film is gesitueerd aan het eind van de 19e eeuw, in een afgelegen dorpje aan de Adriatische Zee. Door de extreem patriarchale cultuur heerst er het bijgeloof dat families zonder mannelijke erfgenamen vervloekt zijn. Wanneer de vrouw van een boer een vierde dochter baart, wordt besloten dat het kind een zogeheten 'virgina' zal worden en als man door het leven zal gaan, zodat zij kan gaan werken en als stamhouder kan dienen. We zien het meisje als Stevan opgroeien in een jongens-identiteit waar ze niet om gevraagd heeft. Ze wordt gedwongen tot een levenslang geheim zonder kans op liefde of seks. Stevan krijgt een relatie met een jongen en een meisje en weet geen weg met haar seksuele identiteit. Haar moeder probeert nog een kind te krijgen; een zoon zodat Stevan haar rol als vrouw kan aannemen.
Met een minimum aan dialoog en met imponerende beelden van het onherbergzame landschap wordt dit hartverscheurende familiedrama in beeld gebracht.