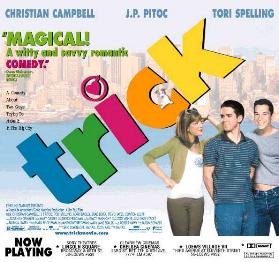 Trick





(Back) to my home page




(Back) to my main film page



Director: Jim Fall
Writer: Jason Schafer
Country: USA
Year: 1999
Duration: 85 minutes
Cast:
- Christian Campbell : Gabriel
- John Paul Pitoc : Mark
- Tori Spelling : Katherine
- Steve Hayes : Perry
- Brad Beyer : Rich
- Lorri Bagley : Judy
- Clinton Leupp : Miss Coco Peru
- Lacey Kohl : Genevieve
- Abbey Hope : Business Woman
- Will Keenan : Dude
- Joey Dedio : Ex Go-Go Boy
- Ricky Ritzel : Scary Man


Story: Gabriel, an aspiring writer of Broadway musicals, is looking for some excitement in his life to inspire him to write songs. In a local bar he meets Mark, a muscled stripper, who later picks him up on the subway. They spend the night trying to find somewhere to be alone... forced to contend with Gabriel's selfish roommate, his irritating best friend, and a vicious, jealous drag queen in a gay dance club. As the sun rises over Greenwich Village they are left with the feeling that the evening has yielded something far more gratifying than a one-night stand.


Verhaal: Gabriel, een ambitieus schrijver van Broadway musicals, is op zoek naar wat actie in zijn leven om hem te inspireren om liedjes te schrijven. In een café in de buurt ontmoet hij Mark, een gespierde stripper, die hem later in de metro oppikt. Ze brengen de nacht door op zoek naar een plaats om samen te zijn....gedwongen door ruzie met de egoïstische kamergenoot van Gabriel, zijn irritante beste vriendin, en een valse, jaloerse travestiet in een homodiscotheek. Als de zon weer opkomt in Greenwich Village hebben ze echter het gevoel dat de nacht hen meer bevrediging heeft gebracht dan een eenmalig sekscontact.
Website www.trickmovie.com
Available on: Video and DVD
Soundtrack:


- Jessica Williams : Dreamweaver
- Kim English : Unspeakable Joy
- Bibiche : Brand New Lover
- Jessica Williams : I Am Woman
- Veronica : Someone to Hold
- Kim Cooper : Drama
- Jeff Krassner : Maybe (Love'll Make Sense to Me)
- Tori Spelling : Enter You
- Steve Hayes : Como Te Gusta Me Pinga?
- Jessica Williams : I am Woman (Dance Mix)
- Christian Campbell & Joan Barber : Trick of Fate (Inst.)/Enter You (Finale)
- Valerie Pinkston : Trick of Fate