Torch Song Trilogy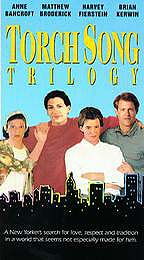 (Back) to my homepage




(Back) to my filmpage



Director: Paul Bogart
Writer: Harvey Fierstein
Country: USA
Year: 1988
Duration: 120 minutes
Cast:
- Harvey Fierstein : Arnold Beckoff
- Benji Schulman : Young Arnold
- Anne Bancroft : Arnold's mother
- Matthew Broderick : Alan
- Brian Kerwin : Ed
- Karen Young : Laurel
- Eddie Castrodad : David
- Ken Page : Murray
- Charles Pierce : Bertha Venation
- Axel Vera : Marina Del Rey
- Nick Montgomery : Chorus Boy
- Robert Neary : Chorus boy
- Kim Clark : Female Bar Patron
- Stephanie Penn : Female Bar Patron


Story: This adaptation of the Broadway play tells the life of Arnold Beckoff, a professional female impersonator, in his search of love. He meets Ed, a bisexual man, who leaves him for a woman. Then he meets Alan, a fashion model, and they fall in love. Together, Arnold and Alan make plans to adopt a child. They move into a larger apartment. That same night, Alan is killed on the street trying to save an old man from being beaten. A year later, Arnold's first love has left his wife and moved in with Arnold and his son. Arnold's mother comes to visit, and they fight bitterly over his homosexuality. She leaves, but not before coming to a small understanding of her son.


Verhaal: Deze bewerking van het Broadway toneelstuk vertelt over het leven van Arnold Beckoff, een professionele travestiet, in zijn zoektocht naar liefde. Hij ontmoet Ed, een biseksuele man, die hem verlaat voor een vrouw. Dan ontmoet hij Alan, een model, en zij worden verliefd op elkaar. Ze maken samen plannen om een kind te adopteren. Ze verhuizen naar een groter apartement. De zelfde avond wordt Alan vermoord als hij probeert te voorkomen dat een oude man in elkaar geslagen wordt. Een jaar later heeft Arnold's eerste liefde zijn vrouw verlaten en trekt deze bij Arnold en zijn zoon in. Arnold's moeder komt op bezoek en zij hebben een verbitterde ruzie over zijn homo-zijn. Zij vertrekt, maar heeft toch een klein beetje begrip voor haar zoon gekregen.
Available on: Video and DVD (2005)
Soundtrack: For more information on this soundtrack, click here.