The River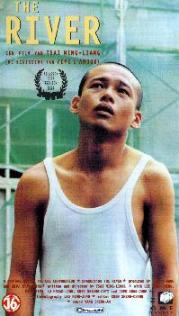 (Back) to my homepage




(Back) to my filmpage




Director: Tsai Ming-liang
Writers: Tsai Ming-liang, Tsai Yi-Chun, Yang Pi-Ying
Country: Taiwan
Original title: He Liu
Year: 1997
Cast:
- Lee Kang-sheng : Xiao-Kang Kang-Sheng
- Miao Tien : Father
- Chen Chao-jung : Anonymous Man
- Chen Shiang-chyi : Girl
- Ann Hui : Director
- Hsiao-Ling Lu : Mother
- Shiao-Lin Lu : Mother's lover
- Kuei-Mei Yang : Girl in Hotel


Story: Hsiao-kang shares an apartment in Taipei with his parents, but the three of them lead very separate lives. His mother works as an elevator attendant in a restaurant and is having an affair with a man who pirates porn videotapes. Hsiao-kang is drifting through life without a job and is unsecure about everything in life, included his sexual identity. His father, a pensioner, pursues a solitary quest for illicit pleasures in the city's gay saunas. As an extra in a film, Hsiao-kang plays a body adrift in the heavily polluted Tamsui River. He begins to suffer a terrible pain in his neck, but no one seems to able to cure him. In desperation, Hsiao-kang travels with his father to Taichung, to visit a faith healer. While waiting to see him, the father gets bored and decides to visit a local men's sauna. Coincidentally, Hsiao-kang has the same idea…
The title is explained by director Tsai Ming-liang as "Life is like a river, the further we travel on it, the more dirtier it gets"


Verhaal: Hsiao-kang woont met zijn ouders in een apartement in Taipei, maar ze leiden ieder een eigen leven. Zijn moeder werkt als een liftbediende in een restaurant en heeft een relatie met een man die illegaal pornovideo's kopieert. Hsiao-kang dwaalt door het leven, is werkloos en is onzeker over alles in het leven, inclusief zijn seksuele identiteit. Zijn vader, die met pensioen is, is regelmatig op jacht naar illegale pleziertjes in de homosauna's van de stad. Hsiao-kang speelt als figurant in een film een drijvend lijk in de zwaar vervuilde Tamsui-rivier. Hij krijgt daarna een vreselijke pijn in zijn nek en niemand lijkt hem te kunnen genezen. In wanhoop reist Hsiao-kang met zijn vader naar Taichung om een gebedsgenezer te bezoeken. De vader wordt moe van het wachten op hun afspraak en besluit om een lokale mannensauna te bezoeken. Toeballig heeft Hsiao-kang het zelfde idee..... De titel van de film wordt door de regisseur Tsai Ming-liang uitgelegd als "Het leven is als een rivier; hoe verder we hem bevaren, hoe vuiler het wordt."