A Single Man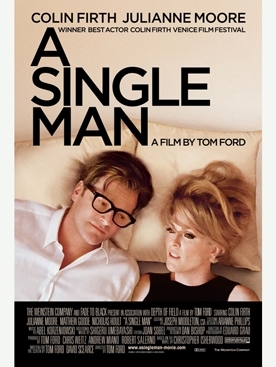 Back to my homepage
Back to my filmpage

Director: Tom Ford
Writers: Christopher Isherwood (Novel), Tom Ford and David Scearce (Screenplay)
Year: 2009
Country: USA
Cast:
- Colin Firth : George Falconer
- Julianne Moore : Charley
- Nicholas Hoult : Kenny Potter
- Matthew Goode : Jim
- Jon Kortajarena : Carlos
- Paulette Lamori : Alva
- Ryan Simpkins : Jennifer Strunk
- Ginnifer Goodwin : Mrs. Strunk
- Teddy Sears : Mr. Strunk
- Paul Butler : Christopher Strunk
- Aaron Sanders : Tom Strunk
Website: www.asingleman-movie.com


Story: Native Brit George Falconer is an English professor at a college in Los Angeles. He is finding it difficult to cope with his life. Jim, his partner of sixteen years, died in a car accident eight months earlier when he was visiting his family. Jim's family were not going to tell George of the death or accident let alone allow him to attend the funeral. Today, George has decided to get his affairs in order before he will commit suicide that evening. As he prepares for the suicide, George reminisces about his life with Jim. He spends this day with various people, who see a man sadder than usual and who affect his own thoughts about what he is going to do. Those people include Carlos, a Spanish immigrant/aspiring actor/gigolo recently arrived in Los Angeles, Charley, his best friend who he knew from England, she who is a drama queen of a woman who romantically desires her best friend despite his sexual orientation and Kenny Potter, one of his students, who seems to be curious about his professor beyond English class.


Verhaal: De Britse George Falconer is professor Engels aan een universiteit in Los Angeles. Hij kan zijn leven moeilijk aan. Jim, die zestien jaar zijn partner was, overleed na een auto-ongeluk acht maanden daarvoor toen hij op bezoek ging bij diens familie. Jim's familie wilde George niet op de hoogte stellen van het overlijden of het ongeluk, laat staan dat hij de begrafenis bij mocht wonen. Vandaag heeft George besloten om zijn relaties in orde te krijgen voordat hij die avond zelfmoord gaat plegen. Terwijl hij zich op zijn zelfmoord voorbereidt, denkt George terug over zijn leven met Jim. Hij brengt zijn dag door met verschillende mensen, die hem nog treuriger zien dan gewoonlijk en die allen effect hebben op de gedachten die hij zelf heeft over zijn plannen. Die mensen zijn Carlos, een Spaanse immigrant en gigolo die akteur wil worden en die onlangs in Los Angeles is aangekomen, Charley, zijn beste vriendin die hij nog uit Engeland kent, die een drama queen is die - ondanks zijn seksuele voorkeur - romantische verlangens naar hem heeft en Kenny Potter, een van zijn studenten, wiens interesse voor zijn docent verder lijkt te gaan dan de Engelse lessen.
Available on: Not available yet.