L.I.E.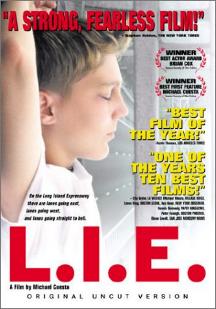 (Back) to my home page




(Back) to my film page



Director: Michael Cuesta
Writer: Stephen M. Ryder, Gerald Cuesta and Michael Cuesta
Year: 2001
Country: USA
Runtime: 97 minutes
Also known as: Long Island Expressway
Cast:
- Paul Franklin Dano : Howie Blitzer
- Bruce Altman : Marty Blitzer
- Tatiana Burgos : Marty's Girlfriend
- Billy Kay : Gary
- James Costa : Kevin Cole
- Tony Michael Donnelly : Brian
- Michelle Carano : Newscaster
- Brian Cox : Big John Harrigan
- B. Constance Barry : Anne Harrigan
- Walter Masterson : Scott
- Brad Silnutzer : Henry
- Bob Gerardi : Clifford
- Adam LeFevre : Elliot
- Frank Rivers : Man with Pizza


Story: Fifteen-year-old Howie loses just about everything and everyone in the space of a single week, but ends up finding himself in the process. His mother has just died. His father, a corrupt building contractor, can barely keep tabs on his young girlfriend, let alone his own son. Therefor, the teen must navigate his adolescence virtually unsupervised. Floating towards an ill-behaved existence, Howie and his friends begin robbing houses in the middle-class neighborhoods off the Long Island Expressway (L.I.E.). Together, he and his best friend Gary break into a place belonging to an old guy named Big John, a local man who is a respected pillar of the community. When Big John fingers Gary for the crime, Howie learns that his pal has been leading a secret, dangerous but also alluring double life. Subsequently, we also discover that Big John has secrets of his own.


Verhaal: De vijftienjarige Howie verliest ongeveer alles en iedereen in é&eacute:n week, maar vindt uiteindelijk zichzelf. Zijn moeder is net overleden. Zijn vader, een corrupte bouwaannemer, kan nauwelijks zijn jonge vriendin in de gaten houden, laat staan zijn eigen zoon. Daardoor moet de teener praktisch zonder toezicht door zijn puberteit heen navigeren. Terwijl zijn leven de verkeerde kant op gaat, beginnen Howie en zijn vrienden huizen te beroven in de middenklasse buurten rond de Long Island Expressway (L.I.E). Samen met zijn beste vriend Gary breekt hij in in een huis dat van een oude man is die Big John heet, een inwoner die in het stadje als zeer gerespecteerd bekend staat. Als Big John Gary voor de misdaad beschuldigt, komt Howie er achter dat zijn maat een geheim, gevaarlijk maar ook aantrekkelijk dubbelleven leidde. Langzamerhand komen we er achter dat ook Big John dingen te verbergen heeft.
Available on: Video and DVD