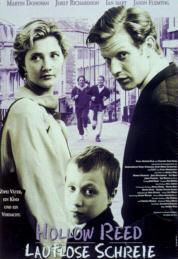 Hollow Reed





(Back) to my home page




(Back) to my main film page



Director: Angela Pope
Writers: Neville Bolt (story), Paula Milne
Country: UK
Year: 1996
Duration: 104 minutes
Also known as: Lautlose Schreie / Tras el silencio
Cast:
- Sam Bould : Oliver Wyatt
- Martin Donovan : Martyn Wyatt
- Ian Hart : Tom Dixon
- Joely Richardson : Hannah Wyatt
- Jason Flemyng : Frank Donally
- Shaheen Khan : Doctor Razmu
- Kelly Hunter : Jamie's Mother
- Tim Crouch : Site Foreman
- Jane Hill : Record Shop Girl
- Glen Hammond : Unemployed Youth
- Simon Chandler : Mr. Bugler


Story: Following the break-up of his marriage after revealing his homosexuality, doctor Martyn Wyatt loses custody of his son Oliver to his ex-wife Hannah and her new partner Frank. It is not long, however, until Oliver appears at the house of Martyn and his new lover Tom, his face covered with blood, claiming to have been beaten up by boys in the park. After another incident, Martyn puts two and two together and comes to the conclusion that Frank has been beating Oliver without Hannah's knowledge. Martyn then begins a long courtroom custody battle to win back his son. Hannah, meanwhile, has caught Frank in the act of abusing Oliver and has thrown him out. But her fear of being alone and Frank's tearful apology leads her to take him back after his promise that "it'll never happen again."


Verhaal: Nadat zijn huwelijk op de klippen is gelopen toen hij zijn homoseksuele geaardheid onthulde, verliest Martyn Wyatt de voogdij over zijn zoon Oliver aan zijn ex-vrouw Hannah en haar nieuwe partner Frank. Kort daarna, echter, komt Oliver met een bebloed gezicht naar het huis van Martyn en zijn nieuwe vriend Tom en verteld dat hij door jongens in het park in elkaar is geslagen. Nadat er nog zoiets gebeurt, trekt Martyn zijn conclusies dat Frank Oliver in elkaar slaat zonder dat Hannah daar weet van heeft. Martyn begint een lange rechtzaak om de voogdij over zijn zoon te krijgen. Ondertussen heeft Hannah Frank op heterdaad betrapt bij het misbruiken van Oliver en heeft hem het huis uit gegooid. Maar haar angst om alleen te zijn en Frank's emotionele excuus doet haar besluiten hem terug te nemen na zijn belofte dat "het nooit meer zal gebeuren".
Available on: Video
Soundtrack: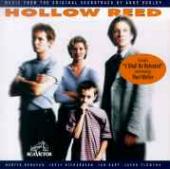 - Hollow Reed - Main Theme
- Oliver's Theme
- Upside Down World
- Family Life
- Questioning
- Mother and Son
- Silent Witness
- Waking Nightmare
- A Resolution
- It Will Never Happen Again
- Seeds of Doubt
- Unnatural Practices
- White Lies
- The Decision
- No Hiding Place
- In a Child's Mind
- Meditations
- Paul Weller : I Shall Be Released