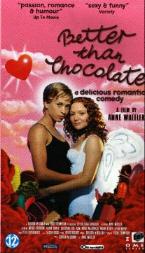 Better than chocolate





(Back) to my home page




(Back) to my main film page



Director: Ann Wheeler
Writer: Peggy Thompson
Country: Canada
Year: 1999
Duration: 101 minutes
Also known as: Meilleur que le chocolat
Cast:
- Wendy Crewson : Lila
- Karyn Dwyer : Margaret/Maggie
- Christina Cox : Kim
- Anne-Marie MacDonald : Frances
- Marya Delver : Carla
- Kevin Mundy : Paul
- Tony Nappo : Tony
- Jay Brazeau : Mr. Marcus
- Beatrice Zeilanger : Bernice
- Peter Outerbridge : Judy Squires, aka Jeremy Squires


Story: Two attractive young lesbians, Maggie and Kim, meet in Vancouver, develop a passionate romance, and Kim moves in with Maggie. Meanwhile, Maggie's well-meaning but naive mother Lila gets divorced and decides to move to Vancouver and join the household. Soon after, Lila is befriended by Judy, a transsexual about to undergo a sex-change operation. Complications ensue as the conservative Lila learns the truth about Maggie, Judy, and their diverse group of friends.


Verhaal:Twee aantrekkelijke jonge lesbo's, Maggie en Kim, ontmoetten elkaar in Vancouver, er onstaat een gepassioneerde romance en Kim gaat bij Maggie wonen. Ondertussen ligt de goedbedoelende maar naïve moeder van Maggie, Lila, in echtscheiding en besluit ze naar Vancouver te verhuizen en bij haar dochter in te trekken. Kort daarna raakt Lila bevriend met Judy, een transseksueel die op het punt staat om via een operatie van sekse te veranderen. Er komen allerlei verwikkelingen wanneer de conservatieve Lila achter de waarheid komt over Maggie, Judy en hun gevarieerde groep vrienden.
Available on: Video and DVD
Soundtrack


- West End Girls : Sexy
- Melanie Dekker : When I Think of You
- Ani DiFranco : 32 Flavors
- Lorraine Bowen : Julie Christie
- Tami Greer : Perfect Fingers
- Studio Kings 2.0 with Trippy : Let's Have Sex
- Trippy : In my mind
- Edgar : My place
- Peter Outerbridge : I'm Not a Fucking Drag Queen
- Ferron : Stand up
- Feisty : Night
- Kelly Brock : Long gone
- West End Girls : Pure (you're touching me)