O
(Back) to my homepage
Anton Obbes
Canadian singer (tenor), born in The Hague, the Netherlands. He studied in Vancouver and in Vienna.
Canadese zanger (tenor), geboren in Den Haag. Hij studeerde in Vancouver en Wenen.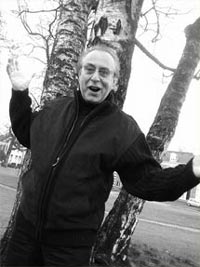 Anton Obbes
Frank Ocean
(28 October 1987)
American bisexual singer-songwriter and rapper, born in New Orleans, Louisiana, as Christopher Breaux.
Amerikaanse biseksuele singer/songwriter en rapper, geboren in New Orleans, Louisiana, als Christopher Breaux.
Albums: Channel Orange (2012)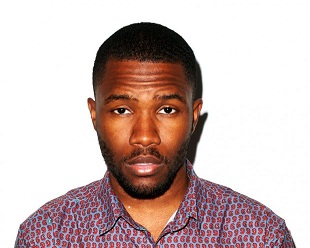 Frank Ocean
Sinéad O'Connor
(8 December 1966)
Irish singer and song writer, born in Dublin as Sinéad Marie-Bernadette O'Connor. O'Connor has three sons (Jake, Shane and Yeshua Francis Neil) and one daughter (Roisin)and has been married to musician John Reynolds and to journalist Nick Sommerlad. In october 1992 she tore up a picture of the Pope in the American TV-program Saturday Night Live. In 1999 she tried to commit suicide and in the same year she became a priest under the name Mother Bernadette Mary.
Ierse zangeres en liedjesschrijfster, geboren in Dublin als Sinéad Marie-Bernadette O'Connor. O'Connor heeft drie zoons (Jake, Shane en Yeshua Francis Neil) en een dochter (Roisin) en is getrouwd geweest met muzikant John Reynolds en met journalist Nick Sommerlad. In oktober 1992 verscheurde ze een foto van de paus in het Amerikaanse TV-programma Saturday Night Live. In 1999 deed ze een zelfmoordpoging en in dat zelfde jaar werd de priesteres onder de naam Mother Bernadette Mary.
Hits: Troy (1987), Mandinka (1988), Nothing compares to you (1990), The emporers new clothes (1990), Succes has made a failure of our home (1992)
Albums: The Lion And The Cobra (1987), I do not want what I haven't got (1990), Am I not your girl (1992), Universal Mother (1994), So Far...The Best Of (1997), Faith And Courage (2000), Sean-Nós Nua (2002), She who dwells.... (2003), Collaborations (2005), Theology (2007)
Website: www.sinead-oconnor.com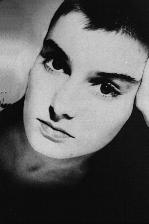 Sinead O'Connor
Ron Oden
(21 March 1950)
Mayor of Palm Springs, California, who was born in Detroit, Michigan and grew up in Los Angeles, California. He's father of two daughters, Brooke and Brittany.
Burgemeester van Palm Springs, Californië, die geboren is in Detroit, Michigan en opgroeide in Los Angeles, Californië. Hij heeft twee dochters, Brooke en Brittany.


Ron Oden
Michiel Odijk
(28 September 1953)
Dutch politician for Groen Links. He studied biology in Utrecht.
Nederlandse politicus voor Groen Links. Hij studeerde biologie in Utrecht.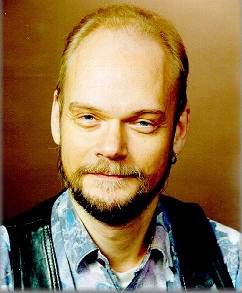 Michiel Odijk
Rosie O'Donnell
(21 March 1962)
American actress, singer, comedienne and TV-host, born in Commack, New York as Roseanne Teresa O'Donnell. Rosie has adopted four children: son Parker (May 25, 1995), daughter Chelsea Belle (September 20, 1997), son Blake Christopher (November 1999) and daughter Mia (born 1997). On February 26, 2004, she married her partner Kelli Carpenter in San Francisco.
Amerikaanse actrice, zangeres, comedienne en TV-presentator, geboren in Commack, New York als Roseanne Teresa O'Donnell. Rosie heeft 4 kinderen geadopteerd: zoon Parker (25 mei 1995), dochter Chelsea Belle (20 september 1997), zoon Blake Christopher (november 1999) en dochter Mia (1997). Op 26 februari 2004 trouwde ze met haar partner Kelli Carpenter in San Francisco.
TV: Gimme a break (1986), Stand up in the spotlight, The Rosie O'Donnell Show (NBC, 1996-2002), Queer as Folk USA (2005), Nip/Tuck (2006), The View (2007)
Theatre: Grease (1994, as Rizzo), Seussical (2001), Fiddler on the roof (2005), Wicked (2008)
Films: A league of their own (1992), Sleepless in Seatle (1993), Another steakout (1993), Exit to Eden (1994), The Flinstones (1994), Now & then (1995), Beautiful Girls (1996), Harriet The Spy (1996), A Very Brady Sequel (1996), The twilight of the gold (1997), Wide awake (1998), Tarzan (1999), An American Carol (2008)
Albums: A Rosie Christmas (1999), Another Rosie Christmas (2000)
Books: Find me (2002), Celebrity Detox (2007), Rosie O'Donnell's Crafty U: 100 Easy Projects The Whole Family Can Enjoy All Year Long (2008)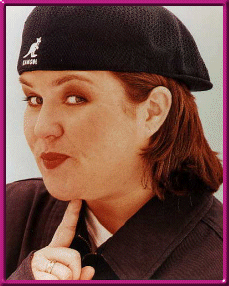 Rosie O'Donnell
Derek Ogilvie
(21 February 1965)
Scottish medium, born in Johnstone as Derek George Ogilvie.
Schots medium, geboren in Johnstone als Derek George Ogilvie.
Radio: Psychic Sunday
TV: The Baby Mind Reader (2004-2006), Million Dollar Psychic (2008), The Ghost Whisperer (2008-), Derek Ogilvie (2010)
Book: The Baby Mind Reader/De Babyfluisteraar (2006/2008)
Website: www.derekogilvie.com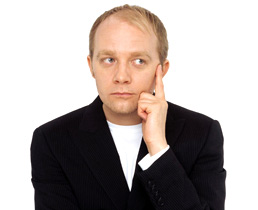 Derek Ogilvie
Paul O'Grady
(14 June 1955)
British comedian, actor and former social worker, born in Birkenhead as Paul James Michael O'Grady. Paul has a daughter, Sharyn, who was born when he was 19. He is better known as his alter image in drag, Lily Savage.
Britse komiek, akteur en voormalig maatschappelijk werker, geboren in Birkenhead als Paul James Michael O'Grady. Paul heeft een dochter, Sharyn, die geboren is toen hij 19 was. Hij is beter bekend als zijn alter image in travestie, Lily Savage.
Autobiography: At My Mother's Knee... and Other Low Joints (2008)
TV: The Big Breakfast (1995), An Evening With Lily Savage (1996), Blankety blank, Outtake TV (2002-), Eyes down (2003), The Paul O'Grady Show (2004-2009)
Theatre: The Lily Savage Variety Show (1996), Annie (as Miss Hannigan), Prisoner Cell Block H, Snow White and the Seven Dwarfs (2001), Chitty Chitty Bang Bang (2002, as The Child Catcher)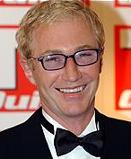 Paul O'Grady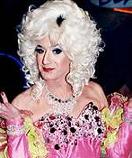 Lily Savage
Denis O'Hare
(17 January 1962)
American actor and singer, born in Kansas City, Missouri.
Amerikaans akteur en zanger, geboren in Kansas City, Missouri.
Theatre: Lloyd's Prayer, King Lear, The Iceman Cometh, What the Butler Saw, Fuente Ovejuna, Caucasian Chalk Circle, Hauptman (1992), Woyzeck (1992), Lonely Planet (1994), The Arabian Nights (1994), Paddywack (1994), Silence, Cunning, Exile (1995), Racing demon (1995), Waiting For Godot (1996), Romeo and Juliet (1997), The Devils (1997), Cabaret (1998), Macbeth (2000), Ten Unknowns (2001), Major Barbara (2001), Helen (2002), Vienna: Lusthaus (2002), Take me out (2003-2004), Assassins (2004), Sweet Charity (2005)
TV: Saint Maybe (1998), Hamlet (2000), Once Upon a Mattress (2004)
Films: St. Patrick's Day (1997), River Red (1998), Sweet and Lowdown (1999), The Anniversary Party (2001), 21 Grams (2003), Garden State (2004), Heights (2004), Derailed (2005)
Website: www.denisohare.com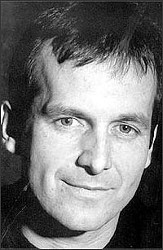 Denis O'Hare
Kele Okereke
(13 October 1981)
British musician en singer, born in Liverpool as Kelechukwu Rowland Okereke. He is the son of Nigerian immigrants. Okereke is singer and guitarist with Indie Rock Band Bloc Party.
Britse musicus en zanger, geboren in Liverpool als Kelechukwu Rowland Okereke. Hij is de zoon van Nigeriaanse immigranten. Okereke is zanger en guitarist bij de Indie Rock Band Bloc Party.
Albums: Silent Alarm (2005), A Weekend In The City (2007), Intimacy (2008), The Boxer (solo, 2010), Trick (solo, 2014), Hymns (2016)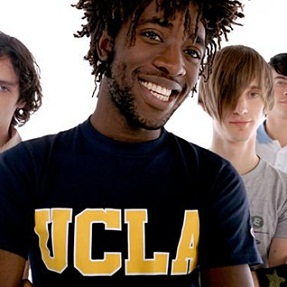 Kele Okereke
Erwin Olaf
(2 July 1959)
Dutch photographer and creator of videoclips and documentaries, born in Hilversum, whose real name is Erwin Olaf Springveld. Olaf studied at the School for Journalism in Utrecht (1977-1980).
Nederlandse fotograaf en maker van videoclips en documentaires, geboren in Hilversum, wiens echte naam Erwin Olaf Springveld is. Olaf heeft van 1977 tot 1980 de School voor journalistiek in Utrecht gevolgd.
Books: Stadsgezichten (1985), Chessmen (1988), Blacks (1990), Joy (1993), Mind of their own (1995), Violence & Passion (2000), Silver (2003)
Videoclips: Mathilde Santing - Bello, Bello (1991), Mathilde Santing - Appels op de tafelsprei (1994), Paul de Leeuw - Ik heb je lief (1997)
Commercial work: Nintendo, Diesel, Carling beer, Tio Pepe sherry, Silk Cut cigarettes, Nokia, Microsoft, Walkers
Website: www.erwinolaf.com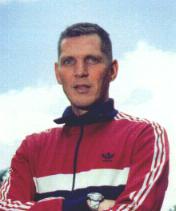 Erwin Olaf
Prince Peter Alexandrovitch von Oldenburg
(21 November 1868 - 11 March 1924)
Russian Prince, who married Grand Duchess Olga Alexandrovna Romanov, the sister of Tzar Nicolas of Russia, on july 27, 1901.
Russische prins, die op 27 juli 1901 Groothertogin Olga Alexandrovna Romanov, de zus van Tsaar Nicolas van Rusland, trouwde.
Andrew Olexander
(26 February 1965)
Australian liberal member of the legislative Council in the State of Victoria, Australia, born in Geelong as Andrew Phillip Olexander.
Australisch liberaal lid van de Legislative Council in Victoria, Australië, geboren in Geelong als Andrew Phillip Olexander.


Andrew Olexander
Tim Oliehoek
(27 February 1979)
Dutch film and TV director, born in Leidschendam. He studied at the Nederlandse Film en Televisie Academie (Dutch Film and Television Academy).
Nederlandse film- en TV-regisseur, geboren in Leidschendam. Hij heeft gestudeerd aan de Nederlandse Film en Televisie Academie.
Commercials: McDonald's, Telfort, Super de Boer, KPN, IFFR, Planet Internet, 3FM
Films: Isabelle (2001), The Horseless Prince (2003), 15:35: Spoor 1 (2003), Volle Gas (2004), Vet Hard (2005), Allerzielen (2005), Spion van Oranje (2009)
TV: Shouf Shouf de serie (2005-2006), Shouf Shouf de serie II (2006)
Website: www.timoliehoek.com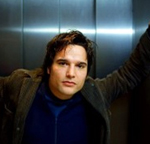 Tim Oliehoek
Wilson Oliver
Uruguayan former soccer player, who played for Club Nacional de Uruguay. He's now living in Barcelona, Spain.
Uruguayse voormalig voetballer, die speelde bij Club Nacional de Uruguay. He woont nu in Barcelona, Spanje.
Stefan Olsdal
(31 March 1974)
Swedish bassplayer of rockgroup Placebo, born in Göthenburg as Stefan Alexander Bo Olsdal.
Zweeds bassgitaarspeler van de rockgroep Placebo, geboren in Göthenburg als Stefan Alexander Bo Olsdal.
Hits: Teenage angst, Nancy boy, Pure morning (1998)
Albums (Placebo): Placebo, Without You I'm Nothing, Black Market Music (2000)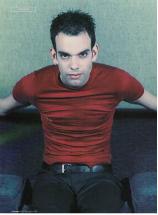 Stefan Olsdal
Alix Olson
(1975)
American poet, born in Bethlehem, Pennsylvania.She graduated from Wesleyan University in 1997.
Amerikaanse dichteres, geboren in Bethlehem, Pennsylvania. Ze studeerde in 1997 af aan Wesleyan University.
Books: Built like that, Independence meal: The Ingredients
Albums: Built like that, Independence meal (2004)
Documentary/DVD: Left lane ó on the road with folk poet Alix Olson (by Samantha Farinella)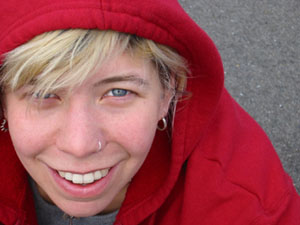 Alix Olson
Willem Leonard Oltmans
(10 June 1925 - 30 September 2004)
Dutch reporter and writer, born in Huizen. He studied at Nijenrode and Yale University. Oltmans has been married to Frida Westerman for five years. He died of cancer.
Nederlands journalist en schrijver, geboren in Huizen. Hij studeerde aan Nijenrode en Yale University. Oltmans is 5 jaar met Frida Westerman getrouwd geweest. Hij is aan kanker overleden.
Books: Memoires 1925-1953 (1985), Memoires 1953-1957 (1986), Memoires 1957-1959 (1987), Memoires 1959-1961 (1988), Memoires 1961 (1989), Bon voyage, majesteit (1995), Memoires 1961-1963 (1997), Memoires 1963-1964 (2000), In het land der blinden (2001), Memoires 1964-1966 (2001), ....is eenoog koning (2003), Memoires 1972-1973 (2004), Familie Album (2004)
Film: JFK (1991, as baron George De Mohrenschildt)
DVD: De Eenmotorige Mug (2005, interviews by Theo van Gogh)
Website: www.willemoltmans.com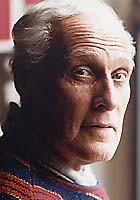 Willem Oltmans
Joep Onderdelinden
(8 September 1965)
Dutch actor, comedian and singer, born in Cruquius as Rene Onderdelinden.
Nederlands akteur, komiek en zanger, geboren in Cruquius als Rene Onderdelinden.
Musical: Funny girl, Willeke, de Musical, Carlie, Hema - De Musical (2012-2013)
Theatre: De Verbroken Code (1988-1989), Beste Maatjes (1989-1990), AjaxAntigone (1991), Vluchten (1993), Scrooge (1993), Dik, Abe, Johnny & Hansje (1994 en 1996), Kooibos (1997 en 1999), Ik Heb 't Met Hem Gedaan (1998), Pterodactyls (1998), De Avondwinkel (1999), De Winter Onder De Tafel (2000), Omhoog Die Stok (2000), 5000 Vingers (2000-2001), Garmisch-Partenkirchen (2001-2002), Joep (2002-2004), Da Vinci En De Drol (2003), Arabische Nacht (2003), Omstanders (2004), Strak (2005), Worst (2007), De Kleine Kerstman (2008), Ja Zuster Nee Zuster (2009-2010), NAT (2010-2011)
TV: Seth & Fiona (1994), Kinderen voor Kinderen (1998), Zaai (as postman Siemen, (1998-2003), Tegen De Klok (2005, NCRV), Vijftig Jaar Jeugdtelevisie (2005, VPRO)
Films: All Stars (1997), Nachtvlinder (1999), Minoes (2001), Kees De Jongen (2003)
Website: www.joeponderdelinden.nl
Nance O'Neil
(8 October 1874 - 7 February 1965)
American actress, born in Oakland, California as Gertrude Lamson. She was also known as Nancy O'Neil. O'Neil died in Englewood, New Jersey.
Amerikaanse actrice, geboren in Oakland, Californië als Gertrude Lamson. Ze was ook bekend onder de naam Nancy O'Neil. O'Neil stierf in Englewood, New Jersey.
Films: A woman's past (1915), Princess Romanoff (1915), The Kreutzer Sonata (1915), Souls in bondage (1916), The witch (1916), The Iron Woman (1916), Those Who Toil (1916), The Flames of Johannis (1916), The Fall of the Romanoffs (1917), The Final Payment (1917), Hedda Gabler (1917), Mrs. Balfame (1917), The Seventh Sin (1917), Greed (1917), His glorious night (1929), The Eyes of the World (1930), Call of the Flesh (1930), The Florodora Girl (1930), The Lady of Scandal (1930) The Rogue Song (1930), Ladies of Leisure (1930), Secret Service (1931), Their Mad Moment (1931), A Woman of Experience (1931), Transgression (1931), The Good Bad Girl (1931), Cimarron (1931), Resurrection (1931), The Royal Bed (1931), False Faces (1932), Okay, America! (1932), Westward Passage (1932)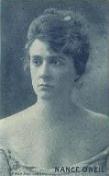 Nance O'Neil
Koen Onghena
(2 February 1976)
Belgian actor and singer, born in Wilrijk.
Belgische akteur en zanger, geboren in Wilrijk.
TV: W817, Wittekerke, Kaat & Co, Spoed (2001), Aspe (2004)
Film: Brylcream Boulevard (1995), Fast Forward (2004)
Theatre: The Rocky Horror Show (2001-2002), Fame (2002), Le Cabaret de Salo (2004), Fedder (2004-2005), Drie Jeannen, Een ideale echtgenoot (2006), De Collectie (2006-2007)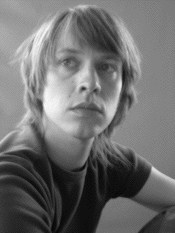 Koen Onghena
Maxim van Ooijen
Dutch politician for D66.
Nederlandse politicus voor D66.


Maxim van Ooijen
Francine Oomen
(27 March 1960)
Dutch writer, born in Laren as Eclaire Francine Marie Oomen. She studied at the Academy for Industrial Design in Eindhoven. Oomen has three children: Joris, Lotte en Daan.
Nederlandse schrijfster, geboren in Laren als Eclaire Francine Marie Oomen. Ze studeerde aan de Academie voor IndustriŽle Vormgeving in Eindhoven. Oomen heeft drie kinderen: Joris, Lotte en Daan.
Books: Saartje en Tommie op de Boerderij (1990), Max de Ziekenhuiskat (1995), Het Grote Saartje en Tommie Boek (1996), Sammie, Eet Je Bordje Leeg! (1997), Hap! Zegt Bollie (1997), Max de Tandartskat (1998), Allemaal Poppenkast (1998), Hoe Overleef Ik Mijn Vakantie? (1998), Lang Leve De Computerheks (1999), Hoe Overleef Ik Het Jaar 2000? (1999), Goeiemorgen Sammie (1999), Hoe Overleef Ik De Brugklas? (2000), Anders is Leuk!(2000), Hoe Overleef Ik Mijn Eerste Zoen? (2001), Hoe Overleef Ik Mezelf (2002), Het Alfabet van Anders (2002), Het Geheim van Lena Lijstje (2003), De Computerheks Ziet Ze Vliegen (2003), Hoe Overleef Ik Een Gebroken Hart (2003), Kerst Met de Bosmuisjes (2003), Hoe Overleef Ik Met/Zonder Jou (2004), Hoe Overleef Ik Mijn Vakantie In Engeland? (2004), Hoe Overleef Ik Mijn Ouders? (En Zij Mij!)(2005), Het Boek Van Beer (2005), Ezzieís Dagboek (2006), Hoe Overleef Ik (Zonder) Liefde (2006)
Website: www.francineoomen.nl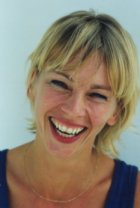 Francine Oomen
Wouter van Oorschot
(2 March 1952)
Dutch publisher and writer, born in Amsterdam. He was married for 17 years to a woman and has two sons, born in 1979 and 1985. They divorced in 1994.
Nederlandse uitgever en schrijver, geboren in Amsterdam. Hij was 17 jaar getrouwd met een vrouw en heeft twee zoons, geboren in 1979 en 1985. Ze scheidden in 1994.
Books: Verkleed als mens (2004)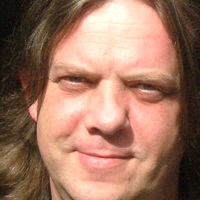 Wouter van Oorschot
Ria van Oosten
(17 May 1959)
Dutch publisher and editor and former kindergartenteacher and social worker. In 1992 she was founder of the Dutch lesbian magazine 'Zij aan zij'.
Nederlandse uitgeefster en hoofdredacteur en voormalig kleuterleidster en maatschappelijk werkster. In 1992 richtte ze het lesbische tijdschrift 'Zij aan zij' op.


Ria van Oosten
Gabriel Opoku
American TV host.
Amerikaanse TV Presentator.
TV: Round Trip Ticket (MTV)
Alfredo Ormando
(15 December 1958 - 23 January 1998)
Italian writer, born in San Cataldo, Sicily, who set himself on fire in the Vatican on january 13, 1998 to protest the church's treatment of gay, lesbian and bisexual people. He died 11 days after.
Italiaanse schrijver, die geboren is in San Cataldo, Sicilië. Hij heeft zichzelf op 13 januari 1998 in het Vaticaan in brand gestoken om te protesteren tegen de manier waarop de kerk homo's, lesbo's en biseksuelen behandeld. Hij stierf 11 dagen later.
Book: Il Fratacchione


Alfredo Ormando
Sven Ornelis
(7 June 1973)
Belgian Radio and TV-host.
Belgische Radio- en TV-presentator.
Radio: Deckers en Ornelis Ochtendshow (Donna), Ornelis en Rogiers Showtime (Q Music)
Book: Ik Wou Dat Ik De Helft Van Nicole En Hugo Was
TV: Tapas
Website: www.svenornelis.be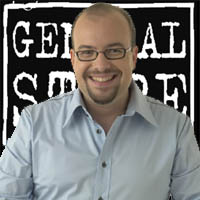 Sven Ornelis
Brian Orser
(18 December 1961)
Canadian figure-skater and commentator, born in Belleville, Ontario. He won silver at the Olympic games. His nickname is Mr. Triple Axel.
Canadees kunstschaatser en verslaggever, geboren in Belleville, Ontario. Hij heeft zilver gewonnen op de Olympische spelen. Zijn bijnaam is Mr. Triple Axel.
Autobiography: A Skater's Life (with Steve Milton)
Website: www.canadianexcellence.com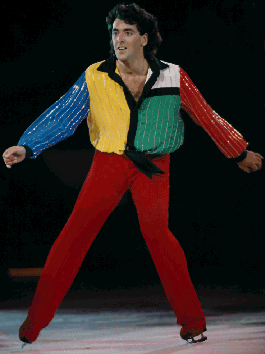 Brian Orser
Joe Orton
(1 January 1933 - 9 August 1967)
British playwright, born in Leicester as John Kingsley Orton. Orton got beaten to death by his lover, writer Kenneth Halliwell, who immediately after this murder committed suicide. In 1987 a biographical film was released: 'Prick up your ears'.
Britse toneelschrijver, geboren in Leicester als John Kingsley Orton. Orton werd doodgeslagen door zijn minnaar, de schrijver Kenneth Halliwell, die na deze moord zelfmoord pleegde. In 1987 kwam er een biografische film uit: 'Prick up your ears'.
Plays: Entertaining Mr.Sloane (1964), The Ruffian on the stair (1964), Loot (1966), The Erpingham Camp (1967), What the butler saw (1969), The Good and Faithful Servant (1970)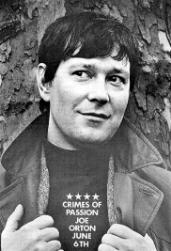 Joe Orton
Th.(Theo) van Os
(1954)
Dutch writer.
Nederlandse schrijver.
Books: Beurtzang (1996), Berliner lullaby (1997), Zonde der begeerte (2000), Penseeldier (2001)
Paul Oscar
(16 March 1970)
Icelandic singer, Radio DJ and composer, born as Pall Oskar Hjalmtysson in Reykjavik. He was the 1997 contestant for Iceland at the Eurovision Song Contest with "Minn hinsti dans".
IJslandse zanger, Radio DJ en componist, geboren als Pall Oskar Hjalmtysson in Reykjavik. Hij was in 1997 de deelnemer voor IJsland aan het Eurovisie Songfestival met "Minn hinsti dans".
Theatre: Rubber Tarzan, The Rocky Horror Show
Albums: Palli (1995), Seif (1996), Deep Inside (1999), Rendezvouz (2002)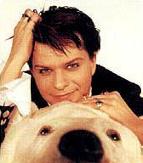 Paul Oscar
Rodrigo Otazu
(25 November 1968)
Argentinian juwel and fashion designer, born in Buenos Aires. He designed jewelry for the 2002 European tour of Britney Spears. Other celebs who wear Otazu: Kylie Minogue, Aretha Franklin, Justin Timberlake and Robbie Williams. Otazu lives in the Netherlands.
Argentijnse sieraden- en mode-ontwerper, geboren in Buenos Aires. Hij ontwierp sieraden voor de Europese tournee van Britney Spears in 2002. Andere bekendheden die Otazu dragen: Kylie Minogue, Aretha Franklin, Justin Timberlake en Robbie Williams. Otazu woont in Nederland.
Fashion design for theatre: Hair (2007)
Website: www.rodrigootazu.com
Harry Otis
(1890-)
American dancer and writer, born in The Ozarks and raised in Colorado.
Amerikaanse danser en schrijver, geboren in de Ozarks en opgegroeid in Colorado.
Book: The Keval and Other Gay Adventures
Rob Otken
Dutch politician for the VVD.
Nederlandse politicus voor de VVD.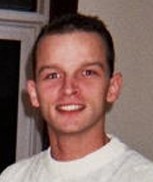 Rob Otken
Kanako Otsuji
(16 December 1974)
Japanese legislator of the Osaka Prefectural Assembly. She is the first openly homosexual politician in Japan.
Japanse wetgever van de Prefectural Assembly in Osaka. Ze is de eerste politicus in Japan die voor haar homoseksualiteit uitkomt.
Autobiography: Jibun rashisa wo mitsukeru tabi (Coming Out: A Journey to Find My True Self, 2005)
Website: http://www004.upp.so-net.ne.jp/otsuji/


Kanako Otsuji
Ger Otte
(30 December 1962)
Dutch actor and singer, born in Rotterdam. He studied piano and singing at the Rotterdam Conservatory and got a musical training at the Juilliard School of Music in New York.
Nederlandse akteur en zanger, geboren in Rotterdam. Hij studeerde piano en zang aan het Conservatorium te Rotterdam en kreeg een muzikale training aan de Juilliard School of Music in New York.
Theatre: Into the woods, Nine, Aspects of Love, Elisabeth, My fair lady (1994-1995), Evita (1996), Miss Saigon (1996-1997 and 1999), Joe (1997-1998), Crazy for you, Beauty & the Beast (2005-2006, as Tickens), Ciske de Rat (2007)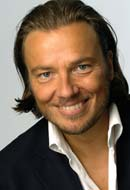 Ger Otte
Ulrike Ottinger
(6 June 1942)
German painter, film and theater director and camarawoman, born in Konstanz. She studied art in Munich from 1959 to 1961.
Duitse schilderes, film- en theaterregisseur en kameravrouw, geboren in Konstanz. Ze heeft kunst gestudeerd in München van 1959 tot 1961.
Films: Loakoon & Sohne (1973), Berlinfieber (1973), Die Betorung der blauen Matrosen (1975), Madame X: An absolute ruler (1977), Ticket of no return (1979), Freak Orlando (1981), The image of Dorian Gray in the yellow press (1983), China - die Kunste - der Alltag (1985), Superbia - Stolz (1986), Usinimage (1987), Johanna d'Arc of Mangolia (1989), Countdown (1989), Tagia (1993), Exile Shanghai (1997), Southeast Passage (2002), Twelve chairs (2004)
Theatre: Das Verlobungsfest im Feenreiche
Website: www.ulrikeottinger.com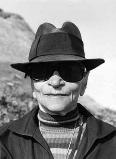 Ulrike Ottinger
Yotam Ottolenghi
(14 December 1968)
IsraŽli-British chef, restaurant owner and food writer, born in Jerusalem as Yotam Assaf Ottolenghi. He lives with his husband Karl Allen in Camden with their two sons Max (2013) and Flynn (2015).
IsraŽlisch-Britse chefkok, restaurant-eigenaar en schrijver over eten, geboren in Jeruzalem als Yotam Assaf Ottolenghi. Hij woont met zijn man Karl Allen in Camden met hun twee zonen Max (2013) en Flynn (2015).
Books: Ottolenghi (2008), Plenty (2010), Jerusalem (2012), Sweet (2017)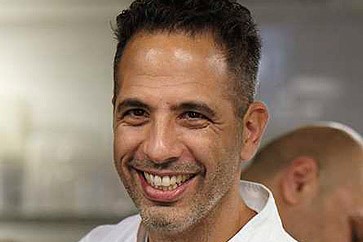 Yotam Ottolenghi
Johann Friedrich Overbeck
(4 July 1789 - 12 November 1869)
German painter, born in Lübeck. He died in Rome, Italy.
Duitse schilder, geboren in Lübeck. Hij overleed in Rome.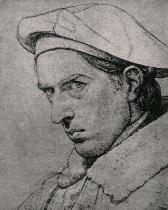 Johann Friedrich Overbeck
Francois Ozon
(15 November 1967)
French director and screenwriter, born in Paris. He graduated from La Femis in 1993.
Franse regisseur en scriptschrijver, geboren in Parijs. Hij studeerde in 1993 aan La Femis af.
Films: Regarde le Mer (See the sea)(1997), Sitcom (1998), Les Amantes criminels (The Criminal Lovers)(1998), Gouttes d'eau sur Pierres Brulantes (Waterdrops on burning rocks)(1999), Sous Le Table (2000), 8 Femmes (2002), Swimming Pool (2003), 5x2 (2004), Le temps qui reste/Time to Leave (2005), A Curtain Raiser (2006), Angel (2007), Ricky (2009), Jeune & Jolie (2013), The New Girlfriend (2014)
Website: www.francois-ozon.com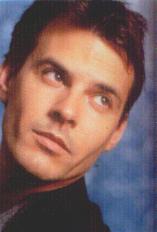 Francois Ozon


Click here to go to the "P and Q" page