G
Back to my homepage
Click here to go to the second part of the "G" of my alphabet
Seth Gaaikema
(11 July 1939 - 21 October 2014)
Dutch stand-up-comedian, singer and creator and translator of musicals, born in Uithuizen. He has studied Dutch language and literature. Gaaikema married his partner Peter Biemans (commissioning editor with RTL TV) on May 30, 2008.
Nederlandse cabaretier, zanger en schrijver en vertaler van diverse musicals, geboren in Uithuizen. Hij heeft een opleiding gevolgd in Nederlandse taal- en letterkunde. Op 30 mei 2008 is Gaaikema in Schijndel (N.Br.) getrouwd met zijn partner Peter Biemans.(programmacoördinator bij RTL).
Hit: Wat een spreker is die man (1970)
Albums: Kom Kom tuut tuut ho ho (1967), En...ik, zei Seth (1968), & Willeke Alberti in Scheveningen (1971), Tien Miljoen Geboden (1971), Seth's verdwazingen, Dat Typische Hollandse Vingertje (1976), Familie Willekeur, Wuiven naar elkaar (1978), Seth! (1980), Lyrisch Intermezzo (1981), De Haagsche Operette (1982), Seth '84 (1984), En waarom zeg ik dit? '85-'86, Geef mij maar Nederland '90-'91 (1991), Jij En Ik (1991), Nederland Ziet Paars (1995)
DVD: Seth Gaaikema (2006)
TV: Heer ik kom hier om te twijfelen (1969), Met mekaar op oudejaar - Oudejaarsconference 1971
Theatre: Avondje Nederlands (1963), Kom Kom, Tuut Tuut, Ho Ho (1967), En ik, zei Seth (1968), Tien Miljoen Geboden (1970), Elf Verdwazingen (1972), Familie Willekeur (1975), Toen de Zwijgers Gingen Spreken (1978), Seth Nu (1980), Het Laatste Zaaltje Met Gezond Verstand (1981), Hoochachtend, Seth (1985), En Jou kies ik (1986), De Wereld is stapelgek, nu wij nog (1993), Schande (1996), Uitverkoop van de Eeuw (1998), De Ommekeer (1999-2000), De orkaan doorstaan! (2003-2004), Als 't effe kan (2005), Als Was Het De Eerste Keer (2008-2009), Het Mooiste Komt Nog (2010-2011), Wat Ik Nog Graag Zou Willen! (2012-2013)
Musical: My Fair Lady (translation), Kiss Me Kate (translation, 1963?), Swingpop (lyricist, 1978), Publiek (lyricist, 1986), Les Miserables (translation, 1991), Miss Saigon (translation, 1996), Elisabeth (translation, 1999), Adam und Eva (lyricist, 1999), Kuifje: De Zonnetempel (lyricist, 2001), Crazy For You (translation, 2004), La vie Parisienne (translation, 2006)
Books: Verliefd en Verloren (2003)
Website: www.sethgaaikema.nl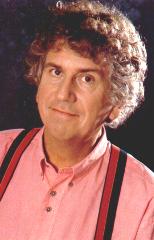 Seth Gaaikema
Stefano Gabbana
(14 November 1962)
Italian fashion designer, born in Milan. He works and lives together with partner Domenico Dolce (Dolce & Gabbana). In 1982, the first D&G studio was opened. In 1993, Dolce & Gabbana designed 1500 costumes for Madonna's world tour of 'The Girlie Show'. The D&G Company also produces perfumes.
Italiaanse mode-ontwerper, geboren in Polizzi Generosa (Palermo). Hij werkt en woont samen met partner Stefano Gabbana (Dolce & Gabbana). In 1982 werd de eerste D&G studio geopend. In 1993 ontwierpen Dolce & Gabbana 1500 kostuums voor 'The Girlie Show', Madonna's wereldtoernee. De D&G Company maakt ook parfums.


Stefano Gabbana
Website: www.dolcegabbana.it
Szetey Gabor
(6 January 1968)
Hungarian politician. In 2007 he was the first Hungarian politician to come out.
Hongaarse politicus. In 2007 was hij de eerste Hongaarse politicus die voor zijn homoseksualiteit uitkwam.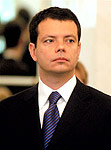 Szetey Gabor
Juan Gabriel
(7 January 1950 - 28 August 2016)
Mexican singer, producer and actor, born in Paracuaro, Michoacan. His real name was Alberto Aguilera Valadez.
Mexicaanse zanger, producer en akteur, geboren in Paracuaro, Michoacan. Zijn echte naam was Alberto Aguilera Valadez.
Albums: Juan Gabriel en el Pallacio del Bellas Artes, Celebrando 25 anos de Juan Gabriel (1998), Abrázame muy fuerte (2000), Por los siglos (2002), Requerdos, Inocente de ti (2003), Los 15 grandes Exitos de Juan Gabriel (2004), Los Duo, vol.2 (2015)
Films: Nobleza Ranchera (1975), El Noa Noa (1980), Del otro lada del puente (1980), Es mi vida (1982), Siempre en domingo (1984), Bazar Viena (1990)
Website: www.juangabriel.com.mx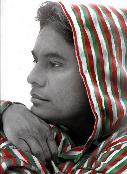 Juan Gabriel
Andersen Gabrych
(4 September 1973)
American actor and comic book writer, born in Tokyo, Japan. He grew up in Chico, California. His comic-book work includes Batgirl, Batman, Detective Comics, and Catwoman.
Amerikaans akteur en schrijver van strips, geboren in Tokyo, Japan. Hij groeide op in Chico, Californië. Zijn werk aan stripverhalen houdt o.a. in: Batgirl, Batman, Detective Comics en Catwoman.
Films: Edge of Seventeen (1998), Hit and Runway (1999), Gypsy 83 (2001), Bumping Heads (2002), The Look (2003), Boys Life 4: Four Play (2003), Another Gay Movie (2006), Another Gay Sequel: Gays Gone Wild (2008)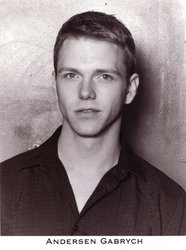 Andersen Gabrych
Chafik Gadir
Dutch local politician in Amsterdam for the VVD. He was born in Marocco and came to the Netherlands in 1986.
Nederlandse lokale politicus in Amsterdam voor de VVD. Hij is geboren in Marokko en kwam in 1986 naar Nederland.


Chafik Gadir
Edward Gal
(4 March 1970)
Dutch dressage rider, born in Rheden.
Nederlandse dressuurruiter, geboren in Rheden.
Website: www.edwardgal.nl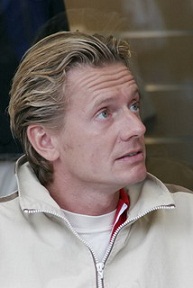 Edward Gal
Patrick Gale
(31 January 1962)
British writer, born on the Isle of Wight. He studied at New College, Oxford.
Britse schrijver, geboren op het Isle of Wight. Hij studeerde aan het New College, Oxford.
Books: Ease (1985), The Aerodynamics of Pork (1985), Kansas in August/ Driehoeksspel (1987/1988), Facing the tank (1988), Little Bits of Baby (1989), The Cat Sanctuary (1990), The facts of life (1996), Dangerous Pleasures (1996), Tree surgery for beginners (1999), Rough music (2000), A Sweet Obscurity (2003), Friendly fire (2006), Notes from an Exhibition (2007)
Website: www.galewarning.org


Patrick Gale
Rudy Galindo
(7 September 1969)
American figure skater, born as Val Joe Galindo in San Jose, California. He turned professional in 1996. Galindo is HIV-positive.
Amerikaanse kunstschaatser, geboren als Val Joe Galindo in San Jose, Californië. Hij begon in 1996 als professioneel schaatser. Galindo is HIV-positief.
Autobiography: Icebreaker (1997, with Eric Marcus)
TV: Will and Grace (guest appearance episode 'Will on Ice', 1999)
Website: www.rudy-galindo.com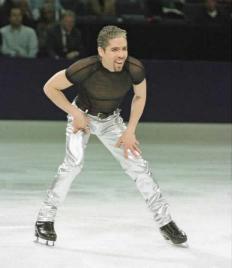 Rudy Galindo
Anya Gallaccio
(1963)
British artist, born in Paisley, Scotland. She studied at Kingston Polytechnic and Goldsmiths College. Gallaccio works and lives in London.
Britse kunstenares, geboren in Paisley, Schotland. Ze heeft gestudeerd aan Kingston Polytechnic en Goldsmiths College. Gallaccio werkt en woont in Londen.


Anya Gallaccio
Eva le Gallienne
(11 January 1899 - 3 June 1991)
British actress, translator and director, born in London, England. She made her stage debut in 1914 at the Prince of Wales Theatre in London.
Britse actrice, vertaalster en regisseusse, geboren in Londen, Engeland. Ze had haar toneeldebuut in 1914 in het Prince of Wales Theatre in Londen.
Theatre: Bunny (1916), Mr.Lazarus (1916), The Off Chance (1918), Belinda (1918), Lusmore (1919), Elsie Janis and her gang (1919), The Swan (1923), Hedda Gabler (1928), Peter Pan (1928), The Cherry Orchard (1928), Romeo and Juliet (1930), Alice in Wonderland (1932), Liliom (1932), Camille (1935), Hamlet (1937), Uncle Harry (1942), Mary Stuart, Exit the king (1968), The Royal Family (1976)
Films: The devil's disciple (1959), Resurrection (1980)
TV: The bridge of San Luis Rey (1958)
Biography: Eva le Gallienne: a biography (1996, by Helen Sheehy)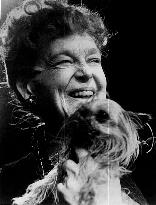 Eva le Gallienne
Paul Gambaccini
(2 April 1949)
British radio and television presenter and music journalist, born in New York, USA as Paul Matthew Gambaccini. He studied History at Dartmouth College, USA, and Philosophy, Politics and Economics at Oxford College. From 1970 to 1977 he wrote for Rolling Stone Magazine.
Britse radio- en TV-presentator en muziekjournalist, geboren in New York, USA als Paul Matthew Gambaccini. Hij heeft geschiedenis gestudeerd aan Dartmouth College (USA) en Filosofie, Politiek en Economie aan Oxford College. Van 1970 tot 1977 schreef hij voor Rolling Stone Magazine.
Radio: US Chart Show (BBC Radio 1), Classic Countdown (Classic FM), America's greatest hits (BBC Radio 2), Jazz 20 (Jazz FM)
Books: Paul McCartney in his own words (1976), Paul Gambaccini presents The Top 100 Albums (1987), Television's greatest hits (1993, with Rod Taylor), Love letters (1996), The McCartney Interviews: After the breakup (1996), Close Encounters (1998), The Eurovision companion (1999), Complete book of the British charts (2000, with Tony Brown and Tim Rice)
Website: www.mnemonics.co.uk/paul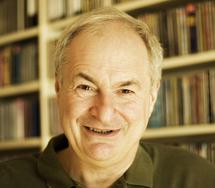 Paul Gambaccini
Nisha Ganatra
(25 June 1974)
American director and actress, born in Vancouver, Canada. She was raised in Los Angeles and now lives in New York, New York, where she studied at New York University's graduate Film School.
Amerikaanse regisseuse en actrice, geboren in Vancouver, Canada. Ze is opgegroeid in Los Angeles en woont nu in New York, waar ze aan de New York University's graduate Film School studeerde.
Films: Junky Punky Girlz, Chutney Popcorn (1999), The Assimilation Alphabet, Fast food high (2003)
TV: The Real World (1992-2002), Cosmopolitan (2003)

Nisha Ganatra
Robert Gant
(13 July 1968)
American actor, born and raised in Tampa, Florida as Robert Gonzalez. He studied at the University of Pennsylvania and law school at Georgetown University.
Amerikaans akteur, geboren en opgegroeid in Tampa, Florida als Robert Gonzalez. Hij studeerde aan de University of Pennsylvania en rechten aan Georgetown University.
TV: Caroline in the city (1997-1998, as Trevor), Popular (2000-2001), (Queer as Folk (2000 - , as Ben Bruckner)
Films: Jane Street (1996), Teaching Mrs. Tingle (1999), The contract (1999), Fits and starts (2002), Marie and Bruce (2004), Billy's Dad is a Fudge-Packer (2005)
Website: www.robertgant.com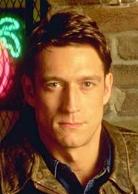 Robert Gant
Victor Garber
(16 March 1949)
Canadian film, stage and television actor and singer, born as Victor Joseph Garber in London, Ontario.
Canadese film-, toneel- en televisieakteur en zanger, geboren als Victor Joseph Garber in London, Ontario.
Theatre: Godspell (1972, Toronto), Noises Off (1985, London, England), Damn Yankees (1990, New York, USA), A Little Night Music (2005, Los Angeles, USA)
Films: Godspell (1973), Monkeys in the Attic (1974), Sleepless in Seattle (1993), Jeffrey (1995), The First Wives Club (1996), Milk (2008), Argo (2012), Rebel in the Rye (2017)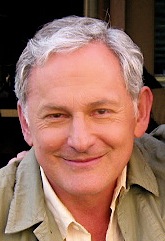 Victor Garber
Jonas Gardell
(2 November 1963)
Swedish writer and stand-up comedian, born as Lars Jonas Holger Gardell in Enebyberg. Together with his partner TV-personality Mark Levengood the most famous gay couple of Sweden.
Zweedse schrijver en stand-up comedian, geboren in Enebyberg als Lars Jonas Holger Gardell. Hij is samen met zijn partner TV-persoonlijkheid Mark Levengood het meeste bekende homo-stel van Zweden.
Books: Passionsspelet (1985), Odjurets tid (1986), Prarie hundrna (1987), Vill ga hem (1988), Fru Bjorks Oden och aventyr (1990), En komikers uppvaxt (1992), Mormor grater och andra texter (1993), Frestel sernas Berg (1995), Jenny (2006)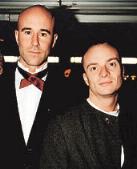 Jonas (r) with partner Mark.
Wensley Garden
Dutch football (soccer) player, who played for Helmond Sport.
Nederlandse voetballer, die voor Helmond Sport speelde.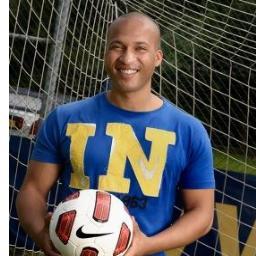 Wensley Garden
Stephen Gately
(21 March 1976 - 10 October 2009)
Member of the popular Irish popgroup Boyzone since 1993. He came out publicly on June 15, 1999, after discovering that someone was trying to sell his story to newspapers. Stephen Patrick David Gately, who was born in Dublin, had a Dutch boyfriend: Eloy de Jong. Eloy was a member of a Dutch boysband: Caught in the act. After his coming out Stephen received many messages of support, for instance by Zoe Ball, Posh Spice and the Backstreet Boys! Stephen was chosen hero of the year 1999 by the readers of Smash Hits! In 2002 Stephen and Eloy broke up their relationship. On March 19, 2006 Gateley married Andy Cowles, with whom he already had a wedding ceremony in Las Vegas in 2003. He died on Mallorca.
Lid van de populaire Ierse popgroep Boyzone sinds 1993. Hij maakte zijn homo-zijn publiekelijk bekend op 15 juni 1999 toen hij ontdekte dat iemand zijn verhaal aan de kranten wilde verkopen. Stephen Patrick David Gately, die geboren is in Dublin, had een Nederlandse vriend: Eloy de Jong. Eloy was een van de zangers van de inmiddels ter ziele gegane jongensgroep 'Caught in the act'. Na zijn 'coming-out' ontving Stephen veel positieve reacties, waaronder reacties van presentatrice Zoe Ball, Posh Spice en de Backstreet Boys! Stephen werd gekozen tot held van 1999 door de lezers van het Engelse blad Smash Hits! In 2002 kwam er een einde aan de relatie tussen Stephen en Eloy. Op 19 maart 2006 trouwde Gateley met Andy Cowles, met wie hij al in 2003 een trouwceremonie had gehad in Las Vegas. Hij is op Mallorca overleden.
Hits: (with Boyzone:) Love me for a reason (1995), Key to my life (1995), So good(1995), Father and son (1996), Coming home now (1996), Words (1996), A different beat (1997), Isn't it a wonder(1997), Picture of you (1997), No matter what, (solo:) New beginning (2000), Bright eyes
Albums: (with Boyzone:)Said and done (1995), A different beat (1996), By request (best of) (1999), (solo:) New Beginning (2000)
TV: Absolutely Fabulous (Guest appearance in episode Parralox, 2001), Dancing on Ice (ITV, 2007)
Theatre: Joseph and the Amazing Technicolour Dreamcoat (2002-2003), Chitty Chitty Bang Bang (2004-2005), Cinderella (2005-2006), Rocky Horror Show
Mark Gatiss
(17 October 1966)
English actor, screenwriter, comedian and writer, born in Sedgefield, County Durham.
Engelse acteur, scriptschrijver, komiek en schrijver, geboren in County Durham.
TV: Dr. Who, Sherlock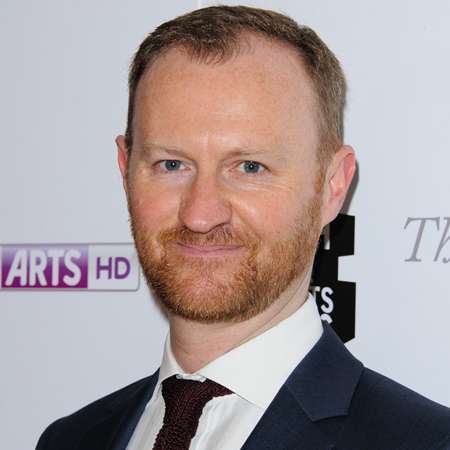 Mark Gatiss
Jean-Paul Gaultier
(24 April 1952)
French fashion-designer, born in Arcueil. Gaultier a.o. worked for Madonna, for who he designed the clothes for the Blonde Ambition Tour.
Franse mode-ontwerper, geboren in Arcueil. Gaultier werkte o.a. voor Madonna, voor wie hij de kleding van de Blonde Ambition Tour ontwierp.
Costume-design for films: Le Defile (1986), The Cook, the thief, his wife and her lover (1989), Kika (1993), The City of Lost Children (1995), Judge Dredd (1995), The fifth element (1997), La Mala Educacion (2004)
Film: Prêt-à-Porter (1994)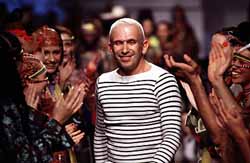 Jean-Paul Gaultier
Mary Gauthier
(11 March 1962)
American singer and songwriter, born in Thibodaux, Louisiana. She studied at Louisiana State University (philosophy) and at the Cambridge School of Culinary Arts.
Amerikaanse zangeres en liedjesschrijfster, geboren in Thibodaux, Louisiana. Ze heeft gestudeerd aan de Louisiana State University (filosofie) en aan de Cambridge School of Culinary Arts.
Albums: Dixie Kitchen (1997), Drag Queens in limousines (1999), Filth and Fire (2002), Mercy now (2005), Between Daylight and Dark (2007), Genesis (2008), The Foundling (2010)
Website: www.marygauthier.com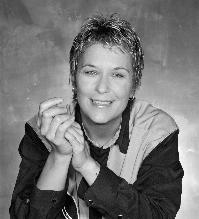 Mary Gauthier
Janet Gaynor
(6 October 1906 - 14 September 1984)
American actress, born as Laura Gainor in Philadelphia, Pennsylvania. She was the first woman to receive an Academy Award. Gaynor was married three times: to Jesse Peck, an attorney (1929-1933), to fashion designer Adrian (1939-1959) and to producer Paul Gregory. She died in Palm Springs, California.
Amerikaanse actrice, geboren als Laura Gainor in Philadelphia, Pennsylvania. Zij was de eerste vrouw die een Oscar ontving. Gaynor is drie keer getrouwd geweest: met Jesse Peck (1929-1933), met mode-ontwerper Adrian (1939-1959) en met producer Paul Gregory. Ze overleed in Palm Springs, Californië.
Films: All Wet (1924), Young Ideas (1924), Cupid's Rustler (1924), Crook Buster (1925), The Plastic Age (1925), The Teaser (1925), The Burning Trail (1925), Dangerous Innocence (1925), The Haunted Honeymoon (1925), Fade Away Foster (1926), Pep of the Lady J (1926), Forty-five Minutes from Hollywood (1926), The Stolen Ranch (1926), Lazy Lightning (1926), Martin of the Mounted (1926), The return of Peter Grimm (1926), The Midnight Kiss (1926), The Blue Eagle (1926), Don't Shoot (1926), The Man in the Saddle (1926), The Fire Barrier (1926), The Galloping Cowboy (1926), The Shamrock Handicap (1926), Skinner's Dress Suit (1926), Ridin' for Love (1926), Oh What a Nurse! (1926), The Johnstown Flood (1926), The Beautiful Cheat (1926), Sunrise (1927), Two Girls Wanted (1927), The Horse Trader (1927), Seventh Heaven (1927), Street Angel (1928), Four devils (1928), Sunny Side Up (1929), Christina (1929), Lucky Star (1929), Happy days (1930), High society blues (1930), Delicious (1931), Merely Mary Ann (1931), Daddy Long Legs (1931), The Man Who Came Back (1931), Tess of the Storm Country (1932), The First Year (1932), Paddy the Next Best Thing (1933), Adorable (1933), State Fair (1933), Servants' Entrance (1934), Change of Heart (1934), La Ciudad de cartón (1934), Carolina (1934), One more spring (1935), The farmer takes a wife (1935), Small town girl (1936), Ladies in love (1936), A star is born (1937), Three loves has Nancy (1938), The Young in Heart (1938), Bernardine (1957)
TV: Hollywood (1980, mini series)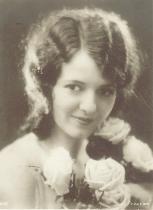 Janet Gaynor
Anthony Geary
(29 May 1947)
American actor, born in Coalville, Utah.
Amerikaanse acteur, geboren in Coalville, Utah.
TV: Bright Promise (1969), Room 222 (1970), All In The Family (1971), The Mod Squad (1972), The Partridge Family (1972), Mannix (1973), The Six Million Dollar Man (1978), Starsky and Hutch (1978), Antony And Cleopatra (1984), Hotel (1985), General Hospital (1978-2017), Murder She Wrote (1989-1990)
Films: Johnny Got His Gun (1971), Blood Sabbath (1972), Disorderlies (1987), You Can't Hurry Love (1988), Fish Tank (2009), Alice and the Monster (2012)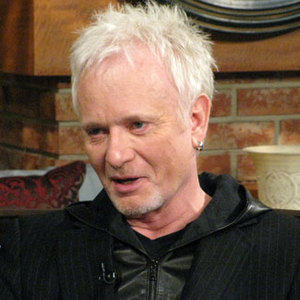 Anthony Geary
Etienne van Geel
Dutch actor, dancer, producer and ballet teacher. He attented the dance academy at the conservatory in Arnhem and started as a dancer in jazzdancegroup Jazzex. In 2001 he married his partner Bert.
Nederlandse akteur, danser, producent en balletdocent. Hij heeft de dansopleiding gevolgd aan het Conservatorium in Arnhem en startte in de jazzdansgroep Jazzex. Hij is in 2001 met vriend Bert getrouwd.
Theatre: Een reis om de wereld in 180 minuten (1984-1985, André van Duin), Max Havelaar, West Side Story, Evita, Anatevka, Hello Dolly, Cats, Peter Pan, de musical (2001-2002), Doornroosje (2002-2004)
TV: Postbus X (1989)
Will Geer
(9 March 1902 - 22 April 1978)
American actor and singer, born in Frankfort, Indiana, as William Auge Ghere. In the thirties he was gay activist Harry Hay's lover. He married actress Herta Ware and they had two daughters, Kate and actress Ellen Geer and son Thad. In 1951 he became a victim of the HUAC (House of Un-American Activities Committee) when they put him on a blacklist for being active in radical political organisations, which made him unable to get work until 1962. Geer later played the grandad in the TV-series 'The Waltons'.
Amerikaans akteur en zanger, geboren in Frankfort, Indiana, als William Auge Ghere. In de dertiger jaren was hij de partner van homo-activist Harry Hay. Hij trouwde met actrice Herta Ware en ze kregen twee dochters, Kate en actrice Ellen Geer en zoon Thad. In 1951 werd hij slachtoffer van het HUAC (House of Un-American Activities Committee) toen ze hem op een zwarte lijst plaatsten wegens activiteiten in radicale politieke organisaties, wat tot gevolg had dat hij tot 1962 geen werk kon krijgen. Geer speelde later de opa in de TV-serie 'The Waltons'.
Theatre: The merry wives of Windsor (1928), Hamlet, Macbeth, Twelfth night, Anthony and Cleopatra, The school for scandal, The wild duck, The cradle will rock, 110 in the Shade
TV: The Waltons (1972-1978)
Films: Misleading lady (1932), Spitfire (1934), Wild Gold (1934), Great Expectations (1934), The mystery of Edwin Drood (1935), Union Pacific (1939), The Fight for Life (1940), Deep Waters (1948), Johnny Allegro (1949), Lust for Gold (1949), Anna Lucasta (1949), Intruder in the Dust (1949), It's a Small World (1950), Comanche Territory (1950), The Kid from Texas (1950), Winchester '73 (1950), Broken Arrow (1950), Convicted (1950), To Please a Lady (1950), Double Crossbones (1951), Bright Victory (1951), The Tall Target (1951), The Barefoot Mailman (1951), Salt of the Earth (1954), Mobs, Inc. (1956), Advise & Consent (1962), Black Like Me (1964), Seconds (1966), In Cold Blood (1967), The President's Analyst (1967), Bandolero! (1968), The Reivers (1969), Pieces of Dreams (1970), The Moonshine War (1970), Brother John (1971), The Rowdyman (1972), Napoleon and Samantha (1972), Jeremiah Johnson (1972), Harry O: Such Dust As Dreams Are Made On (1973), Executive Action (1973), Silence (1974), Dear Dead Delilah (1975), The Manchu Eagle Murder Caper Mystery (1975), The Blue Bird (1976), Moving Violation (1976), The Billion Dollar Hobo (1977), The Mafu Cage (1978)

Will Geer
Dammie van Geest
Dutch actor and partner to Paul Haenen.
Nederlands akteur en partner van Paul Haenen.


Dammie van Geest
David Geffen
(21 February 1943)
American theater and film producer, born in Brooklyn, New York as David Lawrence Geffen. He started record label Asylum records in 1970 and later Geffen Records. In the seventies he had an affair with singer Cher. In 1994 Geffen, together with Jeffrey Katzenberg (Disney video's) and Steven Spielberg (Schindler's list, ET, Saving Private Ryan) started Dream Works SKG. This company makes films, TV-shows, records, toys and computer-software.
Amerikaanse theater- en filmproducer, geboren in Brooklyn New York als David Lawrence Geffen. In 1970 begon hij platenlabel Asylum Records en later Geffen Records. In de zeventiger jaren heeft hij een relatie gehad met Cher. Geffen startte in 1994 samen met Jeffrey Katzenberg (Disney video's)en Steven Spielberg (Schindler's List, ET, Saving Private Ryan) Dream Works SKG. Deze maatschappij maakt films, TV-shows, platen, speelgoed en computer-software.
Theatre: Cats
Films: Risky Business
Biography: The Operator. David Geffen builds, buys and sells the New Hollywood (2000, by Tom King)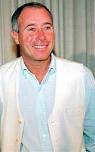 David Geffen
Jurre Geluk
(1991)
Dutch singer, dancer and TV presenter, born in Veenendaal.
Nederlandse zanger, danser en TV presentator, geboren in Veenendaal.
Theatre: Droomvlucht, Jersey Boys, Beauty and the Beast
TV: Spuiten en Slikken, De Seksmobiel, Yung DWDD, Je Zal Het Maar Hebben (2019-)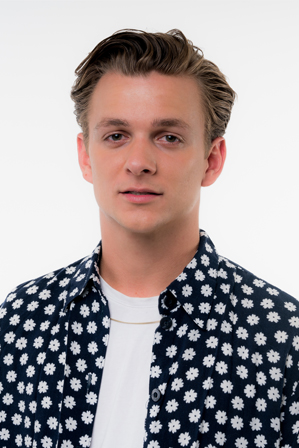 Jurre Geluk
Ewout Genemans
(7 February 1985)
Dutch bisexual singer, actor and TV presenter and producer, born in The Hague.
Nederlandse biseksuele zanger, akteur en Tv-presentator en producer, geboren in Den Haag.
TV: Zoop (2004-2007), Willem Wever (2007-), Suzokids (2007-2008), Fans (2009-), AVRO Avastars (2009-), Museumbende (2009), Wie wordt Kruimeltje? (2010), Onder Wibi's Vleugels (2011), Amsterdam Gay Pride (2011-2013), Passie in de Polder (2012, producer), Kerels met een kleintje (2015/2016, producer)
Films: Zoop In Afrika (2005), Zoop In India (2006), Zoop In Zuid-Amerika (2007)
Commercials: Veilig Verkeer Nederland (2003), Postbank (2005)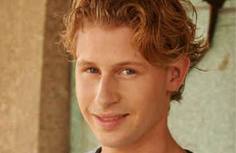 Ewout Genemans
Jean Genet
(19 December 1910 - 15 April 1986)
French writer, playwright and poet, born in Paris. He was abandoned by his parents and spent much of his youth in an institution for juvenile delinquents. At the age of 19 he joined the French Foreign Legion and was posted in Syria. Between 1930 and 1940 he wandered through Europe, living as a thief and male prostitute. He began writing in 1939. Genet died in Paris.
Franse schrijver, toneelschrijver en dichter, geboren in Parijs. Hij werd door zijn ouders in de steek gelaten en bracht een groot deel van zijn jeugd door in jeugdgevangenissen. Op 19-jarige leeftijd ging hij het Franse Vreemdelingenlegioen in en werd in Syrië geplaatst. Tussen 1930 en 1940 zwierf hij door Europa, levend als dief en homoprostituee. Hij begon in 1939 met schrijven. Genet overleed in Parijs.
Books: Notre-Dame des Fleurs (1943), Miracle de la Rose (1945), Pompes Funebres (1947), Querelle de Brest (1947), Journal du voleur (1948), Un captif amoureux (1986)
Plays: Le Balcon (1956), Les negres (1958)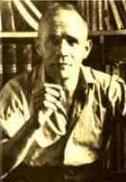 Jean Genet
Anthony George
(29 January 1921 - 16 March 2005)
American actor, born in Endicott, New York as Octavio George.
Amerikaans akteur, geboren in Endicott, New York als Octavio George.
TV: The Untouchables (1959), Dark Shadows (1967)
Films: Where the Sidewalk Ends (1950), Under My Skin, Inside The Walls of Folsom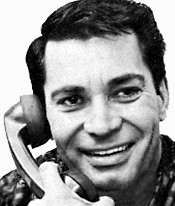 Anthony George
Andrew Georgiou
Australian cartoonist. He's the creator of Mr. Gisby's Totally Gay Pet Shop. Georgiou studied at the College of Fine Arts in Sydney.
Australische cartoontekenaar. Hij is de maker van Mr. Gisby's Totally Gay Pet Shop. Georgiou studeerde aan het College of Fine Arts in Sydney.
Website: www.mrgisby.com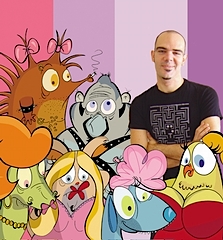 Andrew Georgiou and his creations
Chrissy Gephardt
(1973)
American social worker and daughter of Democratic politician Dick Gephardt, who was making a run for the presidency in 2004. Christine Leigh Gephardt studied at Northwestern University and Washington University in St. Louis. Chrissy has been married to Dr. Marc Leibole.
Amerikaanse maatschappelijk werkster en dochter van de Democratische politicus Dick Gephardt, die zich kandidaat stelde bij de verkiezingen voor president in 2004. Christine Leigh Gephardt heeft gestudeerd aan de Northwestern University en Washington University in St. Louis. Chrissy is getrouwd geweest met Dr. Marc Leibole.


Chrissy Gephardt
Ida Gerhardt
(11 May 1905 - 15 August 1997)
Dutch poet, born in Gorcum as Ida Gardina Margaretha Gerhardt.
Nederlandse dichteres, geboren in Gorcum als Ida Gardina Margaretha Gerhardt.
Books: Kosmos (1940), Het Veerhuis (1945), Buiten Schot (1947), Kwatrijnen in Opdracht (1948), Het Boerenbedrijf (1949), Sonnetten van een Leraar (1952), Het Levend Monogram (1955), De Argelozen (1955), De Hovenier (1961), De Slechtvalk (1966), De Ravenveer (1970), Twee uur:de klokken antwoorden elkaar (1971), De Psalmen (1972), Vijf Vuurstenen (1974), Het Sterrenschip (1979), Nu ik hier iets zeggen mag (1980), De Adelaarsvarens (1980), Courage (2005)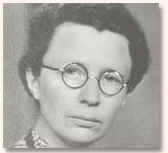 Ida Gerhardt
Rinus Gerlofsma
(2 March 1964)
Dutch local politician for D66 in Utrecht, born in Amsterdam as Marinus Hendrikus Gerlofsma.
Nederlandse lokale politicus voor D66 in Utrecht, geboren in Amsterdam als Marinus Hendrikus Gerlofsma.
Yolanda Germain
Dutch actress and musical singer.
Nederlandse actrice en musical-zangeres.
Theatre: Jeans 2, Funny Girl, Simone & Friends, Jesus Christ Superstar (1993-1994), My Fair Lady, Annie (1997-1999), Fame (1999-2000), Damuz (2005)
Films: Do Not Disturb (1999)


Yolanda Germain
Hein Gerrits
(9 May 1981)
Dutch singer and dancer, born in Zwolle. Hein went to the Amsterdam Polytechnic for the Arts doing Jazztheater and showmusical.
Nederlandse zanger en danser, geboren in Zwolle. Hein volgde een opleiding jazztheater en showmusical aan de Amsterdamse Hogeschool voor de Kunsten.
Theatre: 42nd Street (2001), A Chorus Line (as Paul, 2001-2002), Jeans 12 (2002), Mamma Mia (2003-2004), Grease (2006-2007), Fame (2007-2008), Doodgelukkig (2009), Chicago (2009-2010), Joseph And The Amazing Technicolor Dreamcoat (2010), Dr. Dolittle (2010), Er Was Eens .... (2011), Kruimeltje (2011), Avenue Q (2012-2013)
Website: www.heingerrits.nl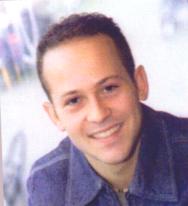 Hein Gerrits
George Gershwin
(26 September 1898 - 11 July 1937)
American composer, born to immigrant parents of Russian-Jewish descent in Brooklyn, New York as Jacob Gershwine. He wrote several evergreens together with lyricist brother Ira. He died in Hollywood of a brain tumor.
Amerikaans componist, geboren in Brooklyn, New York, als Jacob Gershwine, zoon van Russisch-Joodse immigranten. Samen met zijn broer en tekstschrijver Ira schreef hij een aantal evergreens. Hij stierf in Hollywood aan een hersentumor.
Songs: Swanee, Summertime
Orchestral works: Rhapsody in Blue (1924), Piano Concerto in F (1925), An American in Paris (1928), Dream Sequence (1929), Cuban Overture (1932)
Operas: Blue Monday (1922), Porgy and Bess (1935)
Musicals: Half Past Eight (1918), Lady, Be Good! (1924), Funny Face (1927), Strike Up The Band (1927), Girl Crazy (1930), Of Thee I sing (1931)
Website: www.gershwin.com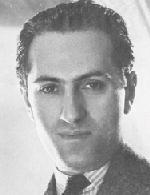 George Gershwin
Lonny Gerungan
(4 May 1956)
Dutch TV-cook and singer, born in Denpasar, Bali, Indonesia, as Marlon Gerungan. When he was 21 he moved to the Netherlands.
Nederlandse TV-kok en zanger, geboren op Denpasar, Bali, Indonesië, als Marlon Gerungan. Toen hij 21 was verhuisde hij naar Nederland.
Books: De origineel Thaise keuken, De Slanke Indonesische Keuken, De Origineel Indonesische Keuken, De Origineel Balinese keuken, De Stille Kracht van de Indonesische Keuken, De complete Indonesische keuken (2002), Wokken met Lonny (2004), De Authentieke Indische Keuken (2006), Indonesisch Koken - Het Basiskookboek (2007)
TV: De reistafel, De koninklijke reistafel (2004)
Albums: Als de orchideeën bloeien, Dansa, De reistafel, Gado-gado, Kerst met Lonny en vrienden, Liedjes uit de Gordel van Smaragd
Website: www.lonnys.nl


Lonny Gerungan
Guido Gezelle
(1 May 1830 - 27 November 1899)
Belgian priest and poet, born in Brugge as Guido Pieter Theodorus Josephus Gezelle. He is considered by the Belgians as one of their greatest poets.
Belgische priester en dichter, geboren in Brugge als Guido Pieter Theodorus Josephus Gezelle. Hij wordt door de Belgen beschouwd als een van hun grootste dichters.
Books: Dichtoefeningen, Rijmsnoer Om En Om Het Jaar (1897), Tijdkrans
Biography: Mijnheer Gezelle. Biografie Van Een Priester-Dichter (1830-1899) (1990, by Michel van der Plas)

Guido Gezelle
Saghi Ghahreman
(1957)
Iranian poet, born in Mash'had. She studied Classic & Contemporary Persian Literature at Azarabadegan University in Tabriz. In 1981 she fled Iran with her husband and baby to Turkey and emigrated to Canada in 1988.
Iraanse dichteres, geboren in Mash'had. Ze studeerde klassieke en hedendaagse Persische Literatuur aan de Azarabadegan University in Tabriz. In 1981 vluchtte ze met man en kind naar Turkije en emigreerde naar Canada in 1988.
Books: Of lies (1997), And the Whore is the Savior (1998), Itís Painful to Be a Cow When Youíre Lonely (2003)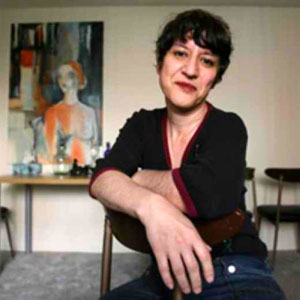 Saghi Ghahreman

Click here to go to the second part of the "G" of my alphabet