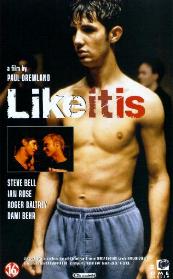 Like it is



Director: Paul Oremland
Writer: Robert Gray
Year: 1998
Country: England
Duration: 100 minutes
Cast:
- Steve Bell : Craig
- Ian Rose : Matt
- Dani Behr : Paula
- Roger Daltrey : Kelvin
- Jude Alderson : Gloria
- Emile Charles : Aylon
- Chris Hargreaves : Tony, Craig's Brother
- Paul Broughton : Minto
- P.J. Nicholas : Jamie
- Sean Simpson : Jack
- Charlie Caine : Terry, DJ
- Stephen Burke : Luke
- Dickon Tolson : Dirty Dave
- Chris Ross : Andy
Also known as: Tal come es


Story: Twenty-one year old Craig makes his living by fighting bare fisted in illegal fights in Blackpool. His life as a macho tough is made all the more difficult because he is closeted. By chance he meets Matt, a London music producer for boybands and they have an awkward sexual encounter. Matt begins to take an active interest in the boxer. Craig decides to escape the brutality of Blackpool and live in Matt's flat where he encounters an openly gay world he never imagined. Their affair brings a naive and unsophisticated Steve into the swinging gay Soho scene and into the treacherous sphere of Matt's friends, which include Paula, and Kelvin, Matt's predatory gay boss. Their love grows but the fantasies on which the relationship is built begin to fall apart. Friends are out to break them up.


Verhaal: De 21-jarige Craig komt aan zijn inkomen door met blote vuisten te vechten in illegale gevechten in Blackpool. Zijn leven als stoere macho is moeilijker doordat hij niet voor zijn homoseksualiteit uitkomt. Bij toeval ontmoet hij Matt, een muziekproducer van jongensbands uit Londen en ze hebben een onbeholpen seksuele ontmoeting. Matt begint zeer geinteresseerd te worden in de bokser. Craig besluit aan de harde wereld van Blackpool te ontsnappen en bij Matt in te gaan wonen waar hij een open homowereld treft zoals hij zich niet voor had kunnen stellen. Hun relatie brengt een na&iumlve en onervaren Craig in de swingende homoseksuele scene in Soho en in de onbetrouwbare kring van Matt's vrienden, zoals Paula en Kelvin, Matt's op prooi uit zijnde homoseksuele baas. Hun liefde groeit maar de droombeelden waar de relatie op gebouwd is beginnen de eerste scheurtjes te vertonen. Vrienden zijn er op uit om ze uit elkaar te krijgen.
Available as: VHS & DVD