Kiss Kiss Bang Bang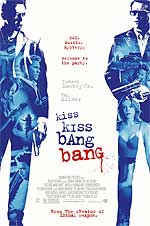 (Back) to my home page
Director: Shane Black
Writers: Brett Halliday (novel: Bodies Are Where You Find Them) and Shane Black
Year: 2005
Country: USA
Duration: 103 minutes
Also known as: You'll Never Die in This Town Again (work title)
Cast:
- Robert Downey Jr. : Harry Lockhart
- Val Kilmer : Gay Perry
- Michelle Monaghan : Harmony Faith Lane
- Corbin Bernsen : Harlan Dexter
- Dash Mihok : Mr. Frying Pan
- Larry Miller : Dabney Shaw
- Rockmond Dunbar : Mr. Fire
- Shannyn Sossamon : Pink Hair Girl
- Angela Lindvall : Flicka
- Indio Falconer Downey : Harry Age 9
- Ariel Winter : Harmony Age 7
- Duane Carnahan : Chainsaw Kid


Story: Harry Lockhart is a thief. Harry's perpetual bad luck takes a turn for the better when he and his partner are doing some after-hours Christmas "shopping" at a New York City toy store and the security alarm breaks up the party. In making his frantic getaway from the cops, Harry inadvertently stumbles into an audition for a Hollywood detective movie, and the producer flies him to Los Angeles for a screen test. Harry is teamed with tough-guy private eye Perry van Shrike, AKA "Gay Perry," to prepare him for his screen test. Gay Perry is ruthless, relentlessly tough and gay. He also has little patience for Harry, who tries out his acting skills by passing himself off as a detective.
When the mysterious suicide of actress Harmony's sister intersects with a seemingly unrelated case that Harry and Gay Perry are investigating, they suddenly find themselves embroiled in a real-life murder mystery.


Verhaal: Harry Lockhart is een dief. Harry's immer terugkerende ongeluk is voorbij wanneer hij en zijn partner wat laatste kerst"inkopen" doen in een speelgoedwinkel in New York en het alarm afgaat. Wanneer hij in paniek wegvlucht voor de politie, komt Harry per ongeluk terecht bij de audities voor een Hollywood Detective film, en de producer laat hem naar Los Angeles gaan voor een screen test. Harry wordt gekoppeld aan de stoere detective Perry van Shrike, die ook wel "Gay Perry" genoemd wordt, om hem voor te bereiden op zijn screen test. Gay Perry is hard, meedogenloos en homoseksueel. Hij heeft ook weinig geduld met Harry, die zijn acteertalenten uitprobeert door zich voor te doen als detective.
Wanneer de mysterieuze zelmoord door de zus van de actrice Harmony opduikt bij een op de zaak die op het eerste gezicht er niets mee te maken heeft, die Harry en Perry aan het onderzoeken zijn, worden ze plotseling geconfronteerd met het mysterie van een echte moord.
Available on: DVD
Website: http://kisskiss-bangbang.warnerbros.com/
Soundtrack: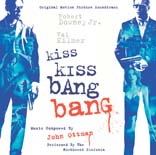 - The Fair
- Main Titles
- Innocent Times
- Toy Heist
- Lovely Confessions
- Surveillance Lesson
- Harry Smartens Up
- Dead Girl In Shower
- Harmony Is Dead?
- Saving Perry
- Flashback/Dropping Off Body
- They Took My Crickets
- Oh, Nuts!
- Whoa, Who's This?
- Harmony Lives
- Doggie Treat/First Kill
- Going Home
- Harmony Sees A Clue
- Harry's Rage
- Painful Pieces
- That's The Story
- Broken – performed by Robert Downey, Jr.