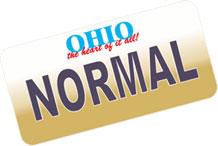 Normal, Ohio




(Back) to my TV page




(Back) to my home page



Directors: Philip Charles MacKenzie, David Trainer
Writers: Bonnie Turner, Terry Turner a.o.
Country: USA
Year: 2000 - 2001
Duration: 12 episodes of 30 minutes
Episodes: 1: Homecoming Queen, 2: A Thanksgiving Episode, 3: Buyer's Remorse, 4: Foreign Affairs, 5: Pamela's New Boyfriend, 6: Caught On Tape, 7: Just Another Normal Christmas, 8: Working Girl, 9: Forgotten, But Not Gone, 10: The Favorite, 11: He Always Gets His Man, 12: Charlie's Gamble
Cast:
- John Goodman : William "Butch" Gamble
- Greg Pitts : Charlie Gamble
- Joely Fisher : Pamela Theresa Gamble-Miller
- Cody Kasch : Robert 'Robbie' Miller
- Julia McIlvaine : Kimberly Miller
- Anita Gillette : Joan Gamble
- Orson Bean : William 'Bill' Gamble sr.
- Mo Gaffney : Elizabeth
- Charles Rocket : Danny


Story: Butch Gamble is a beer-drinking, sports-loving Midwesterner who happens to be gay. He has decided to leave the liberal city of Los Angeles and return to his Ohio hometown, Normal, which is filled with less tolerant family members. His top priority is making amends with his son, Charlie. In the meantime, he's shacking up with his kid sister, Pamela.


Verhaal:
Butch Gamble is een bier drinkende man uit het midwesten van de Verenigde Staten, die van sport houdt en toevallig ook nog homo is. Hij heeft besloten de liberale stad Los Angeles te verlaten en terug te keren naar zijn geboortestad in Ohio, Normal, waar zijn familie woont die niet zo tolerant zijn. Zijn belangrijkste doel is zijn relatie met zijn zoon Charlie te verbeteren. Ondertussen verblijft hij bij zijn jongere zus, Pamela.