Favorite city : London




Every year Richard and I visit London. We take the train to Brussels, Belgium and from Brussels we take the Eurostar train to London. Sometimes we travel first class and enjoy being pampered and drinking champagne. If we travel second class we bring our own little bottle of champagne and enjoy that as soon as the Eurostar leaves the station in Brussels. In london we stay with friends of us in their house in the north of London. They have been living there for a couple of years now. He's Dutch and she's Russian. Most of the times when we visit they work so we only see them in the evening. Every time we visit we cook dinner for them on one evening.
When we are in London we always have a list of thing to do. I like to visit the record shops and Richard likes to go to museums. We both like to look around and go to musicals, stageproductions or concerts. Things we have seen are a.o. Rent, Ute Lemper, Madonna, The caretaker (with Sir Michael Gambon and Rupert Graves), The witches of Eastwick (with Lucie Arnaz), The king and I, Laughter on the 23rd floor (with Gene Wilder) and Madame Melville (with Macaulay Culkin). We like to see the actors on stage and in 2001 we started to collect autographs. So we met Ute Lemper and Macaulay Culkin.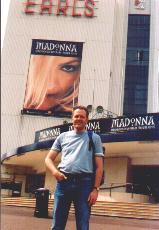 Me outside Earls Court in july 2001